The 11 Best Loom Alternatives: Complete Comparison
Remote working is by no means a new concept. However, in today's post-pandemic world, working from home is almost a necessity.
For those who are new to it, it doesn't have to be a stress-laden, headache-inducing situation. Thanks to a slew of productivity tools, working from home can be an easy and fun change of pace. But with so many on the market, it seems next to impossible to choose the ones worth checking out.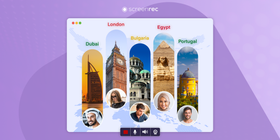 Such is the case with the ever-increasingly popular screen recording software. Screen recorders have completely revitalized work communication and made emailing much more productive. It's all about screen recording to send quick messages and replies, which facilitates remote teamwork. Not to mention the convenience and time-saving of using video to describe a situation or complaint that would be tedious to type.
A popular screen recorder has made a splash on the WFH scene, but it is far from perfect. We're talking about Loom. This software allows workers in every industry to streamline communication and increase productivity. But just because it's well known, doesn't mean it's the best.
Unfortunately, Loom for Chrome and desktop is lacking in a few areas. For example,
a Loom recording only lasts for 5 minutes,
there's a limit on the number of users per account,
you can only access 100 of your recordings and screenshots at a time,
you can't choose your capture region, and
there's a permanent watermark on your recordings.
Needless to say, we're in need of a Loom alternative.
The 11 Best Loom Alternatives
Well, we found 11 Loom alternatives that offer more features and fewer limitations! We put each of them side by side for a Loom comparison and to see just how they stack up against each other.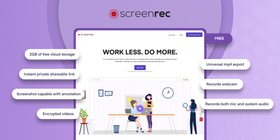 ScreenRec is a lightweight yet powerful screen recording app that allows you to capture your screen and record any part of your screen for free. Yes, it's absolutely free, has zero limitations, no watermark, and allows you to share instantly. Video emailing with this multi-platform app is a cinch.
With freedom and features like these, one could argue that ScreenRec is better than Loom. This lightweight screen recording tool is our first contender for the best Loom alternative.
Features
2GB of free cloud storage
Unlimited recording
No watermark
Instant private shareable link
Screenshots with annotations
Encrypted videos
Universal mp4 export
Records a specific area or the entire screen
Records webcam
Records both mic and system audio
Availability: Windows and Linux (Mac coming soon)
Price: Free. Upcoming premium plans with advanced features and more storage.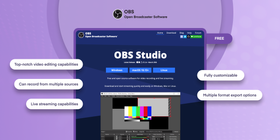 Want something a bit more complex but chock-full of features and zero limitations? OBS may be what you're looking for. For beginners, OBS is a sophisticated and quite complicated app that allows you to record videos as well as take screenshots, edit, and share them.
It's also open-source, meaning it is completely free and comes with a large community of users where you can find support. It is amazing for creating content.
Features
Top-notch video editing capabilities
Can record from multiple sources
Live streaming capabilities
Fully customizable
Multiple format export options
Free plan
Availability: Windows
Price: Free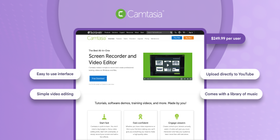 Camtasia is a fantastic video recording tool for any remote team. It is marketed as an all-in-one video presentation, live video streaming, demo, and training video creator.
Not only can you record your screen in HD, but you can also add captions, graphics, and animations.
With a simple interface, beginners can make great use of Camtasia. The latest version of the app also offers video templates. The only downside? Its paid plan is quite expensive!
Features
Easy-to-use interface
Simple video editing
Upload directly to YouTube
Comes with a library of music
Availability: Mac and Windows
Price: $249.99 per user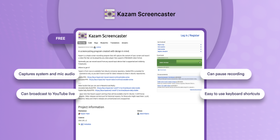 Simplicity is key with the Linux-only screen recorder Kazam. It creates a seamless and simple interface that allows users to record any part of their screen. They can as well take screenshots, capture mouse clicks, and more.
You can easily connect your webcam for more involved recording and capture both sound and audio. Though it is easy to use, Kazam lacks a bit of sophistication. But not to worry, it's made up for by giving you the ability to download your files in multiple formats.
Features
Captures system and mic audio
Can broadcast to YouTube live
Can pause recording
Easy-to-use keyboard shortcuts
Availability: Linux/Ubuntu
Price: FREE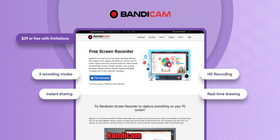 Bandicam is a sophisticated app for those who want to do some heavy-duty recording. It has three recording modes (screen recording, game recording, and device recording). These modes provide just about everything you need. Far cheaper than Loom software, Bandicam may be the next best thing.
You still have to deal with recording limits and watermarks, and it's only available for Windows. In the end, you get more bang for your buck, and that's something that deserves attention.
Features
3 recording modes
Instant sharing
HD Recording
Real-time drawing
Availability: Windows
Price: $39 or free with limitations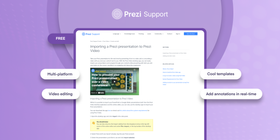 Most people know Prezi to be the ultimate presentation builder, and they're not wrong. But what many people don't realize is that Prezi also has a pretty awesome screen recorder that can help take your videos to the next level. It allows you to record your presentation window and webcam overlay to give a full-blown presentation. What's there not to love?
Features
Multi-platform
Video editing
Cool templates
Add annotations in real-time
Availability: Online, Windows, Mac
Price: FREE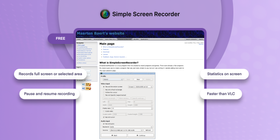 It's all in the name. SimpleScreenRecorder is a simple screen recorder for Linux users. It was created by Maarten Baert to be an easy way to record your computer screen (specifically games) with a simple user interface. Indeed, that is what it does. However, underneath the hood, it's anything but simple.
This app allows you to record any part of your screen with a reduced video frame rate and video preview while recording. It even offers live streaming. These features make this stand out from other Linux-only screen recorders.
Features
Records full screen or selected area
Pause and resume recording
Statistics on screen
Faster than VLC
Easy video messaging
Availability: Linux
Price: FREE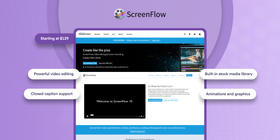 If we have Linux-only screen recorders, then you know we have to list a Mac-only screen recorder. When pitting Screenflow vs. Loom, Screenflow will surely come out on top. This is thanks to its ability to help users create professional videos.
Though Screenflow is a bit expensive, some users may find it worth every penny as it offers high-end editing, HD recording, and even iOS recording.
Features
Powerful video editing
Closed caption support
Built-in stock media library
Animations and graphics
Availability: Mac
Price: Starting at $129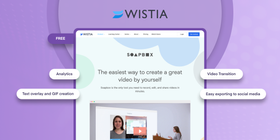 When comparing Soapbox vs. Loom, we need to take a close look at accessibility. Soapbox by Wistia is an easy-to-use screen recorder that can be accessed via Chrome extension, no need for downloading.
Besides skipping installation, Soapbox also gives you access to editing tools. This will enable you to turn your video into a presentation with a professional touch. Just get the extension and start recording!
Features
Analytics
Text overlay and GIF creation
Video Transition
Easy exporting to social media
Availability: Chrome
Price: FREE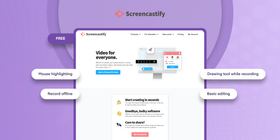 Screencastify is all about simplicity, making this a winner in a Loom vs. Screencastify matchup. It is also a Chrome extension app as well. With an eye-catching and easy-to-follow user interface, this app allows you to capture a tab, a window, or your webcam and annotate and narrate as you go.
You can upload directly to sharing sites, too, making it an ideal app for simple videos and presentations. Also, if your Screencastify account is connected to your Google Drive, you can always share the link to any of your recordings at any time.
Features
Mouse highlighting
Record offline
Drawing tool while recording
Basic editing
Availability: Chrome
Price: Free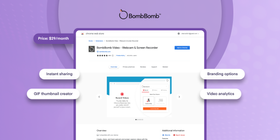 Loom vs. Bombbomb, which is best? We say Bombbomb thanks to the multiple ways to access it. You can either use their web application, Chrome extension, or even Gmail and CRM integration.
Keep in mind, however, that you'll need to download the app to use any of the access points. But once you're up and running, you'll be recording with ease.
Features
Instant sharing
GIF thumbnail creator
Branding options
Video analytics
Availability: Chrome, iOS, Android, Gmail integration
Price: $29/month
Comparison Table
| | | | | | | | | | | |
| --- | --- | --- | --- | --- | --- | --- | --- | --- | --- | --- |
| | Free? | Multi Platform? | Editing? | Screenshot? | No Limits? | No Watermark? | Instant Sharing? | Capture regions? | Mp4 export? | HD Recording? |
| ScreenRec | | | | | | | | | | |
| OBS | | | | | | | | | | |
| Camtasia | | | | | | | | | | |
| Kazam | | | | | | | | | | |
| Bandicam | | | | | 10 mins | | | | | |
| Prezi | | | | | 15 mins | | | | | |
| SimpleScreenRecorder | | | | | | | | | | |
| Screenflow | | | | | | | | | | |
| Soapbox | | | | | | | | | | |
| Screencastify | | | | | 5 mins | | | | | |
| Bombbomb | | | | | | | | | | |
Conclusion
These Loom alternatives all prove that you don't need an expensive and restrictive app to record your screen without a problem. While there are multiple Loom desktop alternatives, only a select few stand out above the rest.
It could be due to top-notch security or being restriction-free like ScreenRec. It could also be having over-the-top editing features like OBS. Either way, you have plenty of options to find screen recording software better than Loom.
FAQs
Unfortunately, the only way to get a Loom video on YouTube is to locally save the file first. Then, upload it manually to your YouTube channel.
Yes, when you are offline, you can still use Loom.
Yes, you can use Loom on your phone, but it's only for iOS.
In our opinion, the best Loom desktop app alternative is a free app that has no restrictions. An app that allows you to record any part of your screen and has instant sharing. The only app that fits this description and somehow offers even more is ScreenRec.
References and Further Reading