Video Email: How To Record And Send Video Messages
Picture for a moment that you are at your computer staring at a blinking cursor inside the draft box of your email. You know you need to write up a detailed email to a client which makes you want to groan in despair and let your head fall forward onto your keyboard.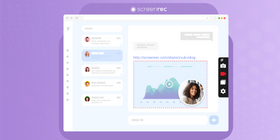 Sick of typing emails all day? All of this frustration and annoyance can be avoided if you simply send a video email.
Now, now. It's not as daunting a task as you may think! It's not even difficult, nor complex in any way. Please give us a few moments to make a believer out of you.
Why send a video email in the first place?
There are multiple reasons why video emailing is a great email alternative that beats traditional electronic letters…
Human Touch. Let's be real. Reading words on a screen can often lack feeling or general emotion. It's difficult to convey emotion through email, especially in formal letters. Also, consider the fact that your reader may very easily pick up a tone that you certainly did not intend to insinuate. Sending a video email is a surefire way to insert that human element to a rather cold form of nonverbal communication. This is especially useful for remote sales teams.
Faster Than Typing. The average person can type 37 to 44 words per minute . Not too bad, right? But given the fact that working people send on average 40 emails per day , you likely spend (or, rather, waste) a LOT of time typing.Now compare that to the average speaking rate of 100 to 130 words per minute , and you can see that it is much faster and more convenient to record a video than to continually type. Not to mention, there's no need for proofreading!
Stand Out. The War for Attention is real and, if you want to succeed, you need a way to stand out from the pack. Recording and emailing video is a fairly unexplored option. Few people are doing it.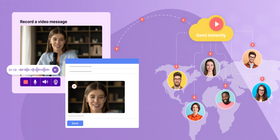 Video email helps you stand out in an overflowing inbox.
Plus, video emailing brings results, especially in email marketing. The average company can send anywhere between 2 to 8 promotional emails per month. Studies show that simply adding the word "video" to the subject line can increase sales by 300%. That's a huge margin!
Do I need video email software? Why?
The short answer: YES! Yes, you absolutely should use video email software. Sending long videos through email is actually a lot more complicated than it seems. Let's talk about why.
File size is HUGE. Most of us have tried to send large video files via email and know the drill. Gmail, for example, has an email attachment limit of 20 MB. That's pretty reasonable until you realize that a 20-second video can easily be around 25 MB.
Video hosting is slow. You may be considering video hosting as an option. It's not a bad one either, however, you'll need to upload your videos manually. Who wants to wait for hundreds of megabytes to upload? There's also the small issue of the recipient needing to download the video before they can watch it.
Cloud file sharing is slow, too. Or maybe you're thinking of using a cloud file sharing service like Google Drive or Dropbox. But the same issue appears again. You have to wait for the upload and the other person has to wait for the download. Not the best user experience, is it?
Encoding… Ugh! Depending on the video recording software you use, you may find that you need to adjust the resolution and bitrate. It's not impossible, just not practical.
Embedding is even worse. If you want to get technical, you could try embedding videos in emails using HTML5. The problem: your viewers may not be able to watch the HTML5 video unless you take the time to properly code them . You'll also need to figure out a fallback image.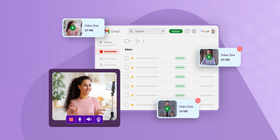 Sending large video files in email is an experience you don't want to go through.
For video marketing, these are all gigantic drawbacks. It's a shame that you can't easily embed videos in email or send video emails because, after animated gifs, this may be the best way to capture the reader's attention. As we saw, just adding video in the subject line increases your open rates.
In addition, according to RenderForest , videos also get more social media shares and result in more people following your call to action. But, if your subscribers can't watch the video instantly, none of this will happen…
Video email apps solve all of these problems
When you use an app for emailing videos, you simply record a video message online and send it instantly. No uploading, no waiting, no attachment limits. People will be able to stream your videos in real time and on any device. This is also a great asset to use with email automation tools because it makes adding videos to your promotional emails super easy.
How do I record and send a video email for free?
For this tutorial, we'll use ScreenRec which is free video email software ("free" as in "$0, ad-free, malware-free, virus-free").
To learn how to send video email see this video or check out the text-based tutorial below.
Download ScreenRec and install it.
Press Alt-S to select screen capture area. To record in full screen, simply drag your mouse across the entire screen. You can also modify the capture area in case you're not happy with the selection.
Begin recording!*Note* It would be wise to have your talking points jotted down to keep you on topic while you speak.
Press Alt-S to stop recording.
Share. Immediately after you've finished recording, your video opens up in a gallery. Click the Chain icon to receive a private shareable link. If this is the first time you're using ScreenRec, you will be asked to create a free account. After that, every time you click the Chain icon, the link will automatically be copied to your clipboard.
Paste the shareable link an email and send it. Voilà!
So, what's the best way to send video in email?
There are several other ways to accomplish video emailing. Solutions like Cloud HQ, BombBomb, and various Gmail plugins are available. However, Screenrec offers the same features and even more all for absolutely free which makes it the best video email tool. Here's some more information about ScreenRec.
ScreenRec Video Email Features
| | |
| --- | --- |
| Free | ScreenRec is 100% free. No hidden costs or gimmicks, just free. |
| Hostings | With ScreenRec, you automatically receive free video hosting and up to 2 GB of free cloud storage. |
| Instant Sending | A unique video email URL is copied to your clipboard as soon as you stop recording. |
| Fully Private | ScreenRec runs on top of StreamingVideoProvider, a video platform for business. Because of this setup, ScreenRec users have access to all of the StreamingVideoProvider features! This includes having your videos automatically encrypted so that they are safe from hackers and illegal downloads. So, yes, your video emails are fully private. Even we can't watch them. |
| Any Email Service | Since you can paste your shareable link anywhere, this means your video can be sent through ANY email service. |
| Easy | No encoding or other difficult tasks necessary. Just press your shortcut key, record, and send the link. |
| Record Anything | You can record your entire screen, your webcam, or both. And it's not just a video you can record. You can also record sound from your computer or from your own mic. |
| On Any Device | ScreenRec makes it possible for people to see your video across multiple devices. |
Frequently Asked Questions
It's best to first upload them to a video sharing site or a private video hosting service because email clients don't allow you to attach large files and videos are typically very large. Then you can upload an image as a visual representation of what the video is about. A thumbnail, a GIF - anything will do. Next step is to simply paste the link to your video in your email. With ScreenRec you automatically get such a video email URL copied to your clipboard, as soon as you stop recording, which makes things even simpler.
Yes, you can. How the video will be shown depends on the email application you are using. You can embed it in a way that the video will immediately start playing the moment your recipient opens the email. Another option is having a specific landing page or link directly to the host platform you uploaded your video in. It's important to have a fallback image, so you make sure your email doesn't have a black screen to irritate the receiver.
Yes, you can email videos on Gmail. However, there is 25 MB limitation of attachments. Good news is that if you use a video recording software like ScreenRec where you have up to 2GB free cloud storage. You can simply record a video message and email the private link ScreenRec gives you. Your recording is completely safe because ScreenRec is built on top of StreamingVideoProvider—a private and secure business video platform.
References and Further Reading?