How To Build A Remote Sales Team Your Business
As the name suggests remote selling is the process of executing sales where the salesperson(s) and the buyers never have any physical contact. Due to obvious reasons, it has now become a pressing need for businesses to hire remote sales representatives that can meet targets every week, every month, and every year with minimal supervision. However, building such a team can be very challenging.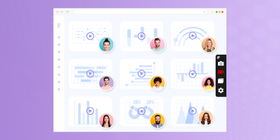 Hiring the best talents for the progress of your company doesn't come on a platter of gold. We hope this article will help you solve the problem of how to build a remote sales team and show you how you can employ the best sales agents to bring productivity and profits to your business.
Features of Productive Sales Agents
Here are some of the qualities to look out for before you hire remote sales agents:
Ability to work under minimal supervision
Ability to meet targets within a given deadline
Good networking abilities
Creativity while turning prospects into customers
Self-motivated to achieve a specific task
Excellent multitasking skills
Highly competitive in nature
Recent studies have proven that 70-75% of startups fail in their first five years of operation. This happens mostly because of the low level of enthusiasm and commitment of all of the organization's employees, including in-house or remote reps. But you should not be discouraged by this, since there are ways to prevent this from happening. If you employ sales reps who are always motivated and creative, you can enjoy high sales team productivity.
How to Hire Effective Remote Sales Agents
To hire a remote sales agent, you need to take these steps.
1. Set Clear Expectations
After posting a remote sales job for your business, and candidates submit their resume, setting specific goals and standards for your business will help give your recruitment team a clear picture of the kind of sales agents you want to employ. The expectations you should set are the qualities of remote sales agents that would enhance your business's progress, such as sales agents who are active and have excellent multitasking skills, among others. If you need sales reps that would deliver almost immediately, it is best to look for 2-4 years of experience at a similar company.
To employ a sales rep from home, you need someone who has a strong record of performance at a previous company that is similar to yours can be a great fit. However, you need to do your proper research and be 100% sure that the numbers don't lie and their previous success was due to their efforts. You should also take their team performance into account. These are pointers to keep in mind before proceeding to the next step in your hiring process.
2. Create a profile for the ideal candidate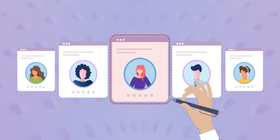 When you're working for a sales company, you probably have an ideal customer in mind every time you go out for sales. You need to have a similar approach when it is time to find and hire sales reps. Before preparing your job listing, and then conducting interviews, you need to understand what professional qualities this candidate must have that will be beneficial for your company. Identify the experience level you're looking for and the different skills required for this role.
One great place to begin is assessing the strengths and competencies of the current sales team members. Observe the traits of your top-performing sales representatives. Is there any specific kind of work experience or skill set missing in this team? For instance, if your organization sells office furniture directly to clients and is planning to create and expand its office furniture selling network online, it might be a good idea to consider hiring candidates that have a background in B2B selling. In addition, you may also want them to have industry-specific skills. For example, if your company is selling Wordpress web hosting services, you may want to look for people who know how to choose web hosting for Wordpress or how to add Wordpress plugins.
3. Write a job description
After you have decided the qualities you wish for in the ideal candidates, it is time to try and attract the ideal talent to this position. This effort begins with writing a thorough and clear job description. When you have a properly written job description, it will sell the post to the reader apart from explaining the role itself. For attracting high-quality talent, this job description has to be easy to understand, appealing and must describe a realistic picture of the job expectations. According to Essay Tigers, here are some key elements you need to include in the description.
Position/job title
Objective
Description
Salary
Experience
Logistics
4. Develop a set of meaningful interview questions
Before advertising the position to a host of job listing sites and, hopefully, attracting people who can sell from home, you need to begin your preparations for the interview process. Keep in mind the traits and skills you are expecting from the ideal sales team member. You need to approach the interview process with a clear purpose in mind and that is trying to gauge the experience level of every candidate and how it fits with the role. Be sure to ask questions that will convince the candidates to tell you about the experiences they had in their careers. It should also tell you about how they will react in certain situations they are likely to face while they are dealing with their current sales responsibilities.
For instance, if your company relies predominantly on social selling, you can ask them to tell you about a time they were using social media for facilitating the sales process. Make sure that you spend sufficient time on creating precise interview questions that will help you in finding the right sales reps for your team. You need to remember the main objective of the role — a problem this person working in the role is going to have to solve.
5. Review the LinkedIn profile of candidates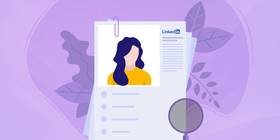 Reviewing the LinkedIn profiles of the candidates or their resumes is a terrific way of knowing who you want to recruit for your sales team. It's like a dynamic CV! You can review all the info provided in the candidate account to find out about their key accomplishments, years of experience, and the organizations they worked for in the past. The sales personnel that were associated with high-performing organizations may have some other means for assessment of their performance. So, you can ask about that as well.
There is another important thing you need to look out for while reviewing the LinkedIn profiles and that is recommendations from companies and people they have worked together with. This allows you to decide the attitude they have towards work and how productive these candidates would be as sales personnel.
6. Conduct a Sales Assessment Test
To streamline the number of candidates you will have to interview, it is important to conduct a sales assessment test that checks their competitiveness, optimism, and hunger for results. These are three non-negotiable qualities essential for remote sales reps.
Ensure your test uses a questionnaire format that avoids scams and can track your candidates' consistency level. Also, ask them to record a short video of themselves with a webcam recorder like ScreenRec, explaining the answers they gave. After this is done, you would have fewer but better candidates who are ready to make sales from home. The interview process then becomes easier.
7. Conclude with a Behavioral interview
Candidates who are successful in the sales assessment test get the chance to have a one-on-one behavioral interview with you. The behavioral interview checks their work-related attitude that depicts the qualities you demand from your new hire. If you partner with a global PEO, they will help a lot in conducting a behavioral interview for candidates by asking questions that will assess the candidates' ability to work with little or no supervision remotely.
The answers they get would influence their decisions and would enable them to pick the right choice for your business. Their mission is to help you recruit the best of talents that would suit your business.
8. Find the right tools for onboarding and beyond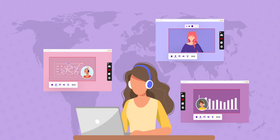 Nowadays it has become necessary, if not crucial, to manage sales teams remotely. And, for this, you need remote work apps and tools. There are online platforms available that can offer sales leaders to manage remote salespeople effectively even if they are working from home themselves.
Luckily, you can find a plethora of online office management platforms and sales tools. One great sales app for remote selling and managing a remote sales team is ScreenRec. One of its use cases is for onboarding the new sales reps — their experienced colleagues can record their screen, microphone and webcam to create instantly shareable tutorials. Another use case is for sales managers to brief remote employees and easily assign them new leads.
And, yet another way you can use ScreenRec in your sales organization is to enable the hired sales reps to communicate with the clients remotely. The app enables your team to send leads software demos, video sales pitches and other engaging video materials in seconds. No training is necessary because the app is extremely simple. For example, with ScreenRec, a sales rep can record their screen along with a presentation and the webcam to create personalized product demos and sales pitches. This is also great for remote leads that tend to shy away from video calls or are too busy to schedule one. These customers can watch the ScreenRec videos at any time they want.
Final thoughts
In conclusion, the need for remote sales agents and remote selling is increasing, especially during times like this when coronavirus has made everyone stay most of the time indoors. However, you are sure to get the best remote sales agents for your business after going through these steps in your hiring process. Throughout this process, you can use ScreenRec in so many ways — as an HR tool to single out the best candidates, as a sales rep onboarding software and as a tool to record and share personalized product demos with customers.
References & Further Reading