What Can You Do With ScreenRec?
Graphic Designers
Give and receive clear design feedback
UX Professionals
Share concepts and do user testing
Front-End Developers
Resolve implementation/ design issues
Managers
Explain task scope and review designs
Level up work communication
Close the feedback loop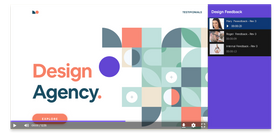 Give and receive easy-to-follow feedback from clients and co-workers
Articulate your design decisions clearly with videos and screenshots
Shorten the feedback loop by keeping everyone on the same page
Store and organize all design feedback in an online library
Bridge the designer - developer gap
Communicate technical limitations and design requirements
Convey exactly where changes need to be made in code or design
Quickly capture and report technical, UX and visual design bugs
Easily and securely share progress with everyone involved in a project
Share ideas and knowledge
Walk others through the latest design trend or show a cool trick with an instant video
Create training videos to help new hires learn about your processes and design tool stack
Explain how you solved a design problem to inspire your teammates
Present your notes from a conference or a course you attended
Built For Business
ScreenRec is not your regular screen recorder. It was built to serve business users
Business Video Hosting
ScreenRec uses the global business video platform StreamingVideoProvider
Enterprise-Grade Security
128-bit encryption protects your captures
Cloud Recording
Screenshots and videos are uploaded as you record
Content Management
Search, tag and share past video or screenshots
Deep Analytics
See who watched your content and for how long
Access Control
Require a password to view or restrict access to specific users
Get More Done With ScreenRec
Record your screen, share and move on with your day. It's so easy you'll get addicted!
Latest version – 1.0.89 | Release date: 18 Nov 2020 Works on Windows 10, 8.1, 8, 7, Vista, XP
4,422,748 Downloads & Counting
sudo wget -q -O - https://screenrec.com/download/pub.asc | sudo apt-key add -
sudo add-apt-repository 'deb https://screenrec.com/download/ubuntu stable main'
sudo apt update
sudo apt install screenrec
4,422,748 Downloads & Counting
Mac version is coming soon. (ETA - Oct 2021)
Resources
No, ScreenRec is a designer tool that has no upload time and spares you the waiting. Your videos are automatically uploaded during recording thanks to the Cloud Recording technology. With ScreenRec, you get 2GB free private cloud storage which can store hours of screen recordings.
Yes, ScreenRec has some of the annotation tools design teams need the most. You can add arrows, callouts, rectangles or you can directly add text. You also have the opportunity to edit or delete the annotations. This speeds up your design process because it's great for client communication, website feedback and general design feedback.
Yes, with ScreenRec you can communicate more effectively with your clients, letting them record their screen to give you feedback. The different annotation tools make it easy and convenient to get clear advice, instructions and overall feedback.
Yes, you can use it both for internal communication, to communicate with remote graphic designers and to sync with clients. By capturing screenshots and videos you save time and you can explain your ideas more clearly. This helps you collaborate with team members/clients more easily. For us, ScreenRec is an indispensable part of the design review process and a great graphic design tool in general. We use it to create graphic design tutorials, collaborate on UX projects, create web designs and even as an online brainstorming tool — it allows us to share our ideas instantly and visually without interrupting each other.