What Can You Do With ScreenRec?
Graphic Designers
Give and receive clear design feedback
UX Professionals
Share concepts and do user testing
Front-End Developers
Resolve implementation/ design issues
Managers
Explain task scope and review designs
Level up work communication
Close the feedback loop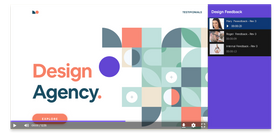 Give and receive easy-to-follow feedback from clients and co-workers
Articulate your design decisions clearly with videos and screenshots
Shorten the feedback loop by keeping everyone on the same page
Store and organize all design feedback in an online library
Bridge the designer - developer gap
Communicate technical limitations and design requirements
Convey exactly where changes need to be made in code or design
Quickly capture and report technical, UX and visual design bugs
Easily and securely share progress with everyone involved in a project
Share ideas and knowledge
Walk others through the latest design trend or show a cool trick with an instant video
Create training videos to help new hires learn about your processes and design tool stack
Explain how you solved a design problem to inspire your teammates
Present your notes from a conference or a course you attended
Built For Business
ScreenRec is not your regular screen recorder. It was built to serve business users
Get More Done With ScreenRec
Record your screen, share and move on with your day. It's so easy you'll get addicted!
Latest version – 2.0.2 | Release date: 28 July 2022 Works on Windows 10, 8.1, 8, 7, Vista, XP
sudo wget -q -O - https://screenrec.com/download/pub.asc | sudo apt-key add -
sudo add-apt-repository 'deb https://screenrec.com/download/ubuntu stable main'
sudo apt update
sudo apt install screenrec
Mac version is coming soon. (ETA - Aug 2022)
Resources
Learn more about working with ScreenRec