The 16 Best Remote Working Tools Your Team Needs
Working from home has been growing in popularity in recent years. However, we've seen this trend explode recently. Global Workplace Analytics reported that in 2016, 43% of the U.S workforce worked from home at least some of the time. But with the drastic global change that we all are facing, they estimate that those currently working from home will continue to do so even after things return back to normal: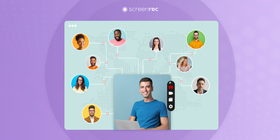 "Our best estimate is that we will see 25-30% of the workforce working at home on a multiple-days-a-week basis by the end of 2021 …"
If this prediction comes to pass and the demand for remote workers grows, "work-from-homers" are going to have to adapt and adapt quickly. This is why remote working tools play such an essential role in the near future.
Those who are new to the game will initially find it difficult to set work-from-home goals, stay focused, and remain productive. But when you throw in a couple of remote work tools, the transition will go much smoother, and soon working from home will feel like the new normal.If you're short on time, check out our top three in the video below. Otherwise, keep on reading for the full list.
Whether you're working at a distance or managing a remote team, here's a comprehensive list of the best 16 remote working tools that you can't do without.
Screen Recorders
Real-time communication is necessary in many cases but, sometimes, it hinders our ability to focus. If you're in meetings all day or you're constantly distracted by chats, you'll hardly be able to do work that requires deep concentration such as design, writing or coding.
If you have a flexible job, like many people today, asynchronous communication is key and this is where a screen recorder can be your best friend.
Screen recorders are a great way to relay information that can be better explained through visuals rather than long emails. For example, you can use a screen recorder to send video emails or as a supplement to code review tools. It's also great for recording how-to videos or recording and sharing conference calls and video meetings.
ScreenRec is a screen recorder without watermark that doubles as an essential remote working tool. With the simple press of a hotkey, you can record your entire screen, or a selected region in high definition. You'll be able to record sound from your computer, your mic, or both, but that's not even the best part. What good is recording your screen if you can't share it?
ScreenRec automatically creates a private shareable link that you can copy and paste anywhere, so you don't have to worry about waiting forever for your video to upload. It's absolutely free with no watermarks or limitations. This is definitely a work from home productivity tool that you need. You can do anything with it from video testimonials to code reviews.
This is another screen recorder that offers easy recording without hassle. CamStudio has some basic editing features that allow you to lightly customize your videos. Video files are saved in AVI format and can be burned to a DVD or uploaded manually to sharing sites.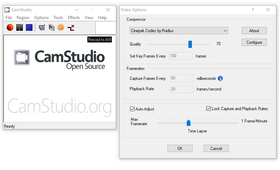 OBS is one of the most complex free screen recorders that you'll come across. This open-source recorder gives you hundreds of recording and editing features. It may take you some time to get the hang of it, but once you do, it's a great way to create professional-looking how-to videos and tutorials.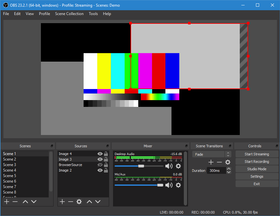 Movavi is a great tutorial creator. This versatile screen recorder captures your screen and webcam footage simultaneously. Even though it doesn't allow you to record system audio, it does give you basic video editing features. So if you want to record a quick video that requires you to do a lot of talking, Movavi is an app that you may want to try.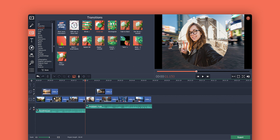 ClickUp is a powerful productivity platform designed to manage everything from your daily to-dos to complex projects, bringing everything together into one collaborative work hub. ClickUp provides a rich set of collaboration features to accommodate various types of work, across industries. One of these is an in-app screen recording tool called Clip.
Accessible from your ClickUp Workspace, Clip lets you capture any browser tab, app window, or your entire screen. Add voiceovers as you record from your built-in microphone, then immediately playback your video or share it via URL, no downloading needed. With Clip, you can instantly create a ClickUp task from your recording to start acting on your message with the entire team.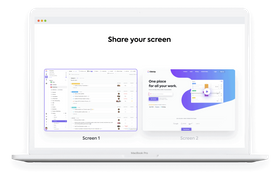 Task Management
These task management apps will help you and your team stay focused and on task by implementing various features that help you view and distribute tasks easily.
ProofHub is a highly intuitive project management and remote work collaboration tool. It comes loaded with features that help project managers collaborate effectively with their remote and in-office teams.
With ProofHub, you get Kanban Boards to assign tasks to the remote team, Gantt charts to track task progress, Chat & Discussions to connect with team members, Online Proofing to review and approve files, Calendar to stay on schedule, and Announcements to share any recent accomplishment of a remote team member with others.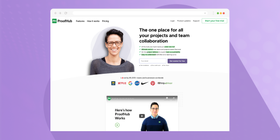 This remote work collaboration tool (and project management software) takes organization to a whole new level. Each task created gets its own designated area where documents, comments, chats, and more can be shared. This format minimizes confusion and increases remote team productivity.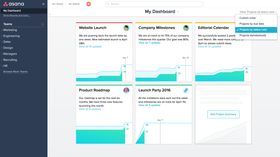 Trello is all about the visual representation of tasks for remote collaboration. All tasks are neatly organized on various cards all displayed on a single page. You can easily assign work to individuals or teams and see who is working on what.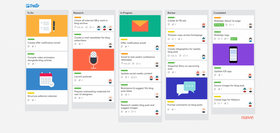 Basecamp has been a popular tool for virtual teams for quite some time, and it's no wonder. Founder Jason Fried has been a home office advocate for a long time and he even wrote a book about remote work. So, you can be pretty sure that, at Basecamp, they know what challenges distributed teams face.
This tool offers the complete productivity package with task assignment, meeting scheduling, group chats, document sharing, and progress tracking. They may be on their third version of this remote work software, but it just seems to keep getting better.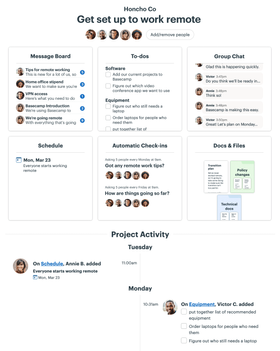 Wrike is a remote collaboration tool that puts you in the driver's seat. With fully customizable boards, you can set your team up to assign and view tasks and their progress. The Gantt chart makes Wrike a team collaboration tool on another level by giving you an even deeper look into which team member is contributing the most amount of work.

Communication Tools
Remote communication tools will help you stay connected with colleagues via conference calling and document sharing.
When you think of the best communication tools for remote teams, Zoom is probably one of the first that comes to mind. This video conferencing app has grown in popularity in recent months and rightfully so.
Zoom has established itself as the most reliable video chat software available for free. It can hold up to 100 participants without glitching or failing. Most definitely a powerful software, Zoom easily allows everyone to join a virtual meeting and use screen sharing, chatting, and document uploading.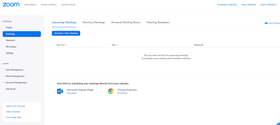 PDFliner is a document management platform for collaborating on PDF files and documents online. It's a cloud-based application allowing colleagues to access PDFs, documents, invoices, pictures, electronic signatures, etc, that are uploaded to the team's account. Besides that, you can also share documents via links or email.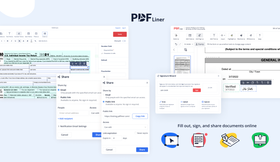 Skype is the tried and true program that brings everyone together and makes remote team communication a bit easier. On the scene for almost two decades, Skype is continually growing and adapting to today's work-from-home demands. Video chatting, voice calling, chatting, and file sharing, there's not much you can't do with Skype.

(Source)
Dropbox is known as the ultimate file sharing application online. It's cloud-based allowing any team member to access documents, videos, pictures, and any other files that are uploaded to the team's account. Sharing a file is as easy as dragging and dropping it to the shared team folder.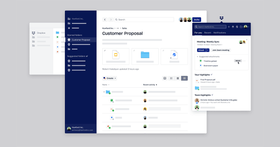 Sure, technically, Slack is an employee communication tool, but it offers so much for all-around team management that it's hard to keep it one category. Scheduling, assigning, file sharing, tracking, and more. Slack pretty much does it all which makes it a top contender in our remote working tools roundup. But, if you've already tried this tool but are not 100% happy with it, feel free to check these Slack alternatives.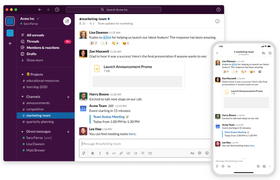 Time Management
Time management apps are perfect for keeping teams that are scattered across different time zones on the same page as you and your team schedule meetings and set deadlines.
It's never easy trying to keep track of time zones. Knowing the current time in each of your colleagues' locations can be a true hassle. Worldtimebuddy does the hard work for you. Simply select your areas of interest and see their current times on a single page.


Indy is a convenient tool that lets you clock in with the simple click of a button and hit pause anytime you take a break. The time tracker allows you to filter your timesheets in different ways so you can get an overview of your work hours and tasks. At the end of the week or month you can link your hours to an invoice, so all you have to do is add your hourly rate before sending the document to a client.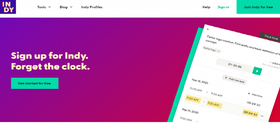 Toggl is a complete time tracker that tracks all of your work tasks down to the most trivial ones like checking emails and travel time. This is a great remote work tool as it lets you view exactly how much time and money is being spent on your everyday work activities.

Rescue Time is an automatic time tracker that runs in the background as you work. This is the ideal work from home productivity tool as it lets you know how much time you are spending on each of your tasks (and, of course, how much time you are wasting.)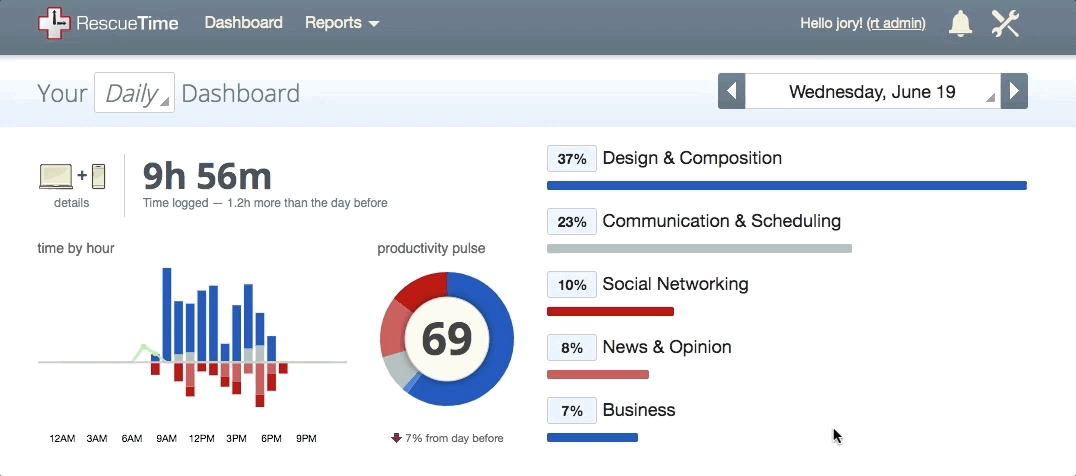 factoHR's Timesheet tool enables you to monitor time and analyze the productivity of your remote teams efficiently. The platform allows employees to input their project details, tasks, and total time required to complete the tasks. This helps managers to track the productive and non-productive hours spent by the employees. The customizable workflows help you in defining a transparent hierarchical approval process. Its ready-to-download reports enable you to manage your data even outside the software. factoHR is easy-to-use, robust, and seamlessly integrable with other tools to help you achieve the most during remote working.
Conclusion
There you have it! Each of these remote team working tools is sure to keep you and your team on top of everything. Whether you're using ScreenRec to record your important meetings, or Asana to keep everyone on task, it certainly doesn't get any easier than this.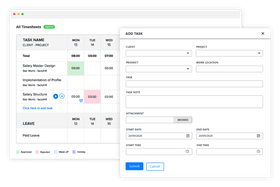 References and Further Reading?