The 13 Best Productivity Apps Highly Effective Teams Use
What a time to be alive! No more handwritten lists and ledgers. No bulky event planners to lug around or typewriters to fuss with. It's the digital age and we can get more done in less time without even getting off the chair.
Everyone knows that productivity software helps increase performance but, with so many options out there, you could easily find yourself in choice paralysis. It's no longer just Slack vs email. To help you make the right choice, we've rounded up the best productivity apps for work that have a zero learning curve.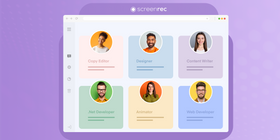 Screenrec – Team communication and personal productivity app
Tell Me About It
ScreenRec is an easy to use free screen recorder with audio and screenshot capture tool that doubles as a team communication app.
A downloadable office productivity app for all operating systems such as Windows, Linux and Mac, ScreenRec takes the pain out of using the Print Screen button. It has a simple and straightforward interface with all the necessary tools for quick screen capture.
You can grab a screenshot or record a screen video (together with audio) and share a private link instantly.
ScreenRec comes with 2 gigs of free cloud storage which makes it one of the best productivity tools available for free
ScreenRec helps you reduce your email load because it allows you to communicate faster visually making it one of the best apps for work.
ScreenRec wins the Top 5 Best Free Screen Recorder Software In 2023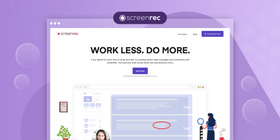 Who Uses It?
Anyone who wants to explain what they are seeing on their computer screen would benefit from using ScreenRec. Using this productivity tool, business owners and managers can delegate tasks, teachers, coaches and online instructors can record tutorials, clients can give better feedback to developers and designers.
Give Me An Example
Meet Laura! She runs a successful CPR Training Course that has expanded to multiple classes across the country. Using ScreenRec, Laura recorded several introductory training videos with her own simultaneous narration to use at the beginning of each class. Every Friday, she calls an online meeting with franchisees to receive updates. She uses ScreenRec to record these meetings for future viewing and note-taking.
How Much Does It Cost?
ScreenRec is a free screen recorder that can also function as free screen sharing software. There is no malware, adware, in-app purchases or anything of the sort and, at this point, there are no upgrade options. You can download it here.
Brosix IM – Secure Team Communication and Collaboration App
Tell Me About It
Brosix is an app that streamlines communication into one secure and fully administrable IM platform, keeping teams connected. Brosix comes with a full range of collaboration features, which, when used properly, can improve team communication and boost collaboration.
Brosix provides teams with private networks that they can fully control and administer as they see fit.
Teams can make use of a range of features, including unlimited file transfer, text, video and audio chat, and custom chat rooms.
All communication is fully encrypted end-to-end, making it one of the more security conscious IM apps out there.
Brosix has apps for a range of operating systems and platforms, including Mac, iOs, Android, Windows and Linux.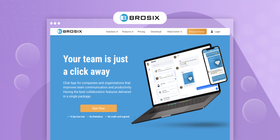 Who Uses It?
The paid version of Brosix is geared towards teams of all sizes, from small businesses to large organizations.
Give Me an Example
Pathways Financial Credit Union is a member-owned financial institution operating 7 full service baking locations across Ohio. Given that team members work across multiple sites, Pathways needed a secure platform that would allow employees to safely communicate amongst each other regardless of their location. Brosix provided Pathways with a secure private team network, after which response times to customers were significantly reduced and team connectedness increased.
How Much Does It Cost?
Brosix IM has a free startup plan for teams with up to 3 users, as well as paid Business and Premium plans for larger team networks. Paid plans start at $4 per user per month when billed annually.
ClickUp — All-In-One Work Management Solution
Tell Me About It
ClickUp is an all-in-one productivity tool that small and large teams across different industries turn to for a powerful work management solution. It is completely customizable and offers a feature-rich experience to manage your workload, monitor project updates, and collaborate with the team—no matter what project style you use.
ClickUp's unique organizational Hierarchy gives you more flexibility and control to organize everything from small teams to enterprise companies
Tackle work from any angle with 15+ powerful views including Gantt, Board, Mind Maps, and Calendar
Create subtasks and checklists within tasks to track anything from multi-step workflows to simple to-do's
Streamline teamwork with powerful collaboration features that make it easy to work together on any type of project
Collaborate in real-time with others, add rich editing, and keep everyone up-to-date with a visual knowledge base with ClickUp Docs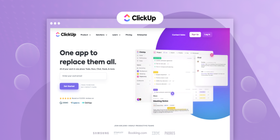 Who uses it?
The best part about ClickUp is that anyone can use it! From personal use to small businesses, to large-scale enterprise companies, ClickUp's vast and growing list of powerful features aligns with any team's goals.
Give Me An Example
Patrice Gallion is the CEO of the German digital marketing agency, mintblau media, which provides consulting and development services for small and medium-sized client companies. ClickUp provided a solution for the challenges they previously had with other project management tools, and now mintblau uses ClickUp at the core of its operations.
Mintblau created custom ClickUp Templates to streamline its process for setting up web projects and can invite clients to provide comments, feedback, and annotations which have cut down their phone calls and web meetings by at least 50%. ClickUp's Home Inbox, Comments, Multiple Views, Slash Commands, and Docs have completely changed the game for mintblau's creative processes, and now even use ClickUp to manage its agency expenses and revenues. ClickUp's powerful features and sleek UI have already replaced a number of mintblau's previous tech stack, and expect it to replace even more in the future.
How Much Does it Cost?
ClickUp offers access to 24/7 customer service, real-time chat, 1000 MB of storage, as well as unlimited members and tasks with the Free Forever Plan. You can gain access to even more advanced features with paid plans starting at $5.
ProofHub – Online Project Management And Team Collaboration Software
Tell me about it
ProofHub is cloud-based project management software. It helps teams in project planning, task management, and team collaboration.
ProofHub lets you add tasks with a start and end date so that they don't get dragged over their deadlines.
The app lets you collaborate with remote team members in real-time with its online discussions.
You can communicate with others using Group chat
It also has Gantt charts that offer a timeline view of the projects for better visualization and clarity in project progress.
ProofHub automatically sends notifications to team members whenever some change is made in the project.
You can track time spent on tasks, generate project and resource reports, review and proof files in real-time using the online tool.

Who uses it?
ProofHub for teams and managers that want to work more productively. A wonderful tool for in-house teams, it is equally useful for scattered teams that have to collaborate in real-time.
Give me an example
Delia works as a freelance designer in Dallas, TX. She found ProofHub while searching for a project management system that was also a hub for online proofing. She set up her first project and invited her first client, Isabel of isabelsadurni.com, and used ProofHub in the end states of development process. Falling in love with it overnight, they were able to finish their work so much faster with it, than they thought they would. Both of them can now see working ideas put immediately into action, comment on them or chat about them, and move to the solution-phase faster. The to-do list allows them to see what needs to be done, so that they could nail it, and make sure that nothing falls through the cracks.
How much does it cost?
You can get its Ultimate control plan with unlimited projects, users and all the advanced features at $89 per month.
Hubstaff – Time management and productivity monitoring
Tell Me About It
Hubstaff is a time tracking app that helps you understand how you spend your time. It shows you exactly how much time you spend on each project, helping you optimize your workflow and get things done with higher efficiency.
Hubstaff lets you create projects, tasks, and to-dos that you can track time to on desktop or mobile.
The app can track the apps you use and URLs that you visit while you're working. It also calculates activity rates based on input from your keyboard and mouse.
Hubstaff automatically generates online timesheets from the time you track. You'll be able to see your team's daily and weekly totals.
You can set hourly rates for your team members and streamline payments based on their total hours worked via multiple payment platforms.
You can integrate Hubstaff with your favorite project management, accounting, and CRM tools to boost your productivity even further.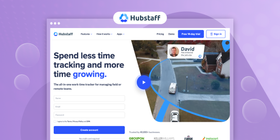 Who Uses it?
Hubstaff is suitable for all teams who want to save time on administrative tasks. Thanks to its productivity and automation features, it's a great remote working tool. But it's just as useful for office-based teams who wish to be more productive.
Give Me An Example
Clint leads a remote business of 10 people. While his team is able to finish tasks, he's spending more time on checking what they worked on and processing their payroll than growing the business. After they began using Hubstaff, Clint was able to focus on increasing the business's profitability without worrying about tracking his team's progress. He's now able to view what his team accomplished with Hubstaff's time-tracked data, and he saves extra time because Hubstaff automates the entire payroll process as well.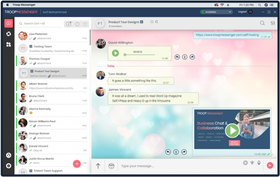 How Much Does It Cost?
Hubstaff is free for one user with basic time tracking capabilities. It has 3 paid plans starting at $5.83 per user monthly when paid annually.
Troop Messenger – Team communication and collaboration application.
Tell me about it
Troop Messenger is an internal team collaboration application used by office teams of all forms and sizes. It helps employees discuss work requirements, project ideas, work updates, etc., by using its chat, group calls, remote screen share, video conferencing, and more.
Troop Messenger lets you add employees of your organization to it to start work conversations on its single interface.
It works on the low-speed and air-gapped networks, making your teams always connected.
Your teams can share discussions with its powerful group calling. Furthermore, it allows your group of developers to collaborate in writing and editing the product development code on the same code editor, which is available within the group calling feature.
Troop Messenger has features and facilities of team collaboration, work productivity, security and compliance, and the different service models.

Who uses it?
Troop Messenger has been used by the in-house and the remote teams of the organizations for exchanging work conversations. Start-ups to large business enterprises to Governments, anyone can use it for their team communication for streamlining their daily business operations.
Give me an example
One of the clientele leads a warehouse of more than 5k employees. In order to keep track of their orders and the shipment schedules, they need to stay connected for sharing the order invoices and the product-related information. Their teams have happily exchanging work conversations even while from remote places.
How much does it cost?
Troop Messenger has a 3-month enterprise free plan. The paid plans start with Premium at $2.5 and the Enterprise at $5.
Teamwork – Easy online project management software
Tell me about it
Teamwork is online project management software that, unlike many, is easy to use essential. But don't let the looks deceive you! This app also offers enterprise-level features that will meet the needs of a growing business.

Teamwork lets you manage all aspects of a project in one location. You can create projects, upload files and add comments all on the same platform.
With the multiple workflow options, you can customize Teamwork to the way you're working right now.
Advanced features that help your business scale include portfolio management, workflow management, and time tracking.
Integrate other Teamwork tools to manage your entire business. These tools include helpdesk, chat, and content collaboration software.
Who uses it?
Any business, big and small that wants to manage multiple projects in one location while improving productivity. Teamwork is an excellent tool to keep everyone up to date with specific tasks and, best of all, a tool you will never outgrow.
Give me an example
Elle's Kitchen was managing all of its tasks with spreadsheets. It was alright at first. But, as the team started to grow, it became impossible for team members to track their tasks and know when they were due. With almost as many projects as people on their team, one person could participate in as many as 15 projects. (Imagine this!)
Teamwork not only provided the software they needed, but also transformed the way the team ran projects for the better. The team especially enjoyed the project-level view system and the filterable task lists feature. Since implementing Teamwork, overdue tasks have dropped from 7% to 2%.
How much does it cost?
Teamwork has a free plan for small teams with a maximum of five users and two projects. The paid plans include Pro and Premium at $10 and $18, respectively. Or you can contact them for details about their Enterprise price plan.
Todoist – Task management
Tell Me About It
Todoist is an extremely versatile tracking app that helps you manage your time, minor tasks, and major goals. When you're working solo, it can be a great tool to manage freelance projects.
Besides storing your basic lists, Todoist can automatically set timers, reminders, and alarms based on the information you input.
You can also integrate Todoist with apps like Alexa and Dropbox to get an even wider range of ways to use this work app.
One of the features that make Todoist a top productivity app is the ability to collaborate. You can create "projects" and add multiple users to them, e.g. so that your team may collectively stay on task.
Todoist also comes with one of the best Android productivity apps as well as a great iPhone app.
You can use Todoist to implement a GTD routine.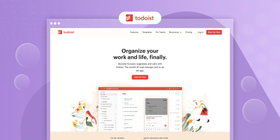 Who Uses It?
Any busy person who needs better project management and time tracking tool can use Todoist. It's great for both teams and everyday personal productivity.
Give Me An Example
The Morehouse Group is a group of four pro-bono lawyers who rely on their collective abilities to get the job done. In order to keep things organized, the team uses Todoist to divvy out tasks on each new case they take on. They insert their usual research task list to ensure they cover all bases and look into each piece of evidence. They also use Todoist to share important reminders that will ring as an alarm on all connected devices.
How Much Does It Cost?
Todoist is free for personal use. There is an upgrade option for businesses or those who need a bit more features for $3 per month. There are also in-app purchases available, ranging from $0.99 to $36.
Trello – The easiest way to organize anything
Tell Me About It
Trello uses the Kanban method to help you organize… well, just about anything (from project management to SEO link building, to grocery shopping). The nearly unlimited applications of Trello put this productivity program high up on the "best apps to stay organized" list.
This app allows you to create to-do's, set goals, and plan events on a bulletin board-esque interface made up of lists.
You can add cards to these lists as well as use drag and drop to move them.
Each project is called a board and you can share it with team members to allow them to edit and create cards and leave comments.
Trello also has the ability to integrate with other apps like Slack, Adobe and Google Drive.
It's an online productivity application which means you can use it on any device. The mobile app is one of the best productivity apps for iPhone and Android.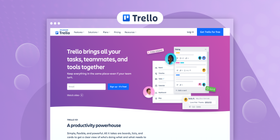 Who Uses It?
Trello is great for anyone who has a large list of things to do and projects to complete. From event planners to business owners and even teachers & students, anyone who needs to stay organized can use Trello.
Give Me An Example
Alexis is a college student who is currently studying microbiology. Her professor assigned a group project that requires groups to grow and monitor a specific type of bacteria. Safe to say, it's not as easy as it sounds. As a team leader, Alexis signed up for Trello and created lists for each day of the week. With several tasks assigned to each day, Alexis handed out tasks to each member of her group. Throughout the duration of the project, certain cards were moved to different days due to the growth of the bacteria (or lack thereof). A few tasks were re-assigned and some cards were edited or simply deleted. By the end of the project, all tasks were completed, and, with the comments left by group members, Alexis was able to compile a thorough report to turn in to her professor.
How Much Does It Cost?
Trello is a free personal productivity app. However, there is the option to upgrade for business starting at $9.99 per user, per month, annually. The free version has all the basic tools you need to get organized, while the paid version offers perks like power-ups, stickers, custom backgrounds and customer service.
Slack – Chat app for team communication
Tell Me About It
What makes Slack one of the best business productivity apps is that it's an insanely effective communication tool. Actually, it was built to replace emailing between co-workers and, considering that it has over 10 million users all over the world, we could say that it has succeeded.
This chat app allows colleagues to collaborate via messaging which, if used with care, makes Slack a great tool to increase productivity at work.
You can create channels to include the right people and chat as a group or opt for direct messaging when necessary. No more annoying CCs! Everyone gets updated only on the topics they care about.
With Slack, you can also video call, chat, audio call, and even share documents.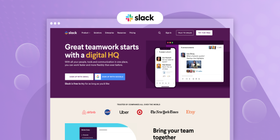 Who Uses It?
From small businesses to major corporations, Slack can be used by anyone who wants to achieve effective communications within their work family.
Give Me An Example
John Billings is the CEO of a major retail chain. He's decided to implement Slack as a part of his company's daily communication tool. With major projects and important deadlines always underway, it's imperative that John's employees remain on top of things. Since the company began using Slack, assignments have been completed sooner with fewer errors and confusion. Employees are also less stressed and more comfortable with the collaboration which has increased the overall business productivity.
How Much Does It Cost?
Like most of the other great productivity apps on this list, Slack has a free version and an upgrade option. The paid plans start at $6.67 per active user per month.
Hootsuite – Social media manager
Tell Me About It
Social media posting is a full-time job nowadays which is why you need a tool like Hootsuite. What makes it one of the best productivity tools for work is that it takes away the pain of having to log in to a dozen different social sites.
Manage all of your social media pages and profiles from a single app—Facebook, Twitter, etc.
Like, share, and comment on multiple platforms, all from your Hootsuite homepage.
Create schedules to automatically post your content at the date and time you specify.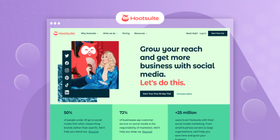 Who Uses It?
Hootsuite is suitable for anyone who wants to keep up with their social media pages with ease. So if you have a strong social media presence or you run a business, Hootsuite is a good workplace productivity app for you.
Give Me An Example
Since Ken's Handcrafted Ice Cream commercial went viral, the company has seen an enormous spike in followers and likes on social media. While they are pleased with their ever-growing popularity, the company is struggling with keeping their fans updated. The solution: register for Hootsuite. Ken's PR team can now handle the posting, replying, and retweeting from the app, making things much easier to manage.
How Much Does It Cost?
Hootsuite has a free plan which is suitable for personal use and for startups. The paid plans start at $29 per month.
Tell Me About It
Google Drive is an easy to use option for creating and sharing documents over the web. Google Suite (or G Suite) is an upgrade to that—it's all of Google's business products wrapped into one and powered up with various business-related features.
With Google Drive, you can create document, spreadsheets, presentations and other assets directly in the cloud and collaborate in real time.
One of the time-saving features of G Suite is the shared calendar app. You can see when others are available and automatically send them email invites to schedule meetings.
Another useful feature of G Suite is data protection. In the case of a lost mobile device, Android phone or an iPhone, you can erase all data or wipe a selected account.
While the G Suite may not replace Microsoft Office, which has more advanced features, it is still a great efficiency app that gives Microsoft a run for its money when it comes to easy access and sharing.

Who Uses It?
Google Drive and Google Suite are great for these businesses that often need to collaborate at a distance and require extra security when sharing documents and files.
Give Me An Example
Linda has put together a team of writers and editors to work on her company's blog. She's asked her team to write up their posts in Google Docs, so that each member may make edits to the single document. Once the original draft is complete, it is securely shared with Linda via Google Drive for final approval. She and her team have peace of mind knowing that posts are being written, shared, edited and finalized in a timely manner.
How Much Does It Cost?
Google Drive is free, while Google Suite is $12 per user per month.
Recruiterflow – ATS & CRM For Seamless Recruitment
Tell Me About It
Recruiterflow is an innovative ATS+CRM system that combines applicant tracking and CRM software capabilities. It integrates with major job boards like Indeed, Glassdoor, LinkedIn, CV-Library, and many more. So, recruiters don't have to worry about the hassle of managing applicants in every job board individually.
Recruiterflow enables you to:
Recruit from social networking sites like Facebook, Twitter, Github, Stackoverflow, Dribbble, and more. There is also a built-in professional email finder tool that you can use on LinkedIn.
Seamlessly manage the hiring workflow, work with colleagues and clients and be involved in every stage of the recruitment process. It allows you to store data in an organized manner and export all data at any time.
Automate repetitive tasks. Recruiterflow helps you focus on passive candidates and set up drip email campaigns to engage them.
Create careers pages without any coding experience and customize your application form the way you want it.

Who Uses It?
This recruiting CRM software is designed especially keeping in mind recruiting and staffing agencies. The platform is suitable for all-sized businesses and provides different plans and features based on the number of employees.
Give Me An Example
FloodGate Medical is a leading executive search firm focused on marketing, sales, and go-to-market talent for the medical technology and medical devices industry. It uses Recruiterflow to automate repetitive routine admin tasks, send email sequences, manage candidates' and clients' profiles, and much more. It has been able to save time every week for each member of the company's team, resulting in a much wider candidate pool and reduced time to submit candidates and reduced time to fill a role.
How Much Does It Cost?
Recruiterflow offers a free trial of the software for up to 7 days. After that, you will have to choose the plan suitable for your recruiting agency. The base plan starts from $99 per month/per user. The pricing is negotiable if you go for an annual plan.
Top Productivity Applications at a Glance
| | | | |
| --- | --- | --- | --- |
| | What It Is | What It Does | What It Costs |
| ScreenRec | Screen recorder | Records screenshots and audio/video of a computer screen. | Free |
| Brosix IM | Collaboration platform | Communicate and collaborate securely in a team. | Free or $4 per user/mo |
| ClickUp | All-in-one project management solution | Manage all types of projects with ease. | Free plans and premium plans starting at $5/mo |
| ProofHub | PM and team collaboration platform | Plan, assign tasks, collaborate and proof projects. | $89 per month |
| Hubstaff | Team time tracker | Helps teams better manage their time and track productivity. | Free or $5.83 per user/mo |
| Troop Messenger | Team communication and collaboration application | Helps teams collaborate by using chat, video conferencing, and screen sharing. | Premium at $2.5/mo or Enterprise at $5/mo |
| Teamwork | Easy online project management software | Helps teams collaborate on multiple tasks and scales with your company. | Pro Plan at $10 and Premium at $18 |
| Todoist | To-do list app | Keeps track of tasks and sends reminders. | Free or $3/mo |
| Trello | To-do, event, task organizer | Organizes tasks and events as set lists. | Free or $9.99/mo |
| Slack | Team chat app | Offers colleagues a way to collaborate and chat. | Free or $6.67 per user/mo |
| Hootsuite | Social media manager | Manages all social media platforms from A single app. | Free or $29/mo |
| Google Drive (Google Suite) | File creation and sharing | Allows for the creation of various documents with secure sharing and through organizing. | Free or $12 per user/mo |
| Recriterflow | ATS and CRM solution for recruiting and staffing agencies | Helps in Automating mundane admin tasks, enabling recruiters to save 3-4 hours/week | After a free 7 days trial, the base plan starts from $99 per month/per user |
Frequently Asked Questions
That depends on your context but here are a few options. PomoDone is a pretty robust option that works on both desktop and mobile platforms. Among other things, it allows you to set custom session lengths and auto breaks. If you need a Pomodoro timer + timesheets, you can try Toggl. This web app enables you to log time for multiple clients and projects and comes with a customizable Pomodoro timer.
The best app for personal productivity is the one that lets you get more done and fits with your unique style and workflow. That being said, Todoist and Wunderlist are great options if you need a simple, shareable to-do list. Trello is great if you find the Kanban method more convenient. Finally, great productivity is sometimes about documenting your thoughts and ideas and organizing them into a searchable catalog. For that purpose, Google Keep can be really helpful.
References and Further Reading?