Top 9 Best Task Management Software
It's 2023 and about time we upgrade the way we work. There's way too much technology available to us to allow ourselves to mismanage our teams and let productivity take a nosedive. Instead, use our guide to help you choose the best free task management software for you and your team. Before we begin, let's get our terminology straight.
So what is task management? According to Wikipedia, "task management is the process of managing a task through its life cycle." They also say that "it involves planning, testing, tracking, and reporting." In layman's terms, task management is the handling and supervising of a project every step of the way.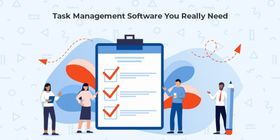 Why do we need a task management app?
Everyone knows that apps solve problems, it's just what they do. So what problem does a task management tool solve? In our opinion, the biggest challenge in task management is communication or lack thereof.
"Good communication is just as stimulating as black coffee, and just as hard to sleep after." Boy, was aviator Anne Morrow Lindbergh on to something. If the communication between team members is on the up-and-up, then they'll feel driven and excited to work.
Now imagine having zero-communication. Tasks will be undefined and unassigned. Team members won't know what's expected of them. Deadlines won't be enforced. It'll be a busy, unorganized mess and who wants to work under those conditions?
Before we begin: A Bonus Tip…
Working in a team is bound to result in an avalanche of emails and comments. So here's a little tip to help you slash that pile:
Completely eliminate emailing by instead sending video messages to one another. Here's an actual message that I recorded with ScreenRec and sent instead of an email.
https://screenrec.com/share/IDyCbexWvn
You can use an app like ScreenRec to record and securely share quick videos instead of emails. We use ScreenRec to assign tasks to team members or give feedback to the IT team about designing or coding. You can download ScreenRec here.
Best Free Task Management Software
Let's get into it, shall we? Here are 9 team task management software for you to download, test and eventually make good use of.
Used by big names like Disney and Facebook, Todoist is one of the best to-do list apps for work and life. This app handles your day to day tasks easily so that you always know what you're doing and when.
You can use their Quick Add feature to throw in a new to-do in seconds and, if necessary, you can set these tasks with recurring due dates.
Its clean interface makes it very easy to navigate and organize. Not to mention, to-dos can be accessed on just about any device, keeping that clean look on each of them.Todoist also offers secure access to your data, thanks to standard SSL encryption.
So whether you're using Todoist for work or life, it's a pretty solid option to keep everything in order.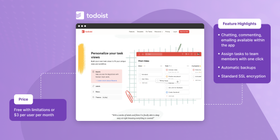 Feature Highlights:
Chatting, commenting, emailing available within the app
Assign tasks to team members with one click
Automatic backups
Standard SSL encryption
Price: Free with limitations Or $3 per user per month
ProofHub is among the best project management tools used by remote and in-house teams across the globe. It has a range of built-in features that enable managers to effectively supervise their remote teams, easily assign tasks with deadlines, communicate with them, and boost their performance.
The interface is interactive and simple which makes the platform easy to use and leaves little room for confusion especially for scattered teams working from distant locations. ProofHub offers features such as custom workflows and Kanban boards, intuitive chat, notes and stickies, Gantt charts, custom roles, views and more.

Feature Highlights:
Built-in custom and manual timer
Custom workflows and views
Gantt charts plus start and end dates for each task
Notes, stickies and real-time alerts
Kanban boards for intuitive task management
Price: Free trial available. Plans starting at $50/mo.
Like ToDoist, Any.Do keeps things VERY simple. Giving you only what you need to track your daily activities and add tasks, there's not much to dilute your focus.
What makes Any.Do awesome and especially powerful is that you can access it on ANYTHING. We're talking about smartwatches, laptops, tablets, web, Amazon Alexa, all smartphones. You'll never be able to claim that you missed a message or a notification with this app.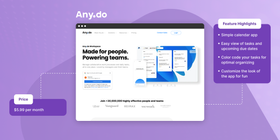 Feature Highlights:
Simple calendar app
Easy view of tasks and upcoming due dates
Color code your tasks for optimal organizing
Customize the look of the app for fun
Price: $5.99 per month
Taskque is all about really getting your team to work together and on the same page. Their top feature is the "Que" which monitors your resource allocation and automatically assigns tasks to resources as soon as they are free.
Taskque maps out all of your assignments in an easy-to-understand dashboard and allows for sub-tasks to be added, complete with due dates, permissions and more. This tool definitely isn't short on organizing features and can be really powerful if you spend some time learning the ropes.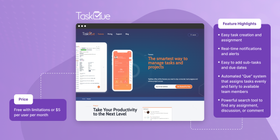 Feature Highlights:
Easy task creation and assignment
Realtime notifications and alerts
Easy to add sub-tasks and due dates.
Automated "Que" system that assigns tasks evenly and fairly to available team members.
Powerful search tool to find any assignment, discussion, or comment
Price: Free with limitations Or $5 per user per month
This all-in-one task management system works for just about every aspect of project management. From planning and creating tasks to discussing and tracking. As a matter of fact, Hitask takes Wikipedia's definition of task management and brings it to life.
Hitask is, in fact, a team collaboration app that makes it easy to stay organized as well as share files and info along with scheduling and automatic notifications.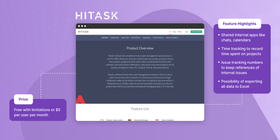 Feature Highlights:
Shared internal apps like chats, calendars
Time tracking to record time spent on projects
Issue tracking numbers to keep references of internal issues
Possibility of exporting all data to Excel
Price: Free with limitations Or $5 per user per month
Trello keeps things fresh, fun, and easy, all while allowing you to be amazingly productive.
Using the Kanban method, Trello allows you to make boards with tasks (cards) that are neatly arranged in lists. You can invite as many people as you want to view the boards or complete tasks with you and, with each board, you are given a unique email address. This app certainly has communication in the bag.
Checklists, due dates, calendars, and progress trackers. Trello has everything you need to stay on top of your work.

Source
Feature Highlights:
Kanban boards
Internal calendar
Voting feature
Multi-platform
Unique email address
SSL/HTTPS encryption
Price: Free with limitations Or $9.99 per user per month
Wimi is a work task manager that is quiet and straightforward but very powerful. No time for fun like unnecessary theme customization, it's all business here.
Major reporting allows for every team member to be in the know of how a project is progressing and how much each member is contributing.
Wimi even has its own Drive app, allowing you to upload and exchange files easily. So, even though you can integrate with Google and Office 365 apps, you don't really need to.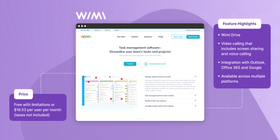 Feature Highlights:
Wimi Drive
Video calling that includes screen sharing and voice calling
Integration with Outlook, Office 365 and Google
Available across multiple platforms
Price: Free with limitations Or $16.53 per user per month (taxes not included)
Asana is a full-blown team project management software that puts you in complete control of your team and tasks. You can easily create and assign tasks, create sub-tasks, and track their progress.
Everything is viewable from the main page, yet somehow it still manages to look sleek and elegant. Maybe it's the colors or the design, but Asana certainly is easy on the eyes.
Receiving instant notifications is also helpful. Especially when you're using Asana's online task manager across multiple platforms or within a remote team.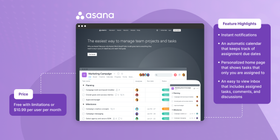 Feature Highlights:
Instant notifications
An automatic calendar that keeps track of assignment due dates
Personalized home page that shows tasks that only you are assigned to
An easy to view inbox that includes assigned tasks, comments, and discussions
Price: Free with limitations Or $10.99 per user per month
Airtable looks like a spreadsheet but it's actually a powerful business task manager. This tool is perfect for collaboration because everyone has access to the spreadsheet-database combo. And, if the spreadsheet design doesn't work for you, you can easily switch to kanban, calendar or gallery style layout.
Besides the choice in interface design, Airtable is like any other management tool in regards to its features. It's a great tool for organizing and prioritizing tasks.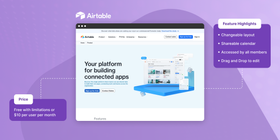 Feature Highlights:
Changeable layout
Shareable calendar
Accessed by all members
Drag and Drop to edit
Price: Free with limitations Or $10 per user per monthh
Picture all of the previous apps listed above all rolled into one. That's what ClickUp is. A spreadsheet, a to-do list, a project tracker and a time tracker make it one of the best task management apps. You name it, ClickUp has it.
It doesn't stop there. ClickUp has seven layout options so you can choose whatever works best for you. Features include lists, calendar view, kanban style, boxed, etc.
ClickUp is great if you work on multiple projects with several task lists and you want to work smarter.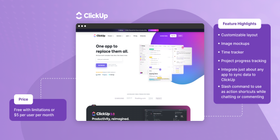 Feature Highlights:
Customizable layout
Image mockups
Time tracker
Project progress tracking
Integrate just about any app to sync data to ClickUp
Slash command to use as action shortcuts while chatting or commenting.
Price: Free with limitations Or $5 per user per month
Apps at a Glance
App

Best Unique Feature

Price

Todoist

Easy one-click workflow

Free with limitations

Or $3 per user per month

ProofHub

Custom workflows and views

Plans starting at $50/mo

Any.Do

A truly extensive list of platforms that can access it

$5.99 per month

Taskque

Automated system that distributes workload evenly

Free with limitations

Or $5 per user per month

Hitask

Time tracking on assignments

Free with limitations

Or $5 per user per month

Trello

Unique email address for each project

Free with limitations

Or $9.99 per user per month

Wimi

Has its own file drive for easy file sharing, saving, and accessing

Free with limitations

Or $16.53 per user per month (taxes not included)

Asana

Spacious interface despite housing all of your tasks and information

Free with limitations

Or $10.99 per user per month

Airtable

Universally accessible spreadsheet database

Free with limitations

Or $10 per user per month

ClickUp

Plenty of customizable layout options

Free with limitations

Or $5per user per month
Wrapping Up
Looking at this list of apps above, choosing the best task management software is a hard task to complete. Puns aside, each of these tools provides task management help in their own way. Some are great for life management, while others are more suitable for work.
With that being said, we leave the decision entirely up to you. Just remember to avoid unnecessary challenges like time wasters and lack of team communication. This doesn't have to be a one-app situation. Feel free to download and test out multiple apps that may work for you.
And, when you find the right one, try sending a ScreenRec video with your task assignment. We promise it will help both you and your co-workers get more done faster. Download ScreenRec here.
Frequently Asked Questions
Organizing your team quickly and efficiently might sometimes be intimidating, considering all the deadlines, clients' requirements etc. That's why a task management software with a friendly interface and a simple menu would really help you get things right. Trello is a good idea when it comes to managing small teams and startups. It uses boards, lists and cards to easily organize the team and let each member follow the process of working. A big plus of Trello is it has various tools such as prioritizing tasks, setting them to a certain employee, inviting more people to collaborate, comment, get feedback and more.
To decide what is best, you need to be closely familiar with your own needs, like the features they require and the projects you are going to manage.
However, when it comes to small teams, Asana is a very good choice, because it's free for groups with up to 15 people. Asana Free has many, yet simple features like creating and assigning projects and tasks, following their progress and integrating with other apps.
Both Todoist and Any.Do have the option to share projects and particular tasks. Todoist allows comments to be added, whereas Any.Do doesn't have that feature. However, Todoist doesn't allow file attachments while, with Any.Do, you can directly attach files from your computer, from Dropbox or Google Drive.
References and Further Reading?