Top 10 Collaboration Tools For Business
Here's a little piece of information for you to consider. A research study conducted by Stanford University found that, when comparing employees working collectively to employees working individually, those in a group stayed focused 64% longer than those working alone.
Just think about that for a moment. Those working by themselves daydreamed or mind-wandered over 50% more often than the collaborators. Remarkable, isn't it?
Yet, this begs the question,
"Are collaboration tools necessary? Are they really effective?"
Well, in a survey of 1,400 companies , 86% of them claimed that the lack of collaboration ultimately leads to failure in the workplace. Another study by McKinsey found that collaboration tools increase workplace productivity by 20 to 30%.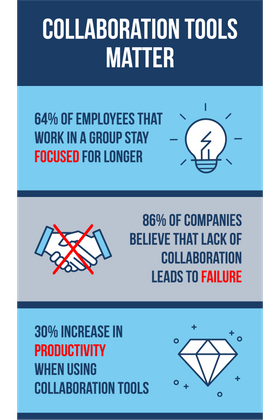 What Does Good Team Collaboration Look Like?
Team collaboration can be defined as a group of co-workers who impart the same amount of effort to reach a common goal. But how does this happen?
First and foremost, there are the purely human elements which a Google study shed light on:
Then, there is the individual's understanding of what good team collaboration looks like. A recent study by Slack revealed several definitions of 'good collaboration' which tend to vary between generations:
For the 18-24 age group, team collaboration is trusting colleagues to do good work?.
For the 25-44 age group, clear responsibilities are the key to good employee collaboration.
For the 45-65 age group, good collaboration equals good communication.
The human factors such as empathy, authenticity, and consideration are difficult to control and measure. However, team collaboration tools can help workers achieve the other aspects of good teamwork—communicate more effectively, consistently meet their goals and keep track of responsibilities.
From remote working tools to code review tools , there are dozens of apps that can help you and your team work together more effectively. We will venture into them all to help you determine which is the best collaboration apps for your business. The video below covers our top three choices and the rest are ranked by category.
Communication Tools
If you're mainly looking for ways to use collaboration tools to improve team communication, here are the best programs for the job.
Best Agile Team Communication Tool
Anyone who has worked in a team can attest to the fact that writing lengthy emails is an inefficient, time-consuming way to communicate with one another. With ScreenRec, you can forget about long-winded emails and, instead, send screenshots or video recordings of your screen to get your point across. In essence, ScreenRec allows you to send video email (among other things).
ScreenRec is one of the best agile team collaboration tools, especially for those that work at a distance, such as remote sales teams, or teams who want to use asynchronous communication for better productivity. It's is absolutely free, even when used in a group.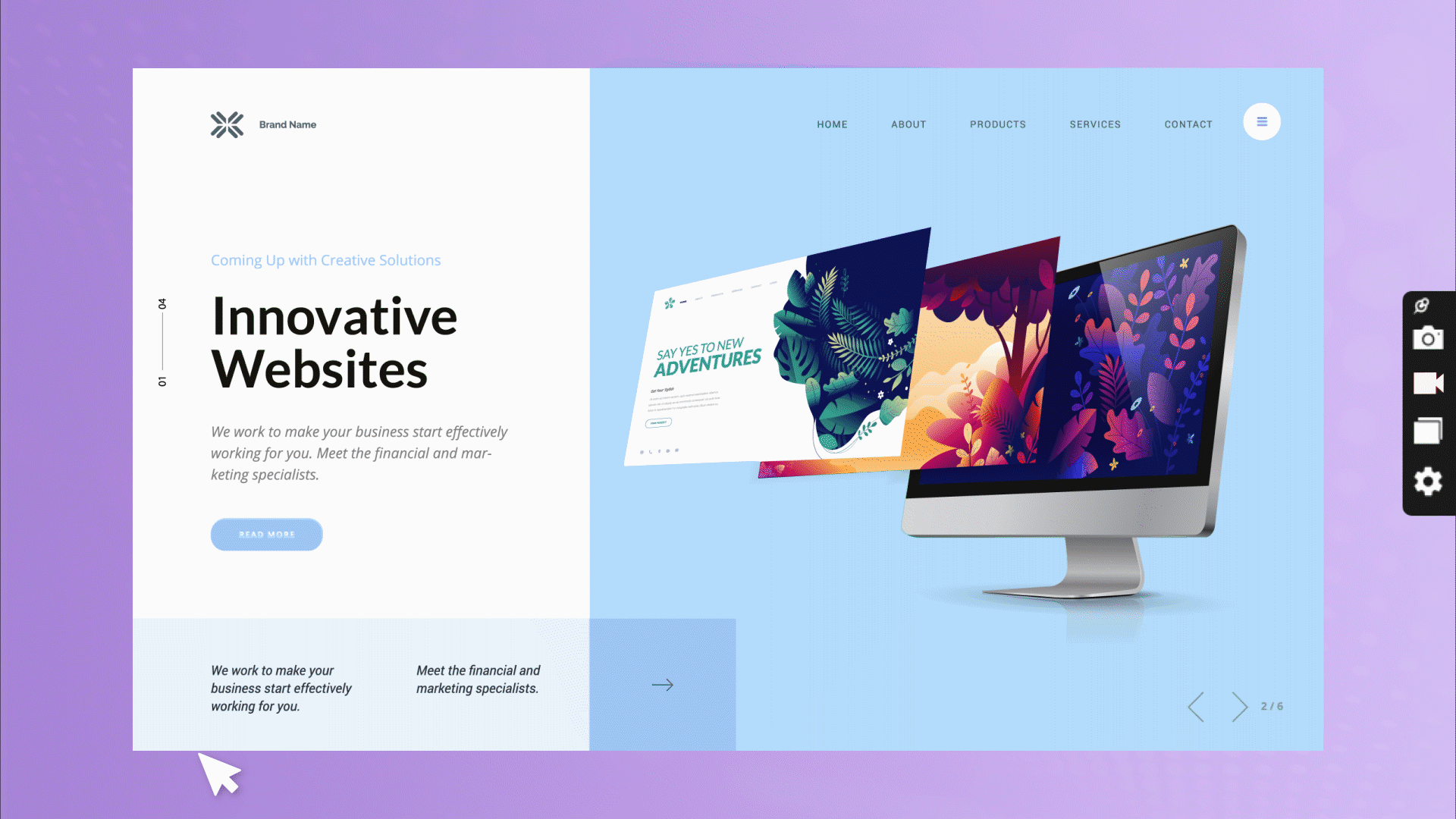 Highlights
128-bit AES HLS video encryption
2Gb of private cloud storage (business-class)
Secure shareable link allows your team to instantly access your screen recordings and screenshots
Free for both individuals and teams
Best video conferencing tool
BlueJeans
BlueJeans is a cloud-based platform that uses video conferencing to seamlessly bring together members of a team. With one-touch meetings, you can join in on audio and video calls from any device and even share screens, take polls and offer Q&As.
Surely, the HD video and Dolby voice are amazing because they allow for lifelike video and audio quality. However, the AI and the voice recognition are the features that stand out when you use BlueJeans. This team collaboration tool can also be integrated with apps like Microsoft Teams, Microsoft Office, and G-Suite apps.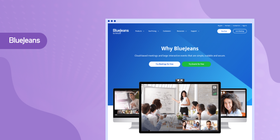 Highlights
Allows secure connection through firewalls, NAT traversals, and VPN networks
SOC2 and 3 verifications.
HD video and audio quality
One-touch meetings
Prices start at $12.49/per host/per month.
Best tool for secure social collaboration
Yammer
Yammer is a private social-networking collaboration platform used by businesses that need a high level of security. The program is part of the Microsoft Suite, which is why you can easily and quickly integrate it with Microsoft apps like Outlook, OneDrive, Office, PowerPoint, etc.
However, Yammer's main feature is the all-inclusive style social networking platform. Like a Facebook group everyone is invited to, Yammer's social media tool allows members to post announcements, comment on posts, chat with co-workers and more. Yammer has the same basic security features offered by Microsoft, including GDPR compliance as well as SOC1 and SOC2 verifications.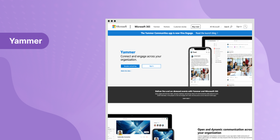 Highlights
Internal social platform for work
Integrates with all MS Office products
GDPR compliant; SOC1 & SOC2 verifications
$8/per user/per month with an Office365 plan.
Best tool for easy social collaboration
Facebook Workplace
Created by Facebook Inc.,Workplace is a platform that is designed to connect employees through instant messaging, newsfeeds, and groupings. Similar to what you'd expect from Facebook, Workplace has the same reliable video, voice, and text chatting. Since nearly every member of today's society has a Facebook profile, it's couldn't be easier to look up and find any member of your work team.
Facebook Live is also a well-known feature that applies to Workplace. It's an amazing way to simulcast important meetings and conferences. It even makes use of the auto-translator we're already familiar with and the famous news feeds, only, this time, everything is work-related.
In light of the Cambridge Analytica scandal , many people may be concerned about Facebook's security policy but it seems that they have learned their lesson and taken care of that. You can read up on the Facebook Workplace security features here .
Like Slack, Facebook Workplace is among the free collaboration tools. To each his own, but, so far, it seems that Slack is winning the Slack vs Facebook Workplace fight. We're yet to see about Slack vs email.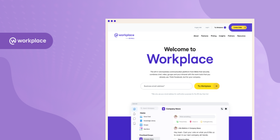 Highlights
No learning curve because of Facebook's popularity
Reliable video, voice, and text chatting
Ability to live stream internal meetings and conferences
Free or $3/per user/per month for an upgrade featuring integrations, administrative and monitoring tools, and admin support.
Project Management Tools
If you require an effective project management tool for team collaboration, here are the top programs to consider.
Best time tracking tool for teams
Time Doctor
TimeDoctor is for companies that want to effectively track the productivity of their employees. It's a collaboration tool that has project management, time management, app monitoring and payroll functions, among other things.
One of TimeDoctor's greatest advantages is the ability to integrate with other services. Once you install the Chrome extension, you'll be able to track your time without leaving your favorite tools—the "Start Timer" button will appear within Google Docs, Asana, Trello, and many other web apps.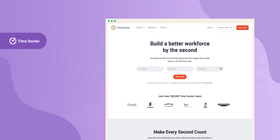 Highlights
Detailed time and app usage reports
Integrations with most popular project management and communication tools
Ability to handle payroll
Attendance tracking
Free trial, then $9.99/user per month
factoHR
factoHR is actually a unified HR and payroll solution provider that offers a wide range of functionalities. It works great as a time management tool as it helps to easily track the time employees spend on completing the tasks or projects given to them.
The software allows workers to enter their task details to help the managers analyze their time and bifurcate the productive and unproductive tasks. Also, with this solution, you can completely organize even the most complex schedules and assign them directly to employees.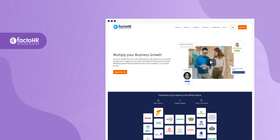 Highlights
Detailed and downloadable report generation
Integrated with payroll, leave, attendance to organize schedules as per employee's presence
Tracks employee presence
Computes salaries
Performs schedule management
Best Gantt Chart Tool
GanttPRO
GanttPRO is top-notch Gantt chart software for project management. The tool is highly appreciated by thousands of teams for its robust set of project and resource management and team collaboration features.
One of GanttPRO's greatest advantages is, among others, an attractive interface with a short learning curve. Anyone new in your team can easily jump in and start working on their tasks and projects literally in 10-15 minutes.
Highlights
Different project views: a Gantt chart timeline, a Board view, My tasks list
Real-time team collaboration through comments, attachments, mentions, and notifications
Powerful resource management and workload
Export to PDF, PNG, and Excel and Sharing via Public URL
Ready-made professional templates for various industries
Best design and prototyping tool
Cisco WebEx
If you know anything about Cisco, then you know how, for years, it's been one of the leading tech conglomerates in the world. Since WebEx has been acquired by Cisco, this should tell you a little something about the product.
Cisco WebEx provides businesses with various collaborative tools to help organize work teams. It allows for seamless switching between devices and platforms. The usual collaboration tool features like direct messaging, file and screen sharing, and whiteboarding are present.
With Cisco WebEx's simple integration and reliable end-to-end encryption, its user-friendliness makes it one of the best project management tools on the market.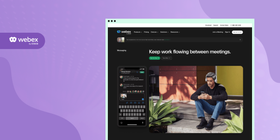 Highlights
Whiteboarding makes it perfect for designers and UX professionals
End-to-end encryption for complete security
File and screen sharing
Free for up to 50 users with a 40-minute conferencing limit and 1 GB of space. The premium plan is $13.50/per user/per month.
Best agile project management software
Asana
Asana is a team collaboration tool and task management software designed by the co-founder of Facebook and a Google engineer. With backgrounds like these, it's no wonder Asana has made team collaboration into an art.
This platform is great for both mobile and online use. Team projects can be organized with boards where tasks can easily be assigned and discussed. There is also a timeline view that helps create realistic plans for project completion.
There are over 100 apps that can be integrated with Asana, so you'll never need to worry about your various documents being scattered across platforms. One of their most unique features of this online collaboration tool is what they call Workload—a comprehensive graphic view of each individual's efforts. This allows all members to see the work their colleagues have put in on the project. Asana also offers project templates to help kickstart your task management work.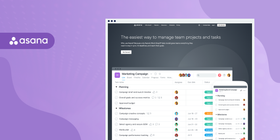 Highlights
Manage projects with boards and timelines
Assign tasks with a click
Responsive interface that works on all devices
Workload graphics helps track the individual employee's efforts
The basic package is free. The premium package is $9.99/per user/per month.
Best Corporate Project Management Software
Microsoft Teams
Microsoft Teams is actually a group of communication and project management tools that enable teams to collaborate easily and efficiently. Although it works fine for small businesses, this is one of those platforms that are best suited for large enterprises. Its most notable collaboration feature is organizing virtual meetings via video conferencing. That may seem a bit anticlimactic but, during a conference, users can share screens, use whiteboards, chat and share files.
Microsoft Teams also uses "Wiki Tabs". This is a smart text editor that gives users the ability to draft long messages that can be formatted (similar to emailing) right within the app. This allows you to get ideas down and written out for your colleagues as soon as the idea strikes. Moreover, since this is a Microsoft product, you can integrate all of your Microsoft apps into this single platform.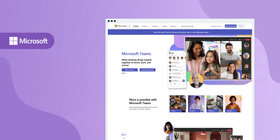 Highlights
Share screens, use whiteboards, chat and share files during a conference call
Share ideas and knowledge quickly with "Wiki Tabs"
Integrates will all other Microsoft products
Microsoft Teams is free for up to 300 users or you can purchase plans starting at $6/per user/per month.
Best All-In-One Project Management Tool
ProofHub
Used by more than 85,000+ teams and businesses, ProofHub is an all-in-one project management and team collaboration software that helps teams stay in ultimate control of their tasks, projects and communications.
The best thing about ProofHub is that it replaces multiple apps that teams use for planning their projects, collaborating with each other, keeping things organized, tracking their time and staying on top of everything with a single powerful app.

Highlights
Multiple views (list view, Gantt/timeline view, Kanban view and Calendar view) for added flexibility
Custom workflows and kanban boards for task management
Gantt charts for simplified project planning
Real-time collaboration (Group chat and Online discussions)
Custom reports for resource, project and time management
Third-party integrations
Best Client Management Software
Nifty Project Management
Nifty is the perfect space for your team and clients to share ideas, finalize specs, and turn discussions into actions. With Nifty's collaborative tasks, documents and discussions team members are encouraged to move forward knowing that task completion takes them a step closer to the conclusion of their project which leads to client satisfaction. You can reduce time spent on managing freelance projects or on status meeting calls. Just assign tasks to your clients to notify them about what's needed and by when to reduce unnecessary meetings.
Teams large and small can utilize Nifty's projects, discussions, tasks, docs, roadmaps, and team chat to manage projects, both internally and in a client-facing environment. Nifty not only consolidates your tools, but it consolidates the cost; this app is evenly priced with its competitors that don't offer the same multitude of functions.

Highlights
Project Milestones
Project Overviews & Workloads
Collaborative Documents
Built-in Google Docs & Files
Automatic Task Assignments
Integrated Time Tracker
Free package comes with 2 active projects and storage of 1GB / user. The Standard package is $8/per user/per month.
The Rest
Here are several more collaborative apps that deserve a mention.
App

Best at…

Free for…

Plans from…

An all in one collaborative tool that allows teams to manage, edit and complete projects across multiple devices simultaneously.

Allowing team members to work on a document together.

Unlimited users and 2GB of storage

$8/per month/per user

Easy-to-use team management app that utilizes whiteboards and visualizations to help teams complete projects.

Presenting team members with a community whiteboard to be shared by everyone.

Unlimited users and 3 editable boards

$8/per month/per user

Windstream Enterprise Office Suite UC

Communications provider that offers secure calling, faxing, video calling and various communication solutions to enterprises.

Real-time HD voice and video calling at any moment, anywhere.

N/A

Contact for quote

Remote desktop software that allows file sharing, screen sharing, online meetings, etc.

Secure file sharing via desktop to desktop communication.

1 user

$49.99/per month/per user

Online team collaboration app that utilizes lists and cards to help teams get organized.

Task management through the Kanban method.

1 user

$9.99/per month/per user

Online video conferencing software that contains various other management features like file transfer and screen sharing.

High-quality online virtual meetings and video conferencing.

Trial period – 14 days

$12/per month

Web-based audio and video conferencing tool with the ability to share files and use a whiteboard in real time.

HD video and audio calling.

Check site for details

← Ditto

Slack competitor that gives you as many features as possible in one collaboration program.

Managing and organizing team projects and chats.

Up to 10GB

$4.50/per month/per user

Integration management with collaboration tools for teams.

Bringing info from various apps (integrations) into one place to be managed.

Trial period – 30 days

$3/per month/per user

Online team management and organizer for business and enterprises.

Creating a spacious environment for managing group projects.

5 users

$9/per month

Easy-to-use graphic design tool for teams that features a large library of templates and stock images.

Allowing collaboration on design projects.

Trial period – 30 days

$9.95/per month
Which Is The Best Team Collaboration Tool?
Choosing the best collaboration tools for business depends on what you are looking for specifically. Here are a few suggestions: If you need to cut down on emails, try ScreenRec . If you need an easy and free project management tool, try Trello.
In the end, there is no tool that can be considered "The Best" as they all offer different features. Just remember that the sole purpose of team collaboration software is to make it easier to work together and to communicate.
So, where are the bottlenecks? What does your team need to work faster?
Answer these questions and you'll be able to quickly find the best team collaboration tool for your use case.
References and Further Reading?
Frequently Asked Questions
You need tools that are going to save you time (imagine your days without those time-consuming, never-ending meetings), ensuring you are getting straight to the point without the need of explaining too much, etc. That being said, it really depends on your needs. If you want a cloud-based document processor, try Google Docs. If you want to manage marketing and sales assets, try Paperflite. If you want to handle document collaboration and communication in one place, try Samepage.
Communication, coordination and good management are crucial when it comes to remote working. Managing the time spent on a particular task, following different requests, feedback and project process in general are just a few of the challenges remote teams face daily. That's why effective collaboration tools are highly needed for successful working. Sharing your screen with your co-workers is a great overcoming of the fact you aren't actually together in the same place. Sometimes it's even crucial for teams that work in different time zones. If you want to collaborate with your remote team in real-time, we'd recommend Zoom and Skype. An alternative to these tools is ScreenRec. It helps you save time explaining and prevents unnecessary meetings. You can just capture your screen and send it.