The Ultimate Guide To Virtual Meetings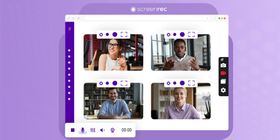 We've seen it in movies. The main characters are relaxing and having a good time, then suddenly the world takes a turn for the worst and everything changes in the blink of an eye. Well, we're no longer watching it unfold on the big screen.
Thanks to the novel coronavirus, or COVID-19, we are living out what looks like an insane screenplay. The only difference is, we're handling it like pros and our best move thus far—working from home.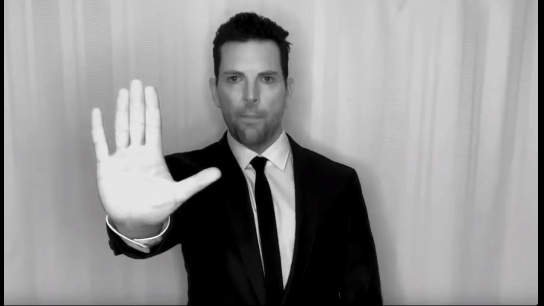 It may have been a trend once upon a time, but working from home and organizing virtual meetings is now a necessity and it's essential for each and every one of us to learn how to make the best of it. LucOne of the largesret video and voicekily, it won't be hard.
For years, dozens of companies have put in the time, money and effort to become 100% remote while sustaining growth. According to Flexjobs, Aha!, Automattic, and Clevertech are just a few fully remote companies who have been leading the charge, with Automattic being the most notable of the three. They are the guys behind WordPress.com and, with close to 1,000 remote employees, they must be doing something right.
After taking a good look at these success stories, we wondered how these companies have been able to win at remote working. Turns out that the answer is quite simple: Communication.
Great team communication starts with successful meetings. This is enough of a challenge to traditional companies who have lost $399 billion due to unproductive face to face meetings in the past year. But it's even a greater issue to remote teams where employees are often spread across the globe, working flexible hours.
Let us help you streamline your remote team communication by tackling the most pressing problem of them all—virtual meetings. Here's the ultimate guide on how to set up, run, and maintain successful online meetings.
Step 1: Planning
This may be a bit counterintuitive but everything you do before the meeting is actually more important than what you do during the meeting. The preparation stage is where you will decide what the main goal of the meeting is. You will also determine who will be involved and you will figure out what tools will help bring it all together.
Without further ado, let's go straight into how to conduct an online meeting that gets real work done.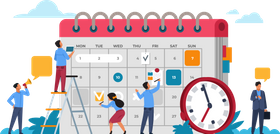 Step 2: Select The Right Virtual Meeting Software
Remote working relies heavily on various software to help things run smoothly. The same should be said about virtual meetings. In order to get your entire team on the same page, and open the lines of communication, you'll need virtual meeting apps for 3 main tasks:
Communication
You'll need an online tool that can help your team come together to share and discuss ideas and info.
Best Tools
| | |
| --- | --- |
| | An easy screen recorder to replace/enhance emailing. It allows your team members to easily screenshot or video record their computer screen and share the link instantly. Great for asynchronous communication. |
| | An all-inclusive team communication app that offers video conferencing, video chat and screen sharing. |
| | One of the largest video and voice calling apps on the market that can also serve as free screen sharing software. Unfortunately, all members must have an account and the software downloaded in order to use |
| | A video conferencing app that can handle large video meetings of 100 participants (or even 1,000) and allows you to share screens online. |
Schedule
Knowing when things are coming up, whether that is due dates or future virtual meetings is essential and every team member needs to be made aware. Scheduling software will ensure that no important dates are forgotten and no one is left out. These tools are especially useful if your team is scattered across different time zones. They can help you choose the best date and time that works for everyone.
Best Tools
| | |
| --- | --- |
| | An easy app that gives you the ability to instantly see current times in all time zones across the globe. No bells and whistles here. |
| | Helps you choose the best time for a virtual meeting. You enter your colleague's time zones, and the app creates a table of the best available times for your meeting. |
| | An app that allows you to create an event with a set date, time, and duration and easily share it with your team. |
Collaboration
Some teams may need collaboration apps during an online call to be able to work together. Whether that is a whiteboard for everyone to use, a file-sharing app to easily send and edit documents, or an overall task management app that'll help keep everyone focused.
Best Tools
| | |
| --- | --- |
| | All of Google's apps including Google Docs, Spreadsheet, Presentation and more all in one place. |
| | A comprehensive task manager that allows you to assign tasks and due dates for everyone to see and ultimately check off. |
| | Miro's biggest merit is the whiteboard feature which helps your team brainstorm and flesh out ideas. |
Step 3: Draft and Share Main Goals
The worst thing you can do in any business-related activity is to wing it. Instead, give yourself and your team the opportunity to share notes, ideas, and thoughts before the virtual meeting.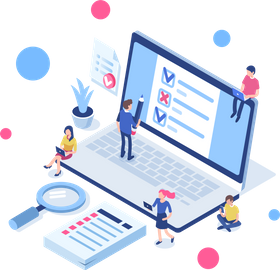 Take the time to create a comprehensive meeting agenda in a single document and share it with your team. If time is of the essence, try recording your agenda from your computer screen with an app like ScreenRec and mass share the link using your team's management app like Asana or Slack.
Consider including the following information in your agenda:
Main goals

What is the purpose of the meeting and what do you hope to accomplish?

Attendees

Who needs to be present? Focus on the people who will take part in the discussion. The fewer people you have on a conference call, the easier it is to manage.

Topics

Let everyone know the points of discussion in order to allow them the opportunity to prepare notes and ideas

*Pro Tip: Allow members to make suggestions or comment on the topics. They may add important talking points*

Structure

Decide the order in which you'll discuss each discussion point and for how long. This will keep everyone from drifting off topic.

Tasks

Work out group as well as individual responsibilities and decide what each team member should bring to the virtual meeting.

Additional Information

It's a good idea to provide relevant info, links or files that will help team members execute their agenda before the meeting.

Mini Review

Let everyone know what has been accomplished since the last meeting. Encourage discussion and set expectations for new tasks.
Step 4: Talk It Over
Once you have your agenda hashed out, it's a crucial step for everyone to discuss its content. Remember, the key to a successful remote team is communication. As author and entrepreneur Mark Sanborn once said,
"In teamwork, silence isn't golden, it's deadly."
Having a platform for remote workers to discuss ideas and concerns is the perfect way to maintain mutual respect and even boost morale, not to mention increase productivity.
Open up real discussion on the meeting agenda and, as a team, mark up the document with comments and necessary changes that everyone can agree on. Don't forget to make use of your collaboration tools to make it easier for everyone to work as one.
Step 5: Invite The Right People
We briefly mentioned this earlier but it is crucial to being productive. Oftentimes, meeting coordinators set up a company-wide meeting that has a very specific focus. One that may not be relevant to every employee.
If the meeting is one hour long, and there are 25 employees whose job has nothing to do with the meeting topic, that one meeting would have just wasted 25 hours of productive time. Instead of wasting valuable time, find out exactly who should be present and who could sit it out.
Try to keep the number of meeting participants down to a minimum. Some online meeting apps can have a hard time handling large groups of users at once. Not to mention that it could be difficult to hear everyone's opinions and ideas. Handling a very populated meeting takes time and experience, so if you're just starting out, try conducting conversations in smaller groups first.
Step 6: Make It a Team Effort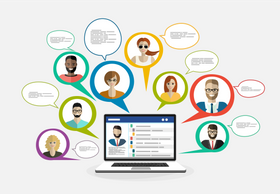 You don't have to be the only one conducting the meeting. There are various roles that you can assign that'll relieve you of some of the pressure, involve team members, and help everyone become equally invested in a successful meeting.
These roles can include:
Secretary—writes down the meeting's minutes
Facilitator—helps to make sure all participants say their piece and all opinions and concerns are addressed.
Time manager—ensures everyone closely follows the predetermined meeting structure and time slots.
Be sure to assign different roles to different participants for every meeting. This gives everyone the opportunity to be fully engaged during its entire duration.
Now that you're all set to have the meeting, let's discuss a few tips to keep in mind during the meeting.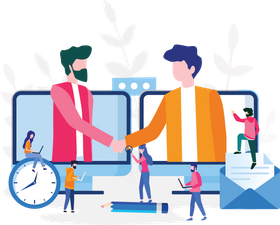 Step 7: Start With Virtual Icebreakers
There's no need to rush right into the meat of the meeting. Once everyone comes to your virtual meeting room, start with a bit of small talk (a.k.a. remote team meeting icebreakers ) to make everyone feel at ease and comfortable. Being in a relaxed state can help ideas and solutions to flow smoothly.
Don't get too carried away, however. The time for virtual team icebreakers should be no longer than a few minutes. But feel free to be a bit silly and fun together. The goal is to deepen the relationship between team members.
Step 8: Give Everyone the Chance to Speak
This may be one of the most important remote meeting tips. In your preparation for the meeting, you may have stirred up quite a bit of excitement and since we left the door wide open for discussion, some may be eager to share their thoughts and opinions. However, not everyone may be confident enough to speak on their own. So be sure to give everyone a chance to say what's on their mind.
Remember the tasks you assigned before the meeting? Have each team member discuss their responsibility and the outcome. This gets everyone on the same page while encouraging them to speak up and feel a part of the team.
Step 9: Work Out Your Virtual Meeting Etiquette
Every organisation has a concrete set of rules and basic meeting etiquette. This also applies to remote organisations and online meetings. It's no secret that people feel more laid back when they are working from home.
Yet, that laid back attitude can be a setback during the meeting in the form of language and work ethic. Avoid this by establishing ground rules and etiquette before the meeting. Here are a few examples:
Test run your equipment (Simply try out your video chat app, cam, mic, and other tools necessary for the meeting to make sure they run smoothly.)
Discuss the agenda with the team and be sure to come prepared.
Allow everyone to introduce themselves at the beginning of the meeting.
Give all presenters your undivided attention. (This includes refraining from multitasking or looking at your phone.)
Turn off all notifications on your devices.
Ensure all participants are in a quiet area to avoid background noise and distractions.
Step 8: Distribute Virtual Meeting Notes
Even though the meeting may be over, there are still a few things you should do to make sure it was worth your time.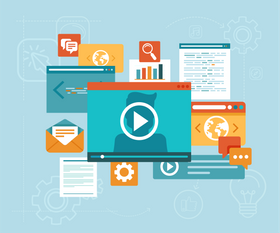 The odds of everyone remembering everything that was discussed are very slim. Sending out meeting notes (minutes) will remind your team members what decisions were made and what tasks were assigned. Make sure the secretary (or whoever is keeping track of the meeting) records the following information:
List of attendees
Topics discussed
Decisions made
Assigned tasks
Important dates
Other relevant notes
Step 9: Share A Recording
Recording your meeting is a good idea, especially if a participant is absent, or poor internet connection terminated the live video call for someone. The recording will allow your team members to go back and watch what they missed, so it can be considered a virtual meetings best practice. Still, before you rush into that, make sure you alleviate all potential legal concerns around recording your virtual meeting.
Some video conferencing apps allow you to record your meeting, but they are not all created equal and some simply do not have that function. In cases like this, download a screen recorder to record your screen + computer audio + microphone. ScreenRec can be a lifeline when you need to record your screen because there are no time limitations and you can share the video with your participants using an all-purpose private sharing link.
Conclusion
With so many working parts involved in running a successful virtual meeting, planning is absolutely critical. Yet, the more you host these successful meetings the easier planning and executing will be. So, do your due diligence and this new working from home reality will be a cinch.
References and Further Reading?