How to Engage Remote Employees with Unique Virtual Events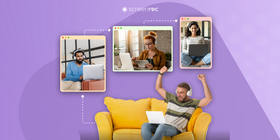 With the outbreak of the pandemic, the majority of American companies had to go remote. And two years later, working from the home office became normal almost everywhere in the world. In fact, most Americans (36.2 million) say they will keep working remotely even after the pandemic is fully over.
You can see why people prefer working from home — they don't have to deal with commuting or spend money on gas for the car, and they get more time to spend with family.
However, there are also downsides. No face-to-face communication with other team members. This makes it hard to engage remote employees, keep them connected and create a healthy remote company culture. Employee engagement in work from home is a tedious matter. If you don't know how to keep remote employees engaged, you can fix this disadvantage with the help of virtual team-building activities and events.
Here are some ideas on how to engage employees virtually.
1. Go on an Online Museum Tour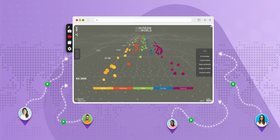 The pandemic brought many surprising benefits, but the most unexpected one is that it facilitated opportunities for virtual travel around the world to visit different renowned museums. You can take advantage of this opportunity and take your remote employees on a tour to marvel at some unique online exhibits.
For instance, The British Museum has an installation called The Museum of the World. You can choose to learn the history of Asia, the Americas, Africa, Europe, and Oceania. The exhibit takes the form of a journey through time — something that would not be possible as an offline experience:
When you click on a specific time period, it shows you different artifacts discovered back then, and you can learn about their history and significance.
Similar experiences are offered by Guggenheim, The National Gallery, and the National Gallery of Art. Their virtual tours are constantly updated, so you will always have something interesting to attend with your remote teammates.
2. A Virtual B-Day Party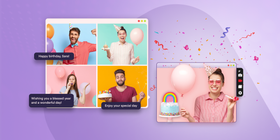 Let's be honest. One of the best parts of going to the office is having all your colleagues celebrate with you when it's your birthday. Unfortunately, when you work fully remotely, this joy is taken from you. But does it have to be?
Of course not. You can still organize an online birthday celebration for your teammate and invite everyone to a virtual party. Here are some employee engagement ideas for the event:
A karaoke contest
A movie night
An online game competition
You can also turn a birthday party into something a person likes. For instance, if your teammate likes group activities, you can organize a trivia night or a standup show. And, if your colleague is a fan of museums, you can try a virtual tour, such as the one we mentioned earlier.
3. An Online Course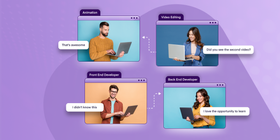 Alright, this one might not be as fun as the previous examples, but it is still a good idea and one of the ways to engage remote workers. During an online course, they can communicate, share experiences, and learn from each other via video conferencing or unified communications solutions.
What kinds of online courses can you offer?
The best idea is to take the needs of your team into account. For instance, it could be a time-management webinar to help your employees organize their workday better, reduce downtime, and help improve prioritization.
Another example is if each remote employee comes from a different time zone. In this case, you can also set up a course on English for business communication. For instance, they will learn how to behave at different meetings, conduct phone calls, give a presentation, and even hold small talk. All of this is extremely useful to help your employees feel more confident at work. It is also great for team building.
You can always ask your employees what courses they would like to attend. They might want to learn a particular skill necessary for better performance, so why not use it as a virtual event idea to engage your remote team?
4. Virtual Cooking Class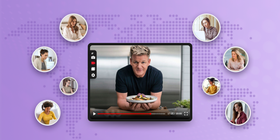 A cooking class is a great idea to bring people together. They don't have to be good at cooking, but friendly conversations and mutual help are great ways to engage remote employees.
Where can you get such a course?
You can go for a basic YouTube tutorial if you want to make sure everyone can access the necessary ingredients. Or, why not opt for something fancy and even purchase Gordon Ramsay's online masterclass?
A similar idea would be to go on a virtual wine tasting. However, this event requires a bit more logistics, as you'd need to make sure everyone has a similar selection of wine at their disposal.
5. Happy Hour
A virtual happy hour is an online event held via live streaming or video calls. It involves participating in different activities over a glass of wine or a cocktail. If your team is relatively new and people don't know each other that well, organizing an online happy hour will be a great icebreaker activity.
Here are some games you can play during a virtual happy hour:
Company trivia
Charades
Bingo
"Never have I ever"
"Something in common"
"The person most likely to…"
A talent show
Essentially, you can involve all kinds of activities that will help your remote workforce get to know each other better. It will also boost morale and improve the employees' mental health. Make sure to prepare the agenda beforehand and write scenarios if you're planning to host games during this event.
6. An Online Book Club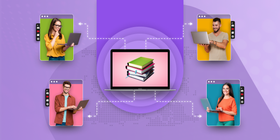 This is definitely an interest-related event, and you can't expect all your remote employees to participate in it. However, it is still a great opportunity for your coworkers to interact with each other.
To organize a virtual book club, first, you need to create a group of bookworms in your team. You can run a survey to see what genres most of them prefer and if they are interested in running this event regularly. Once you see that people are ready, you can start planning.
Put together a schedule of books to discuss at each virtual book club meeting. Make sure that everyone is in line with your picks and has access to the books you'd like to discuss. Before each meeting, ask everyone to prepare a set of questions they'd like to discuss according to the book's plot. This will give your meeting some consistency.
One can say that running a book club is a bit old-fashioned, but it's a great way for employee engagement for remote employees. Especially if they share the same hobby.
7. A Drawing Competition
A virtual drawing competition can be a standalone event or a part of happy hour. It's a great icebreaker opportunity for engaging remote employees.
To run a drawing competition, you need to pick a theme. For instance, you can ask all the participants to draw caricatures of each other (explaining that it's for good fun, of course). Then, they all have to vote for the best art piece, and the author can proudly display it during weekly team meetings to relieve the tension.
You can also come up with some sort of gift to encourage more people to participate in the activity. This is also a great way to help each remote employee bring their other talents to light and let their personalities shine. It is one of the great engagement activities for remote employees.
8. A Murder Mystery Game
Finally, there is a wide variety of online games you can play during a virtual event. Still, nothing brings people together than solving a murder mystery. This activity enables employees to solve riddles together and find solutions to problems. This is exactly what you want your team to do.
Here are some examples of virtual murder mystery games you can include in your event:
These games are usually paid. The prices are not that high, especially if all team members can pitch in. Besides, some of these games are so complex that it will take you several meetings to solve them.
Over to You
So, if you're having trouble keeping remote employees engaged, it's always a good idea to make your workdays more diverse with some virtual events.
However, no matter which event you choose, make sure to plan it thoroughly beforehand. Think over the activities to engage remote employees; you can even ask them for suggestions. At the end of the day, everyone should have fun and have an opportunity to get to know one another better.
References & Further Reading