7 Fun Team Building Activities for Remote Employees
In a world of remote work, establishing and maintaining a solid connection with your team has its challenges.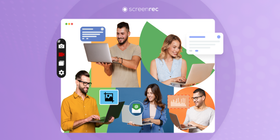 It's easy for communication in the workplace to be affected negatively. Conveying company culture while working remotely can also be difficult.
What's more, team members can feel detached from each other without face-to-face connection. Forming a bond in an office community happens pretty quickly. Employees are around the same group of people every day, and they rely on each other for various tasks.
Working in an office setting, employees also have a better feel for their team member's interests and personalities.
They talk over lunch or coffee breaks, form friendships, share ideas, and even get together outside of work. Most importantly, they form tight bonds, making their entire working experience more enjoyable.
When working remotely, sparking bonds, keeping your team engaged, and establishing a remote team culture is a completely different animal. Implementing time management techniques for yourself can be tricky. But adding different time zones to the mix and the possibility of running into remote team communication barriers, and connecting team members can feel impossible.
The key to solving this problem is being proactive about organizing and implementing team-building opportunities.
In this article, we're sharing seven uplifting team-building activities to help bring your remote team together. But first, let's take a closer look at why remote team building is so important.
Why is Remote Team Building So Important?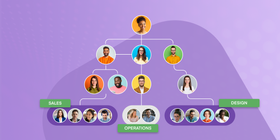 Interaction between online workers is essential for employee satisfaction and team productivity. After all, one of the most prominent setbacks of remote work is isolation. At the same time, it's difficult to know how to build a culture in a remote team.
When employees don't see their coworkers regularly, it may lead to feelings of disconnection or even resentment.
Meaningful interaction is the lifeblood of every successful team. It is crucial in the employee onboarding process when there are new team members as well as in day-to-day work. This is why distributed team-building activities should be a priority from day one. They help to build professional and personal bonds, builds trust, and make everyone feel connected and appreciated. Based on a survey by Gartner, around 80% of workers started using client collaboration software in 2021. It's a feasible way to stay connected with the workforce and also manage productivity.
In fact, 2,500% more organizations are investing in virtual team building in response to the pandemic.
Luckily, there are several ways to improve teamwork amongst remote workers and to bring them together with team-building activities.
Let's take a look at seven activities that will show you how to build a strong culture with a remote team.
7 Inspiring Activities For Remote Workers Team Building
Have you managed a remote team for years or have you just started? Either way, the following team-building activities will show you how to build team morale remotely.
1. Online Fitness Classes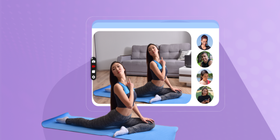 Working remotely can lead to sedentary lifestyles. So where will you find a better way to engage with your team than online fitness classes? Let's be honest. If we've ever been challenged as a species to stay fit, it's been during these last couple of years.
Not only is regular exercise healthy, but millennials, Gen Z'ers, and Gen X'ers love attending online fitness classes in a virtual classroom. So, if your employees are in those three groups, they may enjoy this as a team-building exercise.
Doing workouts as a team creates that feeling of togetherness among team members and improves overall employee wellness. Employees may even hold each other accountable and give each other that extra push to stay motivated.
What's the best part about this team-building exercise? The entire experience can be free! Simply head to YouTube and choose your favorite instructors.
2. Cook Food Together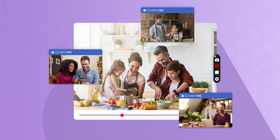 Poor food choices could be one of the unhealthy aspects of working from home. Many studies show that meal deliveries are constantly on the rise. And with the convenience of having your meals delivered comes a slew of unhealthy eating habits.
So, why not take this opportunity to learn as a team how to cook healthy food? Consider signing up for free online team-building courses to cook, sharing recipe ideas, or hosting a bake-off as a friendly competition. Everyone is already at home with a kitchen nearby. So diving into food-making adventures can be easy. Make this one of your fun Friday virtual activities to ease into the weekend.
Add a fun aspect with a "head chef of the day". Set a schedule that will allow every team member an opportunity to lead a cooking class.
After cooking together, take a seat and enjoy what you've just made. Encourage team members to ask questions, share childhood recipes and favorite foods, or simply enjoy each other's virtual company.
3. Music Zoom Party Time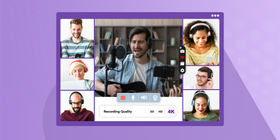 Music is a universal language that brings people together. Do you know if there are some fantastic musicians on your team? Or perhaps some members are very passionate about their favorite artists and songs. The bottom line is that people love to discuss music, bands, and various music genres.They also love discovering new tunes and learning about talented artists they haven't heard of.
Music sessions can take many forms. You can host a karaoke night, record TikTok videos, or have the team create joint playlists for everyone to enjoy. We especially love the last example. Collaborating on the perfect playlist for your team can be a very rewarding and engaging activity. It's probably as close as you can get to rally the team together for a night on the town.
4. Team Building Through Charity Work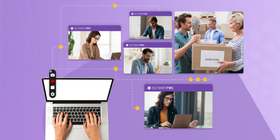 Offices organize charitable events for coworkers to create a sense of community that speaks more to the heart and less about profit. You may come together to create a new charitable event, or join a reputable cause. Both of these will give back to the community and help to strengthen bonds.
It's a heartwarming and rewarding experience for everyone involved. Not to mention the good feeling when you collaborate with remote colleagues to accomplish something extraordinary.
If you're concerned that you can't all huddle up at the local soup kitchen, don't worry. There are plenty of online charity events for your team to sponsor. While religious organizations take the lead for the most donations received, your team can choose whatever charity moves them. If you're not sure which causes your team members are drawn to, ask them.
"Back in the day when people used to work from the same office, we would collect money when someone's birthday was approaching to buy a cake and a small gift to celebrate their special day. But as people are now working from different cities and even other countries, we only wish them happy birthday through Slack. Still, it didn't feel like it was enough. So we thought of supporting the birthday person's favorite charity instead. And let me just say, we all feel more than special on our birthdays by getting to support a cause we feel strongly about."
— Jessica Ulloa, Community Manager at MyPerfectResume

You can ask your team members directly — for instance, at a virtual team meeting. Or you can conduct polls and surveys to discover which causes are most dear to them.
Consider scheduling monthly or quarterly charitable giveaways as a virtual team-building activity.
5. Imaginary Group Vacation? Yes, Please!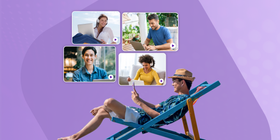 How about a trip to a tropical beach with your team? Thanks to today's advanced technology, you can go on virtual group vacations and get transported to a sandy beach in no time. Is anyone ready for a virtual scavenger hunt on a remote island?
Various virtual services offer interesting, imaginary trips to schedule with your employees. Explore an imaginary island and join forces with your team members to brainstorm your way back home. Or, help each other solve all sorts of mysteries and various challenges while you're on the trek.
If your team is less adventure-seeking and would rather enjoy good food, history, and fantastic architecture. Take them on a virtual tour around Europe. Go to Paris and hang out with a Parisian virtual tour guide in those secret places favored by the locals.
Or go to Greece and take a historical look at sculpture gardens and Greek mythology.
6. Start an Online Book Club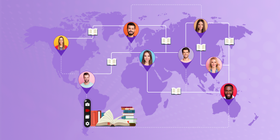 Gather your bookworms and storytellers together for virtual book clubs and book reading parties.
When deciding on a book, keep it fair. Everyone needs to enjoy the reading material or they will lose interest. Ask your team for suggestions or send out a survey to help you choose the books for your book club.
Since people read at different paces, it may be best to start with shorter texts before moving to longer books. Keep the book club engaging and always come prepared with a list of icebreaker questions, online games, and commentary. Invite your team to do the same. You'll find interesting online team-building games that are free and a lot of fun.
Worried your team isn't the book club type? Consider hosting a movie club instead.
7. Organize Photo Contests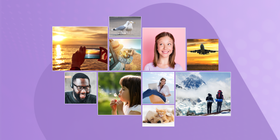 Smartphone cameras have become a crucial part of our lives.
From sunsets to our pets and kids, we capture everything these days. Each photo tells a little story about ourselves every time we share it with someone.
For this team-building idea, consider hosting photo contests or simple show-n-tell sessions for employees to learn more about each other. Encourage the team to share photos of themselves that best represent who they are and what they love.
Consider photo contests with specific themes and let your team exchange snaps of essential things in their lives. Think of enticing prizes for contest winners to inspire everyone to enter the contest. You can also organize a new round with a new theme every week or month. By year-end, team members will know each other's pets, favorite hiking spots, coffee mugs, and everything that makes them happy.
A Little Creativity Goes a Long Way
While it may be challenging to create a sense of community and keep a remote team connected, it's not impossible.
Form lasting bonds within your team with little to no investment and a few fresh activities involving videos and photographs. You can even find fun ideas for virtual team meetings or simply play the game of truth or dare.
Still not sure which team-building activities to try? Ask your employees for input or plan activities as a team.
Craving more remote work tips? Head to our blog to learn more.
References & Further Reading