The Essential List Of Remote Work Statistics For 2023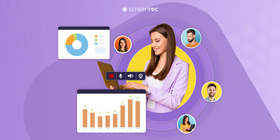 There is no doubt that the future of remote work is bright. Businesses have seen the endless benefits of remote work and they are revolutionizing the way they manage daily operations.
Everyone knows lengthy commutes are harmful to the environment. And they also cost employees their precious time and money. Also, when employees work remotely there's no need to buy work clothes.
Is the remote work trend over? Or will it continue to rise? Let's dive into the remote working statistics and learn more about the remote work trends in 2023.
Top Statistics For Working From Home In 2023
Here are the facts we've gathered from a handful of working-from-home surveys.
1. According to an Owl Labs study, 16% of companies worldwide are fully remote and hire only remote workers. At the same time, 44% of companies do not allow remote work.
Some jobs, including customer-facing roles and manual labor, aren't viable for remote work. A part of the workforce will always commute to work to do their jobs in a specific work environment.
Apart from the 16% who only hire remote workers, some companies use a more blended approach. In this scenario, you'll find remote workers as well as in-office workers.
Another popular work model is the hybrid model. Hybrid work is excellent for a business that needs in-office collaboration and communication.
2. According to Global Workplace Analytics, the number of people who work remotely has increased by over 150% since 2015.
To stay profitable during lockdowns, the pandemic forced companies to move remote working. The good news for businesses was that hiring remote workers was easier with the help of online job boards and employers of record.
They could also use cloud-based technologies to facilitate remote collaboration and video conferencing tools for remote team communication. Remote work post-pandemic opened the doors for permanent hybrid and remote working possibilities.
3. Virtual teams statistics from the Owl Labs study also showed three industries with the highest number of remote workers. These are the healthcare industry (15%), the tech industry (10%), and financial services (9%).
These industries are leading the transition towards remote working. And they take full advantage of their capacity to support remote workers.
4. 80% of remote workers stated that they would recommend remote working to a friend, according to a survey performed by Gartner.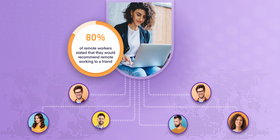 The quality of life offered by remote work models increases employee satisfaction. And often has a tremendous impact on productivity in the workplace. Commuting to the office can cause fatigue in full-time office workers. While introverted employees may prefer to work independently.
5. Over 50% of the current remote workforce, according to GitLab, only started working remotely following 2020.
Remote work growth statistics show the pandemic accelerated the transition from office to remote work. Businesses had to adopt tools and technologies that facilitated remote work. If it were not for Covid-19, they may not have invested in these. They also became used to finding new talent on the top websites for freelancer work, such as Fivver and TopTal, causing the number of remote job workers to increase dramatically in just two years.
6. GitLab also found that flexible scheduling was one of the most attractive elements for employee retention. 50% of respondents in the survey stated that the flexible aspect of remote work drew them in.
Flexible working enables workers to freely manage their time when working remotely. They can take a results-focused approach to their daily workload. They can also fit their work schedule around their children, families, and other responsibilities.
7. Microsoft Office 365 claims to have almost half of the total productivity software market shares. It has a market share of 46.85%.
Cloud-based productivity software provides real-time data insights to employees. Microsoft Office 365 is one of the most popular cloud-based productivity tools to support remote collaboration.
8. 81% of employees expect that their employer will continue to use a remote working model in the future.

Remote working is here to stay, with both employers and employees enjoying the benefits.
9. ConnectSolutions surveyed working from home productivity statistics. This survey indicated that 77% of employees were more productive when working from home.
While working remotely increases employees' quality of life, it also has added benefits for employers. Remote workers have fewer distractions and employees are not fatigued from long commutes. At the same time, employers can keep an eye on workers' productivity with time management tools.
10. The report by Owl Labs showed that 70% of people experienced less stress with online meetings.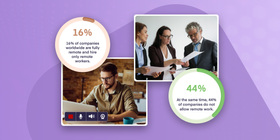 Introverted personalities and persons with social anxiety may find in-person meetings stressful. But, an online work meeting, from the comfort of their home can positively impact their stress levels.
11. According to Forbes, 17% of remote employees stated they felt lonely at all times. While nearly two-thirds of remote employees reported feeling lonely at least sometimes.
Remote work does have many benefits, but a notable drawback is feelings of loneliness. Employers who use a remote work model must focus on team support and remote team building. Helping their teams feel supported with social events and virtual meetings will mitigate this drawback.
12. A DigitalOcean survey showed that 82% of professionals have experienced some form of burnout while working from home. 52% of employees also stated they often work more hours and struggle to 'unplug' when working from home.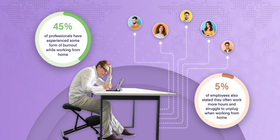 Employees who may be lonely need support and access to mental health days. Employers can address burnout with seminars and allow employees to take a break if they need one.
Top Technologies For Remote Businesses To Help Streamline Workflows And Procedures
Are you considering a hybrid or remote work model for your business? There are certain technologies to help through a smooth transition. These will also support your top talent employees to remain productive at home.
Mobile Technologies
Let's say your employees work on their schedule, but you need to reach them throughout the day. Consider investing in communication software that supports mobile use.
Allow your employees VPN remote access and mobile applications. Add portable WiFi devices to that and your employees can truly work from anywhere. Your employees may have tasks and commitments where they need to leave their home office. So, enable them to be reachable, and receive alerts, notifications, and communication wherever they are.
Remote Communication Software
Whether you're managing a remote development team or a remote sales team, communication is one of the key challenges to overcome. Look for remote communication apps and techniques that will allow everyone to stay in the loop without making them spend the entire day in virtual meetings. For example, you may consider sending video emails instead of regular emails to communicate more effectively.
HR Software
As we discussed earlier, 17% of remote employees experience loneliness at all times when working from home. HR software can help you keep track of your employees' well-being and indicate any need for wellness seminars or retreats. Low moods due to feelings of loneliness, can impact any remote worker's productivity. So, as an employer, it's in your best interest to pay attention to your employees' state of mind. Be sure everyone feels included in your company's work-from-home goals and take time to check with your employees.
Workflow Software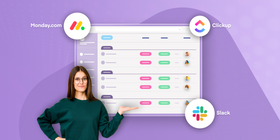 Are you worried that switching to a remote work model may confuse employees? Consider implementing project management software. One example is Monday.com. It allows employees to take ownership of their work management on a user-friendly, intuitive interface. And it will let your management team ensure a more efficient workflow.
Converging Physical And Digital Security
With remote work, it can be difficult to separate cybersecurity and physical security. With a remote work model, you may need to consolidate your IT and security teams into a single entity.
When you merge your IT and security teams, you can protect your office space's digital assets and servers. Both teams can communicate and leverage data from physical and digital tools. This will form a blended approach to your company's security.
Much like a physical office door lock system, you can implement a digital system to control who can enter your digital platforms and manage their permissions. This will ensure that your digital assets and sensitive data are protected from third parties.
Summary
The remote work revolution started in 2020, as the pandemic pushed businesses to remote work models. Since then, it has grown in popularity. The benefits of a remote work model are obvious for employers and employees alike.
But there are also many challenges. Both employee productivity statistics and work-life balance statistics show that working at home can cause loneliness and, as a result, decreased productivity. That's why one of the most important things is to invest time to learn how to keep a remote team connected and maintain a sense of belonging.
References & Further Reading