What is Virtual Onboarding and How to Do It
HR is the department responsible for onboarding new employees to the company and this is easy enough when you are all at the same office. But what if your employees are in another country or state?
At the same time, the pandemic doesn't seem to be going anywhere soon. Even if employees are nearby, a virtual workforce appears to be the most feasible way to continue business operations.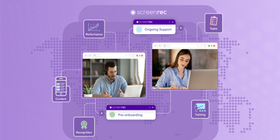 Thus, it's essential to embrace virtual onboarding as the new normal by learning how to onboard new hires, what it means, its pros and cons, and how you can implement it in your organization.
What Is Meant by Virtual Onboarding?
Virtual onboarding is a type of onboarding that takes place virtually, or in other words, without a physical meeting.
Many companies use virtual onboarding to perform what is called "functional introductions." These introductions happen before any hands-on training begins, and they allow new hires to learn what their role will entail and the company's expectations from them, making new employee onboarding smoother.
What Are the Pros and Cons of Virtual Employee Training?
Online onboarding is not a perfect system by any stretch of the imagination.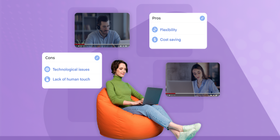 So, you need to consider the advantages and disadvantages of virtual onboarding to better understand what you're getting into when implementing it in your business.
Pros
Flexibility and convenience. The idea behind virtual onboarding and training is that employees can begin with it at their own time and pace unless specified. That means they can start anywhere at their behest.
Cost-efficient. All employees and HR professionals need during virtual onboarding is a powerful laptop or a desktop computer. They don't need extremely powerful laptops or computers, and the location can be anywhere as long as there's a stable internet connection. They can stay at their home for the virtual onboarding process, allowing both parties to save the costs and time spent during traveling, minimize the use of office resources, and cut other expenses.
Cons
Technological issues. Aside from experiencing a slow internet connection from time to time, your managers may have trouble sharing sensitive company information due to security issues. Even if you have security software in place, it's hard to tell when online threats strike and steal the data. To protect your data from the online threats out there, you may use a ransomware attack security tool or some other type of cyber security software.
Lack of human touch. Since everything is conducted online, it's much harder to keep your remote team connected and build camaraderie among employees and HR. The conversations will sound much more mechanical and impersonal for the same reason. As a result, people may tune out during the presentations, and there's a risk of not developing the rapport you need to keep good employees on board.
What Are the 4 Phases of Virtual Onboarding?
Since the onboarding program will occur virtually, you'll have to rely on technology to get the program across to new employees.
Nonetheless, its principles remain the same, whether you're onboarding in SaaS or any type of business: get employees to buy into your organization by helping them cultivate their professional skills and providing them with the opportunity to grow their careers here.
To provide psychological safety and achieve its purpose as a motivator in the virtual workplace, virtual onboarding is divided into different phases. This is true whether you're building a dedicated development team or a team of virtual salespeople. Let's look at each of the four phases of virtual onboarding.
Phase 1 - Onboarding
This phase is where everything starts for the new employees. They will be greeted by HR, who will explain to them what the company is all about, its work culture, and their roles and tasks.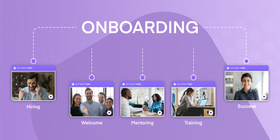 The goal of onboarding virtual team members is to manage the expectations of both parties. The company needs to be transparent by communicating what it needs from its new hires. At the same time, new employees need to have a clear understanding of what the organization wants from them to work their way towards meeting those goals.
Ultimately, new hires must feel welcomed during this phase, which helps set the tone for their working experience in the company.
How to do this?
To help your HR prepare days before the start of this phase, create materials that the new employee can browse and review independently.
The text resources must list down the things to be discussed during the different onboarding stages. By setting expectations from your onboarding, employees know what's coming their way and can prepare adequately.
Concerning this, ask them to download the necessary work-from-home tools and software that your organization uses to communicate and collaborate. You may have to give them access to a remote team management apps automatic time-tracking tools, or other apps that are relevant to your business.
For example, marketing and sales teams require a platform to share data from their communications with clients and customers. In this particular case, you may decide to use a tool like Pitchbox that allows you to get all team members involved and engaged in a single dashboard.
Finally, you will have to prepare documentation to teach your remote workers how to use and operate the tools in your tech stack. This way, no one in your team will have to train new employees how to use the software every time.
This is a great place to make use of a simple screen recorder like ScreenRec. Capturing your desktop, webcam and microphone will help you add that personal touch your remote onboarding process.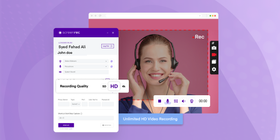 As you earn how to make onboarding better and you get all these obstacles out of the way, you give newcomers more confidence in your business and show that you are willing to go all the way to make them feel welcome. At this point, it's a matter of delivering on the subsequent phases of the process.
Phase 2 - Initial Development
By the sixth month, the once-new employees should have fully ingrained themselves into your organization. They must have developed the required skill set to perform their job
responsibilities at optimum levels. At the same time, the employee must have built rapport with their respective teammates and work well within the company.
Through this phase, you should determine whether or not to invest in these employees moving forward. For instance, they may have shown the motivation to get the tasks done and shown other skills to develop in your organization. From here, you can use this information to help assign them responsibilities that play into their strengths.
Conversely, employees are given a chance to create new opportunities by taking on different tasks that may or may not fall under their current job description. This helps them develop adjacent skills that will not only have a positive impact on your company but also prepare them for better job opportunities down the line.
How to do this?
There are two ways:
First, you can launch a company initiative for managers and team leaders to train their workforce on tasks specific to what they do. Ask team leaders to create the training sessions and materials for your employees to work on. Again, this will be extremely easy with ScreenRec as it's very user-friendly and can be used by anyone in your organization, regardless of how tech-savvy they are. Better yet, you can make this a two-way conversation by asking new employees to record their screens with ScreenRec, too.
The great thing about this program is that growth takes place within the company. Managers and leaders who serve as course creators oversee the development of their teams. And, by understanding their strengths and weaknesses, they can better provide them with training materials and tasks that play to their strengths.
Second, you can enroll virtual employees in online courses and seminars that will help develop their skills. This takes away the work from your team leaders who were supposed to create the training materials. However, the course may be much more expensive and not tailored to your company. Besides, ScreenRec uses secure cloud video hosting from StreamingVideoProvider, which means the videos created by your management can be reused for a long time so learning how to create onboarding videos is a breeze.
Phase 3 - Ongoing Development
After 18 months of working with the same company, the employees are expected to have mastered skills related to their job responsibilities.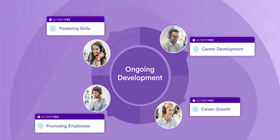 The next step, then, is to shape these employees as the future leaders of the organization. They will fill in the shoes of their superiors, who will then replace their managers, and so on.
Promoting employees to a higher job level is a vital part of career development among professionals. Nobody wants to remain static in a position that has low job requirements and an even lower salary. Everybody wants to level up their income, and the best way to do that is to strive for a job position that entails more responsibilities.
Also, the fact that these employees stayed on board with your organization means they're willing to work for you as long as you continue nurturing their career growth.
How to do this?
To show the best-performing employees that you appreciate their hard work and dedication, you must set up an employee recognition program. You can incentivize employees who performed the best based on your KPIs and goals.
From here, you can also see employees willing to go the extra mile to get better results. For instance, imagine a customer service agent has gone through the trouble of researching customer behavior analysis to increase ROI and generate more sales to your business. This is someone who is on their way to the next career level, so you should reward them.
This way, you encourage everybody to do their best to become eligible for incentives and promotion.
But don't forget to show your appreciation to all your employees. Some are more proactive than others but this doesn't mean that the rest shouldn't be recognized for their efforts.
Phrase 4 - Promotion or Separation
When two or more years pass, the time has come for employees in the company to move up to a new position or leave.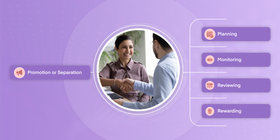 As mentioned, employees need to be motivated to work their way up the corporate ladder to increase their salary base. But for them to do that, they must be willing to take up more work to prove their value.
However, you need to foster a culture where growth and reward to good work are possible for all this to happen. Many companies are unable to retain employees due to having poor career opportunities down the line. There may have been people who have shown value to the company but were ignored in place of another.
Therefore, having a clear path that enables employees to have scalable growth will be key to your virtual new employee orientation process.
How to do this?
Regardless of what happens here, it's best to get feedback from employees. If they're leaving, ask them if there's something in your organization that caused them to leave or they disliked it and why. For those that decide to stay and will be promoted, ask what inspired them to keep pushing for career growth in your organization.
Use their answers to help you improve your business, provide better opportunities and attract the best available talent to jump ship to your company.
Conclusion
Whether you are just now learning how to make onboarding effective or you're a seasoned virtual HR manager, employee onboarding is key to the continued success of your company. Having the same people who started their careers with your organization and giving them a chance to grow and get better is a sign of great employee engagement and company culture.
The steps above show you how to enhance onboarding experiences so you can keep the best new hires who will be the future leaders of your organization moving forward.
And since video conferencing will be a massive part of your onboarding experience, consider using a tool like ScreenRec to help you get the most out of your remote communication. Not all employees have the same email response time and some lines of work naturally require more time off of email to concentrate. So, by recording videos instead of typing messages and emails, you make your interaction short, sweet, and to the point, leaving everyone else with more time to get the job done!
References and Further Reading?