The 10 Essential Virtual Onboarding Tips For Modern HR
Thanks to global events, remote working has rapidly become the norm. For HR teams, that means a shift in focus and a change of strategies. Virtual onboarding presents challenges, but a step-by-step approach will help you deal with these changes.
The lack of a physical presence and face-to-face interaction in the workplace doesn't have to be a barrier to welcoming new hires. Even though many remote workers are approaching working from home for the first time, preparation and organization can help you get them up to speed. The more you're able to prepare in advance, the better.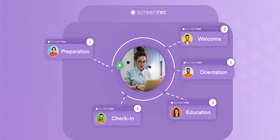 Here is our shortlist of virtual onboarding best practices for hiring managers to try.
1. Modify onboarding content to virtual material
A good HR team that's well prepared will already have a clearly defined onboarding process in place. However, that process will have been designed around the concept of a physical presence in the workplace.
Your remote onboarding content needs to be modified for remote employees and virtual workers. Whether you learn how to create employee onboarding videos or utilize a slide show, you'll need to determine what your virtual onboarding package will contain?
A welcome pack
When a new team member joins, they tend to get handed a welcome pack that contains essential documents. You can still provide this as part of your virtual onboarding process. However, you'll need to ensure that it is repackaged into a digital format.
Action points
Convert all of that paperwork into a handy PDF that can be easily viewed or even printed out
Trial your digital welcome with some existing members of your team
Get feedback to ensure that vital elements aren't being forgotten or overlooked
Presentations
It's likely that when you hire new team members, they go through an onboarding presentation. We'll go into this in more detail later, but it's an important step to solidify your onboarding ideas for onboarding remote employees.
Action point
In a virtual work environment, you can record your face and screen with a screen recorder to personalize that welcome message.
eLearning instructions
When new team members start, they may not know how to use the tools and systems that you use. There are two ways to tackle this. The first step is to create a short instructional video. That will guide them through the tools, resources, and business systems they need to know about.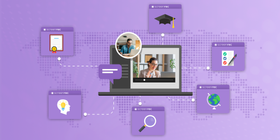 Alternatively, allocate an existing employee to go over those tools and processes. You can do this via video conferencing.
Action point
Take the time to think about how your existing in-person onboarding process works. Then, it's simply a matter of modifying the existing content and processes into a virtual, digital mode.
2. Create a virtual presentation
We've already mentioned how important it is to transform your onboarding presentation into a virtual one. That's not to say you'll no longer talk to new hires about their roles. But you still need to create a virtual presentation to explain what is required of them in their new role.
That first encounter with the company will be a big part of an employee's first day. So, you need to ensure that the same importance is given to a virtual presentation as an in-person one. For example, if you're onboarding virtual team members, specifically multiple remote sales reps on the same day, consider having group presentations that will instill a sense of camaraderie.
Action points
Use visual guides to explain the history of the company. Make this section fun and entertaining.
Explain and define the company culture and mission statements.
Include images of key members of the team (you can make this more fun by sharing casual photos).
Don't overwhelm the hires with information, especially in terms of HR.
Take the time to create well-made, polished orientation videos as part of your virtual onboarding package. They can be an extremely valuable tool.
3. Schedule a call before the joining date
Human resources logistics can be very frustrating for new employees. That's why it's so important for the HR team to reach out to new employees before they start. This is one of the pre-onboarding best practices that gives HR a chance to welcome the new hire. It also helps to establish a positive work culture. The new member of the team will immediately feel more integrated with the company.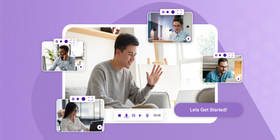 All this leads to more engaged staff. The more engaged new staff are, the more productive they will be. If you can establish that engagement before day one, your virtual onboarding process will be much more effective.
The good news is, there are plenty of online collaborative platforms you can use to reach them. There are video conferencing platforms that are perfectly designed to suit your needs. Don't forget to include resources that show new hires how to use these platforms. Many will be using them for the first time.
Action point
Reach out to new hires and schedule an online meeting at least three days before they are due to start
4. Outline the activities for the first few weeks
Starting a new job can be very daunting and the first few weeks are critical. Virtual workers have no members of the team to ask advice from when needed. The goal is to ensure that new hires have the tools they need. That way, they can hit the ground running.
Over those first few weeks, it's a good idea to have a clearly defined timetable of events. Your new hires can then join in with those events. For example:
Virtual team lunches
Introductions to any members of the tech team that they might need to contact
A full team meeting for discussing the expectations of the week
Action points
Allocate two or three tasks that the new team member can focus on for their first week of working for you
Try creating an onboarding checklist to help ensure your remote teams have the best experience possible during their first few weeks on the job
5. Convey expectations
A key part of your virtual onboarding process is going to involve employee expectations. You should have outlined the expectations that you want from your new team members. Then, break that down into bite-sized chunks that cover all of the basics of their role.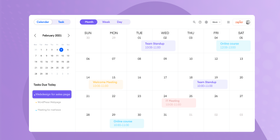 That means making sure that they are:
Aware of their full range of duties
Able to use the tools required to carry out those duties
Able to follow the business processes and systems they are expected to use
The more you can convey expectations, the easier it will be for new team members to become quickly integrated into your business structure.
Make sure that there is a clear timetable for individual and company goals. You can use a scheduling app if needed. That will make it easier for those employees to recognize time frames for training and performance reviews.
Action points
Have a task calendar that is easy to access, easy to update, and set clearly defined long and short-term SMART goals
Include weekly team meet-ups and one-on-one meetings to discuss workflow
6. Explain the company culture
Company culture is often overlooked during a more virtual onboarding process. It's easy to see why. The focus is so much on expectations and training that workplace culture can easily fall by the wayside. But this is a mistake.
When a team member feels more connected to the company culture, they will feel more aligned with that company. That will mean they work harder and be more productive. Company culture can also be the decider of whether a new hire will stay or ghost you.
Virtual onboarding needs to promote and encourage an understating of the company's core culture, values, and mission statement. The more employees are aware of what kind of company they will be working for, the more they will find themselves aligning with the brand. You also give those employees a defined sense of purpose.
Action points
Surprise those new hires with some form of welcome gift
Once an offer of employment has been signed, have a welcome package sent by post that includes any branded merch you have available, such as T-shirts, coffee mugs, or pens, or anything that explains your brand
7. Help in setting up tech on the first day
IT demands can be one of the hardest parts of a new job. You need to make sure that your new hires will be able to use the technologies their new role requires. Even setting up a dedicated email account for work purposes can be a challenge for some. If someone is working remotely for the first time, they may need a guide document or an online resource on how to create a new Gmail account.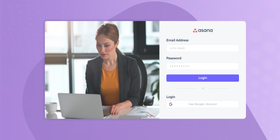 The end goal here is to make sure that your virtual onboarding allows new team members to experience less stress or barriers to workflow. The more you can make them feel comfortable with the technologies that they will be using, the better. The more efficient they will be from day one.
Action points
For smaller companies, it's a good idea to make sure that the designated IT expert is in contact with the new hire before their start date
For larger companies, involve the entire IT team
8. Check-in from time to time
Make frequent interaction and communication a key feature of your virtual onboarding strategy. Doing so can greatly enhance employee/employer connectivity.
That's extremely important when it comes to ensuring that your team members are engaged and that they feel supported. If you're running an in-person onboarding process, then you already know the value of one-on-one informal communications. The same strategy is vital to integrate into your virtual onboarding process, too.
Never underestimate just how overwhelming it can be to start a new remote job. The more frequently you can interact with those new hires, the more supported they will feel, especially in the initial few weeks. It can often be very isolating to work remotely.
Action point
Be there when they need you and combine formal and informal chats regularly
9. Schedule meetings with the team and manager
Remember to schedule time afterward for the new hires to meet the other members of their team and their managers. That can be very informal and can even be scheduled into lunch breaks. There's no need to make this meeting about work. It's about introductions and getting to know each other.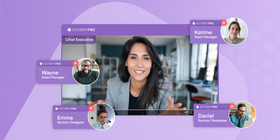 By keeping things informal, you will get to know those new hires and start getting to know their colleagues. That builds trust and can help retain staff for longer. In 2017, LinkedIn carried out a study that revealed that 72% of employees found one-on-one meetings with their direct managers in the onboarding stage to be very useful.
While this research was based on in-person onboarding, there's no reason to assume that it's different from virtual onboarding.
Action point
Schedule informal meetings with the team and the direct manager
10. Refine the process
HR teams are pivoting quickly to virtual onboarding, but it's vital not to forget the basics. Just as you do with in-person onboarding, you need to document the process from start to finish.
Managers will need to be kept up to date on which stage the employee is at, meaning accessible documentation across the board. Information access and accountability are just as important in virtual onboarding.
As with all business processes, the more you analyze and refine what you do, the more effective those processes will become.
Action points
Don't forget to review the impact that your virtual onboarding process makes
Check with those new hires and get them to review your employee onboarding strategy
Find out what they got value from (and what they didn't)
Bottom Line
A virtual new employee orientation needs to provide them with a clear path to follow. Working remotely doesn't have to mean negative onboarding experiences! While there are certainly challenges with virtual onboarding, they can be extremely beneficial. When carried out right, these virtual onboarding best practices can be used to get rid of any uncertainties about the role and the company.
Thanks to the technologies that we use in the workplace, you can easily set the tone for the new employee's experience and make onboarding engaging.
Don't overlook the importance of the digital onboarding process. It can be the key to staff retention, worker productivity, and company growth.