The 8 Remote Onboarding Best Practices You Need To Know
Working remotely comes with a lot of freedom, but also a lot of challenges. Having the choice to organize your day according to your wishes, instead of sticking to a corporate 9-5, may lead to an increase in productivity or to time-wasting. Since you don't have to stress about juggling your work and personal life and you can make choices regarding your schedule on your own, you'll feel much more productive. Most people do.
But there are some drawbacks. Two of the most important ones are not having a real connection with your coworkers and feeling lonely. Working remotely can be especially hard for new hires since they don't have an opportunity to meet everybody in person.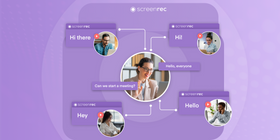 In this article, we'll show you how to bridge that digital divide and onboard new remote workers with a smooth remote onboarding process that doesn't make them feel left out of the company culture. Here are 8 remote onboarding best practices for you to try.
8 Best Practices For Remote Onboarding
1. Create a digital handbook
This is the only step you should finish before you start implementing your onboarding process best practices, i.e. hire someone. A company handbook is important even in an office setting because it lets people know how things work, explains the hierarchy of the company, payments, vacation, sick days, and more.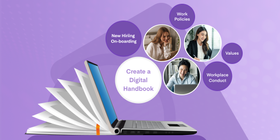 Since your remote hires don't have the option to understand company culture as well as someone who is surrounded by coworkers in real life, the next best thing you can do is an all-encompassing digital handbook.
Write all your rules, regulations, and stipulations. Once you have the basics, make different versions for different positions. Every role comes with different responsibilities that need to be disclosed from the beginning. Since the worker will be remote, make sure to explain the process of working and finishing a project (including a tutorial for your project management tool) as well as the hierarchy of your company.
Once you cover all the big, important things, mention the little day-to-day things and fun activities you like to incorporate in order to build a closer relationship between employees. Creating this handbook will help you in all your future onboarding processes so make sure it's done properly and your employees have a great onboarding experience. This is one of the best practices for training remote employees.
This should be the first thing you send your new remote employees alongside the logins for company emails, any employee communication apps you use, task management platforms, and other software the new hires would need access to, e.g., in a customer service role, this may be call center software or a ticketing system.
2. Introduce them to the team
Once everything is in order, invite your new hire to all the Slack channels and introduce them to the team. Organize a video call where you can explain the new hire's role and get other team members to introduce themselves.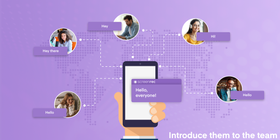 As a hiring manager, it's always good to let everyone explain their role themselves and as you train employees, allow them to take the reins of the conversations without controlling it too much. Remember that this is a process and you'll need to have weekly meetings for your team members to feel like a part of the group.
We know that it might feel like we're preaching to the choir if we say to incorporate ice breakers at the beginning of every meeting, but believe us, as awkward as they may seem sometimes, they pay off in the long run.
Ice breakers let your employees put their guard down and talk about their private lives. Sharing fun anecdotes lets them connect with each other even though they may never meet in person. One of your long-term goals here is to have them connect enough that they can work on projects together and ask for help just like they would in an office setting.
If one of your employees can't make a deadline and needs more time/resources, you would want them to reach out to team members and do whatever they can to finish the project in time. This won't happen if they don't feel a connection to other employees.
3. Think about the first few assignments
Once your new hire is finished learning content related to the position, gets situated, has their start date, and has access to all the important resources, you need to find the best assignment to show their skills and get to understand the company processes you have previously installed.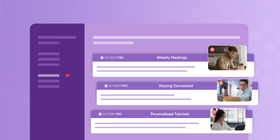 We suggest you choose a collaborative assignment as the first one, to encourage new hires to reach out to other employees. The second thing you should focus on while choosing the right assignment is the need for knowledge discovery.
If you're working with clients, the new hires have to familiarize themselves with the different brands and, if you're a B2C company, you'll want them to learn about your products and services.
Make sure to explain to them that you're available for any questions and concerns and let them work without too much middling. Once they finish their first assignment, you can go over it together and give them feedback on things you want them to change or work on more.
ScreenRec can be of great help at this stage. You can use it as a remote onboarding tool or as a tool to assign tasks easily. Instead of scheduling a video call every time the remote worker is confused, open ScreenRec and record your screen, webcam, and microphone to explain the assignment or give feedback. This is the next best thing to a live meeting. Watch the video below to find out how you can send a video email with ScreenRec.
4. Be transparent about your goals and their future in the company
Do you know how many people leave or plan on leaving their company in the first 6 months of working there? Research shows that it's up to 86% of employees. A great way to avoid high employee turnover is to set clear goals for their future within your company.
Tell them what they can expect to work on during the first month, when they'll receive more responsibilities, and when they can expect the first raise. Tell them exactly how you rate your employees, which goals you expect them to achieve, and what type of bonuses or benefits they will receive in the future.
All your employees need to know how you measure success in your company. Is it being able to run a department successfully on their own, bringing in more clients, or something else? Discuss this with your employees and make sure you are transparent about all the goals you have for them and how they're performing.
5. Help them get used to working from home
Not everyone has experience in working from home but remote work is here to stay, so we all have to adapt. Some people are just getting started in their corporate journey and they need a bit of mentoring. Here are the three most important tips you can offer your team members.
Help them create a home office. Not everyone has a spare room, but you can help them make a little corner where they can work and store their work-related things. It needs to be by a source of light and far away from any distractions.
Share tips on how to stay motivated and how to set goals while working from home. It's easy to get distracted when you see dust, a pile of clothes that needs to be washed, etc. Explain to them that, while they don't have to work 8 hours consecutively, if they stray too much, they'll end up working throughout the entire day.
Explain to them how asynchronous communication works and that they can organize their workday according to their needs, so they don't have to be available 24 hours a day. In a remote working environment, people are more productive when they don't have to reply to each message instantly.
6. Help team members connect
Developing digital friendships is hard. Not everyone's personality will shine through Slack and Zoom. That's why you need to encourage remote team building in the form of non-work-related contests, updates, and overall relationship building.
You don't have to create an in-house newsletter, but make sure to share updates about birthdays, weddings, new pets, children, and more in Slack. This will promote a culture of sharing and celebrating others.
Activities like these help people bond and feel like a true community.
7. Make sure to check-in
Throughout this entire process, you should be regularly checking in with your new hires. This is where understanding the differences between recruiting and employee onboarding comes along.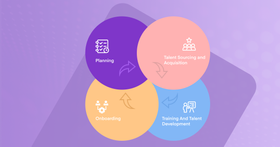 Recruiting the right people is a tough thing to do and you should use all the help you can get. This step of the process will be based more on the skills and experience someone can bring to the table, while an onboarding program will help them thrive in a new environment and become a part of your company culture.
Ask them how they're handling new responsibilities, working from home, and their workload. While recognizing someone's achievements based on their work assignments is valid, it's important to also recognize their needs and wants, too.
Being proactive about solving any potential problems will work great in the long run since it's easier to invest in existing employees than it is to hire new ones. You can also consider outsourcing the recruiting process by working with professional employers of record, for example.
8. Ask for feedback
If you've made the switch to remote working relatively recently, you may still be learning the ropes and you're bound to make a few mistakes. That's why you need to ask your new hires for feedback.
To keep it comfortable for both sides, provide them with anonymous questionnaires via web forms and let them express their opinions and worries. Once you get the results, make sure to analyze them and make changes accordingly.
Conclusion
The best tip we can give you for onboarding remote employees is to be prepared. Create an all-encompassing digital handbook that lets your hires explore your company and learn more about their responsibilities. This will also help you stick to your training schedule and boost the productivity of your remote training programs.
Invite your new team members to the learning management system and introduce them to co-workers. The better communication and relations are between your team members, the better everyone's results will be since they'll feel like a part of the bigger picture.
Once you assign them the first task, make sure to regularly check in and help them with any problems they may face. It's important to foster great communication and be transparent about your expectations.
So be sure to implement these online onboarding best practices and you and your team are sure to soar.
References and Further Reading?