The 9 Best Internal Employee Communication Apps
Ahhh…internal communication. The cornerstone of understanding and productivity in the workplace. Why? According to Wikipedia, internal communications is "the function responsible for effective communications among participants within an organization."
Long story short, internal comms is all about managing the overall communications across various mediums among team members (a.k.a. employees). Surely, you will need the right tools for that and we will discuss the best employee communication apps shortly.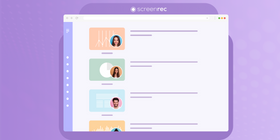 How can you properly manage internal communications?
One simple solution is to enlist the help of an employee communications app.
They weren't lying when they said there's an app for everything and apps for team communication prove it. We've decided to put together a comprehensive list of the best internal communications tools worth trying.
These apps stretch across a wide range of uses and abilities with one thing being constant; their purpose. The sole purpose of business communication apps is to eliminate the challenges that come with staff communication. So before we get into this list, let's explore a few of these challenges.
Internal Communications Challenges
| | |
| --- | --- |
| Lack of overall communication | In a company of hundreds of individuals, staying connected with all of them can be difficult, and often times it becomes burdensome to the point that many may refuse to communicate at all. |
| Wasting time with email | Emailing formal letters is a big waste of time. It's not unlikely that a good percentage of those emails are not clear or convey the wrong message. In the end, emailing can create more confusion than it ought to. |
| Minimal feedback | When team members are spread all across the globe, they are typically working at their own pace, on their own schedule. Essentially, they're working alone. This seclusion is worsened by the fact that employers rarely take the time to give employees feedback on the work that is submitted. |
| Unclear instructions | Not knowing exactly what to do creates a terrible cycle of miscommunication, misinformation, and reduced productivity. |
| Delayed updates | Information moves fast in organizations, but that speed can make important updates become lost in the shuffle. Before you know it, these updates are reaching certain team members days later. |
| Irrelevant information | Everyone has their own role that comes with information and updates that are specific to them. Yet, more times than not, team members will receive an overload of info and updates that do not pertain to them or the projects they are working on. |
The Best Employee Communication Apps
Now that we have an idea of the type of challenges companies face, let's jump into our list of apps that strive to eliminate these challenges and improve the employee experience.
1. ScreenRec for video messaging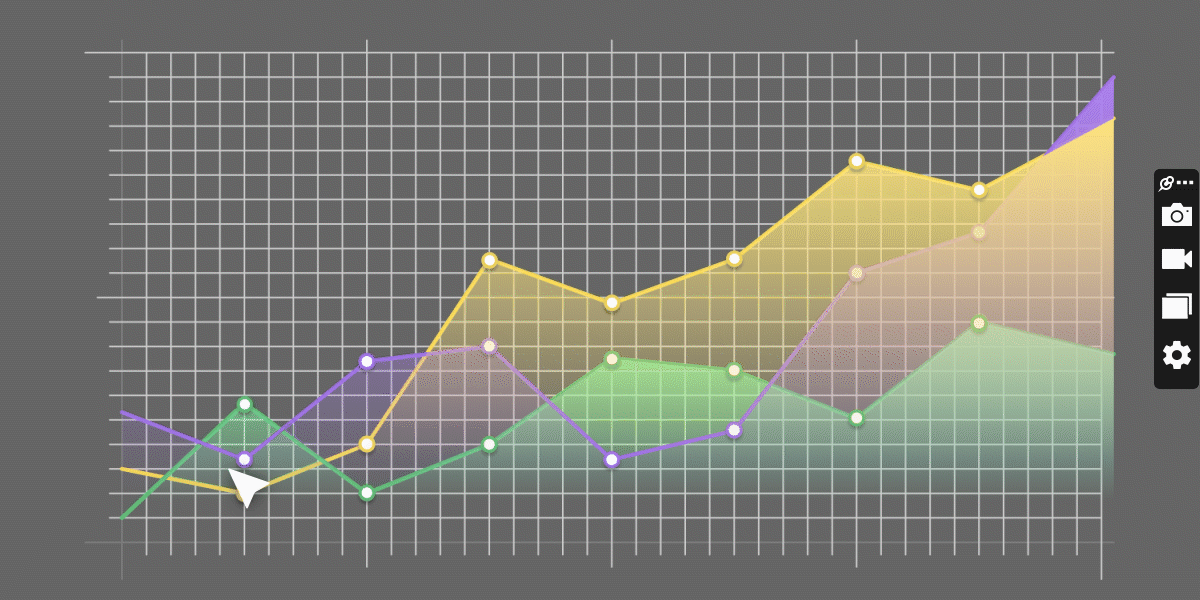 It's no surprise that many organizations are moving away from the traditional emailing technique in order to communicate. They're opting for a much faster and efficient email alternative, and that is, surprisingly or not, screen recording. ScreenRec is a free screen recorder with instant sharing that allows you to take screenshots and capture screen videos. You can use it to give proper feedback to a team member, record a video to report a bug, provide customer support, record a Skype for Business meeting.
All of that, plus you can share those videos or shots via an automatically created sharing link. For example, imagine you are designing on a Mac. ScreenRec is a screen recorder for Mac with instant sharing, which means it can turn into a very effective employee communication tool. You can record a quick video to present your design to your client.
Pair ScreenRec with one of the following apps, and your communications will be unstoppable.
Feature Highlights
Private and secure sharing link
Easy screenshot and recording with the press of a simple hotkey
2 GB of free cloud storage
Pricing
Free
2. Flipsnack for interactive corporate documents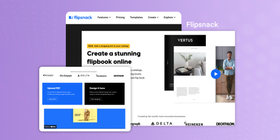 Flipsnack is a complex digital publishing tool that allows you to easily create, share, and publish interactive internal communication documents such as employee handbooks, internal guides, company newsletters, and so on.
Interactivity plays a huge part when it comes to internal communication. By adding GIFs, links, captions, videos, iframe codes, tags, and other attractive elements in your publications, you're going to catch your readers' attention and increase their engagement.
But that's not all that you can do with Flipsnack. Right after you create and customize your corporate documents exactly as you want, you get the chance to share them securely only with your employees, or the people in your team. This way, you're making sure that nothing confidential gets leaked!
Feature Highlights:
interactive features that boost your internal communication documents and engage your readers
easily tracking your readers' activity through individual and in-depth statistics
share your interactive corporate documents securely with your employees
Pricing
Request a quote
3. Yammer for chatting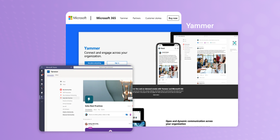 One could say that Yammer is basically social networking for businesses. As a part of the Microsoft Suite, Yammer is a good way to stay connected and updated on company news. Yammer can be integrated with the abundant apps offered by Microsoft, like Office 365, Skype, Microsoft Teams and more. Its messaging system goes hand in hand with its newsfeed, so you'll never miss the opportunity to comment on news updates and project completions.
Feature Highlights
Real-time notifications
Social media feed accessed by the entire organization
Integrates with all Microsoft products
Pricing
$8 per user per month for Office 365 (Yammer is included)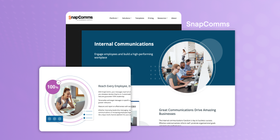 Similar to Yammer, SnapComms uses a social media-type of news feed. Any member of an organization can post updates or information and it will reach ALL members, including the higher-ups. What makes SnapComms special is that all posts are permanent, meaning they won't disappear and they are easily searchable.
Feature Highlights
Social media feed that connects all members of the company
Searchable posts and comments
Always searchable content
Pricing
Basic package starts at $7 per user per month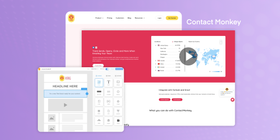 Emailing got a major upgrade with Contact Monkey. This corporate team communication app allows you to internally create, send and track mass emails from Outlook and Gmail. With features like email templates and survey add-ons, Contact Monkey takes over the company emailing game.
You can create company newsletters, receive deep analytics on viewed emails (Who viewed, from where, IP address, action taken,) track forwarded emails, create polls. Just about anything you've ever wanted to do with your email, you can do with Contact Monkey.
Feature Highlights
Deeeeeeeep (very deep) analytics available for emails
Marketing features including newsletters and templates
Works with two popular emailing systems
Pricing
Request a quote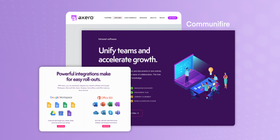 Communifire is a general communication and team collaboration tool that includes chatting, instant messaging, social networking, and more. These are all of your basic internal communication app features.
But Communifire does something that other general communication apps fail to achieve. They promote ideas, meaning, they've created a designated space for employees to list and hash out project ideas. One space shared by all members to view, discuss and decide.
Feature Highlights
All necessary communication features (chatting, video calling, real-time notifications, etc.)
Unique space specifically for creative thinking and planning
Pricing
$10 per user per month
7. Blink to bring your workforce together

Blink is an all-in-one app that facilitates instantaneous communication, content sharing and employee engagement. It is built to support and strengthen internal communication in frontline industries like retail, hospitality and transportation.
This powerful app aims to empower employees and keep them connected both in the office and in the field. One of the best features of this employeecommunication app is the awesome news feed that displays all key information in one place, giving everyone quick access to news, videos and documents from their co-workers.
With this app, your employees can easily voice their opinions which will naturally create a happier, more productive workforce. Besides, it's much more fun that those break room notice boards!
Feature Highlights
Personalized messaging feeds
Real time chat
Video conferencing
Discussion threads
Third-party app integration
Pricing
Starts at $3.20 per month per user

It's all in the name! Remember those interoffice communication challenges we talked about? Crises Control gives you solutions for when you don't want to leave your communications up to chance.
Crises Control claims that with their services, there's never any hitches or downtime. That plus they protect your content and communications should any eventualities occur. This includes cyber attack, app failure, power outage, and more.
Feature Highlights
Guaranteed continuous communications without failures
Protects against unplanned incidents
Still offers basic communication features
Pricing
Request a quote
9. Brosix for team collaboration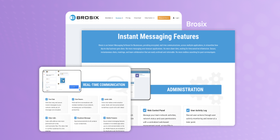 Brosix takes team collaboration and puts it at the forefront of everything they do. This business instant messaging app doubles as a productivity app because it offers many different ways to stay in touch and up to date. This includes text messaging, group messaging, P2P file transfers and screen sharing with remote desktop control.
Let's not forget about visual whiteboarding and video chatting. Everything a team needs to stay connected, Brosix has the solution.
Feature Highlights
Messaging powerhouse
Collaboration features include whiteboarding, co-browsing, file sharing, etc.
Antivirus and updates available
Pricing
$4 per user per month
Now that we have our list of the best internal communication tools, but do they really make a difference? Does good communication really affect the success of a company? Well, we've found two companies with great internal communication that proves that it really does matter.
Internal Communications Case Study #1: Google
There's no doubting the success of Google. With over 100,000 employees, how does this tech giant keep everyone in the loop and excited to work? One technique was nabbed from multinational conglomerate 3M, because, well… if it works, it works.
Google calls it "20% time" (3M's is 15%). This gives employees paid time to work on something creative that may be useful to Google. Consider this a suggestion box revamp. How does this affect company communication?
20% Time allows Google employees to contribute significantly to the overall success of the company, meaning everyone shares the same stakes and responsibility. Not to mention that all members need to stay in constant communication to foster these ideas. We have 20% Time to thank for Gmail and Google Earth.
Internal Communications Case Study #2: Microsoft
Microsoft is another HUGE tech company, with 40,000 more employees than Google, the task of keeping everyone on the same page seems greater in difficulty. In order to battle communication issues, Microsoft has enlisted the help of Ralph.
Ralph is a famous rubber chicken who enjoys short trips in the air and connecting with others. In other words, Ralph is present at group meetings and is used as a podium of sorts. That rubber bird flies through the air from person to person as they speak to the group about their ideas or concerns. This may seem a bit simplistic, but giving team members a platform to speak can go a long way in a company this size.
Putting It All Together
In the end, internal communications may be the most important aspect of a successful business. While many companies may have their own unique way of inspiring and fostering communication, apps like these are certainly a welcomed help.
In our opinion, combining these employee communication apps and allowing them to work in tandem is the best way to expand their potential. Since the features available vary from one app to the next, it would be wise to utilize two very different software.
We suggest combining ScreenRec, the screen recording app with Communifire. Communifire has all of the features one would need to open, and keep open, the lines of communication.
All it's missing is a recording app. Pair it with ScreenRec, and you're good to go. Try them out for yourself and see how well it works for you and your company.
Frequently Asked Questions
The idea behind internal communication is to spread information throughout the team members of a particular organization. It's needed on all levels and it ensures members are on the same page in terms of doing work and accomplishing goals. Internal communication is the core of efficient teamwork.
The most common type of internal communication is for sure emails. It's a simple and obvious choice when it comes to sharing common information with different groups of people. However, it's often overused and employees spend too much time clearing spam and sorting out valuable information.
Another common way for communicating internally is a company intranet. It's a private network which has plenty of opportunities to share different information—whether it's posting text, sharing video materials, commenting on a published post etc.
Task management software is another modern, useful and convenient way to communicate with your colleagues and managers. It ensures the proper distribution of tasks to each team member. A very useful feature of such software is that you can visually follow the progress of any project that's being worked on.
References and Further Reading?