The 6 Best Email Alternatives You Should Be Using in 2021
As our daily work lives move further and further into the modern future, many work tools will gradually become obsolete. We believe that such will soon be the case with emailing and that's why, in 2021, most people are looking for email alternatives.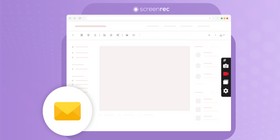 It's no secret that there are many flaws with popular email providers, especially when it's being used as an internal communication tools. One of the biggest issues with email is its privacy and security. Over the years, free email services like Gmail have really amped up their data mining capabilities. This gives Google the ability to read your emails in an attempt to offer you relevant ads. While that seems pretty harmless, it runs the risk of giving corporations and private entities access to your personal information.
Data mining isn't the only issue afflicting internal communicators that rely on email. It's also an outdated communication style. Think about it for a moment. Given the numerous swift communication software, it begs the question, why do we waste time drafting long-winded emails? According to Inc.com,
With all of this in mind, one has to wonder, "There's gotta be a reliable email alternative, right?" Well there is! And we rounded up the top 6 email replacement options for you. Time to say goodbye to Yahoo mail, AOL mail, Zoho mail and all the rest…
Best Email Alternatives
Option #1: Video Emailing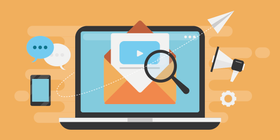 Video emailing has become an extremely popular option for businesses and teams who want to increase productivity and minimize time wasting. With this technique, senders use a screen recorder to record their voice (and/or video) and relevant displays from their computer screen to record an explanatory video that recipients can easily view.
So instead of taking time to write a long email, or editing and re-editing your document, you can easily say what you need to convey in half the time and you don't need to worry about spam filters, too. If you're a salesperson, you know the pain.
Best Tool: ScreenRec
Whether you're looking for a free Outlook alternative or replacement of Gmail, ScreenRec is the perfect business communication tool to use instead of email. This powerful screen recorder gives you the ability to record voice, HD video, webcam, and any part of your screen with system and mic audio.
Companies can also rest easy thanks to ScreenRec's private and secure link sharing. The moment you finish recording, a link is created where team members can safely view your video on any device. You can use it with any email client and there is 2Gb free storage space (enough for 10+ hours of video emails). Oh, and did we mention that it's 100% free?
Option #2: Collaboration Platform
Collaboration platforms have become incredibly popular tools used in corporate communication. Why? Because they give a team everything they need to productively complete projects and get rid of everything you don't. With the right platforms, teams can use instant chatting, commenting, voice/video meeting, and more to keep everyone in the loop. You won't need to remember to email everyone in the group or having to worry about hitting the reply all button.
Best Tool: Asana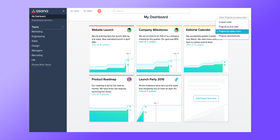 Listed as a viable Slack alternative, Asana is a task management app/collaboration app that keeps all members organized. With the ability to comment on any post, it completely removes the need for an email service. Not only is communication swift, but team leaders can easily also assign work to members and keep track of progress with due dates. Asana may be one of the most simple and easy-to-use team collaboration software available with a very powerful free version.
Option #3: Voice/Video Chatting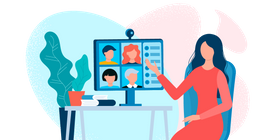 As we mentioned above, talking things out is a great way to convey a message. It also eliminates the dreadful anxiety that comes with trying to write a professional email free of errors.
That's why, team communication apps, especially those with voice or video chatting, are essential when you need instant feedback from team members, voice or video chatting is the way to go. With an online meeting, everyone can gather to vocally discuss various topics. Imagine instead trying to get your point across via email and bcc-ing everyone. Ridiculous, right?
Best Tool: Zoom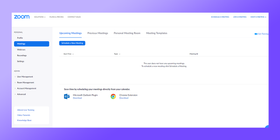 In recent months, due to the global pandemic, Zoom has become one of (if not the most) popular online video conference applications in the world. It has proven to be reliable for virtual meetings for both small and large teams.
Hosts and participants can easily switch on and off their cameras and microphones, share their screens (if your plan and hosting permissions allow), add live annotation, record the meeting, chat, and more all within the app. It's also secure, so only those who have the invite ID and passcode can enter.
Option #4: Social Media for Work
Though some time management techniques may advise against social media, it may have a place in your employee communication stack after all. You'd be surprised at how well people take to social media being used as a form of company communication. From LinkedIn company group pages to a dedicated Youtube page for team videos, social media has proven to be a reliable method of communication. And since everyone is used to these platforms, why use email apps when you can simply post on the team's wall or send a DM?
Best Tool: Yammer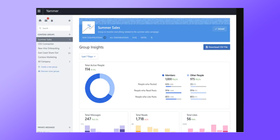 Yammer was designed specifically for companies who wish to keep their employees engaged and communicating. Unlike Twitter and Facebook, employees aren't distracted by other irrelevant news and topics. Yammer allows you to create your own social media platform for employees where they can post on walls, comment on posts, and send direct messages.
You can even create groups for projects and invite specific team members to help keep things more organized and filter out unnecessary information and notifications. With everyone constantly engaged, it serves as a great alternative for emailing.
Option #5: Instant Messaging App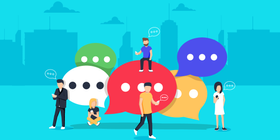 If you're looking for something a bit more simple, an instant messaging app may be the way to go. These apps (also great remote working tools) let you chat in real time without having to refresh or browse a webpage. While many people still choose to type out messages on these apps, you may have the option to do a voice/video call or even send a quick voice note.
Best Tool: Whatsapp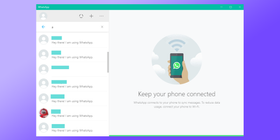 Whatsapp is an international instant messaging and calling app. With this app, you can create specified groups and send texts, files, and voice notes. It even allows you to make voice and video calls. Unfortunately, you can only hold a call with up to four people, however a group chat can contain up to 500 people. Either way, the real time chatting makes it much better than emailing.
Option #6: More Secure Emailing Service
As we mentioned, popular email providers are often permitted to go through your inbox, process the content of your emails, and provide you with relevant ads. If you're like us, then this really bugs you, especially if that info is being bought and sold by third-party entities. If you're disturbed by this invasion of privacy, you can opt for a more secure emailing provider who does not read your emails nor provide random companies with your personal info.
Best Tool: Tutanota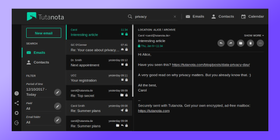 Tutanota is a reliable secure email provider that offers end-to-end encryption on all email correspondences. With a free account, you are given 1GB of storage and a Tutanta domain address. Luckily, there is room to upgrade your account for more space and even email aliases. For those who are highly concerned with privacy, Tutanota is a great Gmail and Outlook replacement.
The Bottomline
Each of these options prove that there are other ways to communicate besides email. Deciding on an email alternative for your team boils down to what your company deems most important. If you're all about boosting productivity, private and encrypted sharing, and swift communication, an app like Screenrec is the way to go. If your focus is an all-in-one platform for easy collaboration that can get rid of emailing, then Asana is perfect. The choice is yours. Just remember, that you don't have to be stuck with annoying and unsecure email providers.
References and Further Reading