Whereby Vs. Zoom: And the Winner is...
Web conferencing has become a staple in the average workday, and the biggest player in the game is Zoom. We all know Zoom, the giant that became extremely popular and possibly the best free video conferencing tool during the Pandemic. But, with that popularity came competition. Other collaborative tools, such as Microsoft Teams, were launched, and people started looking for alternatives to Zoom.
Whereby app is one such software. With its ease and reliability, it is becoming a popular choice for work-at-homers. Whereby needs no installation and no login for guests. Just click on the link, and you are in. Many people can join, screen share, and host video conferences.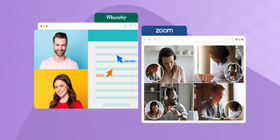 One major reason Whereby is in steep competition with Zoom is because of its privacy policies. Designed in Norway, which is known for its stricter privacy laws. They rely less on using user data and third-party cookies, whereas Zoom has been transparent about storing user data. This can be something to consider when thinking about legal concerns around recording video meetings.
Nonetheless, Zoom has taken the world by storm and will be hard to beat. Can the lesser-known Whereby app edge out its competition? Or is Zoom just too massive of a competitor to snuff out?
We put the two competitors side by side to see which one is really the best video conferencing social media app around.
Whereby vs. Zoom Snapshot
Whereby - A video conferencing tool becoming popular for its extreme ease of use and reliability.
Free version available with Pro starting at $6.99/month.
No installation of app required
Offers users useful services like screen sharing, live videos, muting participants, managing calendars, and recording.
1-50 users with up to 12 video cams on screen.
Has a private chat option; real-time chat and white board are all included.
Web-based app and supported on iPhone, iPad, and Android.
Integrations with Slack, Desktop, Rambox, Google docs and up to 13 more.
Zoom - A very popular video conferencing app used almost every day.
Free version available with Pro starting at $14.99/month.
1-1000+ users.
Cloud-based designed for small to big businesses with wireless media sharing, screen sharing and more.
HD video/Audio conferences, presentation tools, private/group chat, screen share, record, webcasting and more.
Join through any device, mobile or desktop.
Integrates with 455 and more apps.
Whereby Vs. Zoom Breakdown
PRICING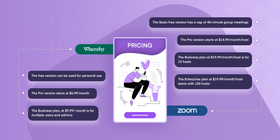 Whereby
The Whereby app has three different plans. The free version can be used for personal use, which allows only one user and one meeting with up to 4 participants. It has basic integrations, and screen sharing is included. The Pro version, starting at $6.99/month, is for one user, has 3 meeting rooms and up to 12 participants with premium support, better screen sharing, and recording. The $9.99 per month business plan comes with 10 meeting rooms and more. Large user and administrator groups are the target audience.
Zoom
Zoom has 4 different plans. The Basic free version has a cap of 40-minute group meetings. The Pro version starts at $14.99/month/host, increases the meeting length to 24 hours, and allows admin controls and recording. The Business plan at $19.99/month/host is for 10 hosts, adds phone support, dashboarding and white labeling. The Enterprise plan at $19.99/month/host starts with 100 hosts, unlimited cloud storage, and bundled discounts on other Zoom products.
Screen sharing, live videos, chatting, and the ability to mute participants are available in both products' free versions. With Zoom, you can have up to 100 participants in a call, whereas with Whereby it is limited to 4 participants. In this case, for meetings or especially for small businesses, it's better to use Zoom.
Winner
With the ability to have up to 100 participants in its free version and a lot more features with paid plans, the winner is Zoom.
LIMITATIONS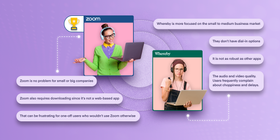 Whereby
Since Whereby is more focused on the small to medium business market, it is not as robust as other apps. The app lacks some basic features. This can limit the companies when they scale up and need something more flexible, stable, and vigorous. The ease of use that Whereby video conferencing has, however, has another downside: the audio and video quality. Users frequently complain about choppiness and delays.
Much like Google Hangouts and other video conferencing software, Whereby works in the web browser. You don't have to download anything. This can be a limitation in some cases if you're seeking perfect audio and video.
Zoom
While Zoom is no problem for small or big companies, its scalability can make it more complex than simpler products. Zoom also requires downloading since it's not a web-based app and forces users to set up an account. That can be frustrating for one-off users who wouldn't use Zoom otherwise.
Zoom requires you to download an app to be able to use it. Both tools come with mobile apps that make it easier to join the conversation on a smartphone or tablet.
Winner
For small companies looking to have a quick chat and ease of use, Whereby is an option, but for overall stability, professionalism, and good audio/video quality, the winner is clearly Zoom.
SCREEN SHARING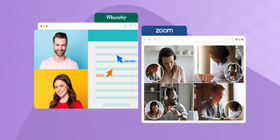 Whereby
Whereby has screen sharing options in all plans. It can be found via the share button in any whereby room. Whatever documents you have open can be seen, making it easier for the team to collaborate. They can respond via chat so as to not disturb the meeting. You have control over which window your team can see and which slideshow or page you want to focus on. With Youtube integration, you can share Youtube videos as well. The screen sharing tool makes it a very collaborative approach, and you don't waste time sending docs back and forth via email when you can just screen share and work on it together.
Zoom
With Zoom, you can screen share your entire phone screen or desktop or a portion of your screen. You have the ability to share locally saved audio or video, slides/presentations, your whiteboard, second camera, or even your iPad screen. With the upgraded version, anyone can share their screen; however, the host has the ability to disable anyone's ability to share. With the basic version, by default, only the host can share.
By default, the Zoom window does not show up when you screen share. But if someone is teaching you how to use Zoom, you can change that by going into the settings and selecting the Show Zoom window.
Winner
Both the free plans have screen sharing options, so either can work just fine, but with the paid plan of Zoom, anyone can share their screen (if the host allows it). Whereby doesn't have that option. In that case, Zoom wins.
PRIVACY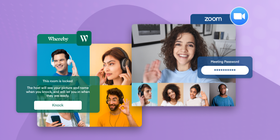 Whereby
Whereby was created in Norway, and since they have stricter privacy laws, Whereby does not save user data and third-party cookies. They follow the General Data Protection Regulation, and as one of the main concerns for customers is privacy, Whereby is increasingly becoming popular for meeting their privacy concerns.
As for meetings, in Whereby video conference calls, you can lock the meeting room. However, if any new guests want to join, all they have to do is "knock" and the admin can let them in. Another great feature is that you can save your recorded meetings for later viewing.
Zoom
Zoom is transparent about the use of user data and third-party cookies. They access and save the information, and if anyone buys the company, all the data information goes to the buyer (think Google buying Youtube.) This is a huge deal for customers since their main concern is privacy.
It has also been in the news recently for its "Zoom Bombs", where anonymous users enter your virtual meetings without consent and cause disruption. To avoid this now, Zoom allows you to lock meeting rooms. But once locked, no one can join the meeting, even if they have the ID and password.
Winner
It is clear that Whereby wins in privacy thanks to their strict privacy laws and privacy within meetings.
INTEGRATIONS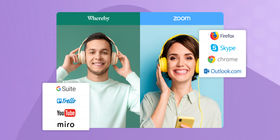 Whereby
Whereby has up to 13 integrations, with the most popular and easy to use in Whereby being Google docs, Trello, Youtube, and Miro. The room owner can enable and disable integrations at any time during the meeting.
Zoom
Zoom has a marketplace of its own to browse all the apps and integrations available. They offer integrations with third-party vendors to ease the workflow. Some can be added as extensions/ plug-ins as well. Microsoft Outlook, Google Chrome, Firefox, and Skype are available as downloadable add-ons. For configuring integrations, log in to the Zoom web portal and go to the integrations page.
To name a few integrations- Google Calendar, Google docs, Google Drive, Dropbox, HipChat, InfusionSoft, Gmail, Epic, and many more. The marketplace has as many as 800 integrations.
Winner
There is no question that Zoom is the winner. Zoom has been around longer and is very popular, making it a product all other companies want to collaborate with.
SCOREBOARD
| | | |
| --- | --- | --- |
| | Zoom | Whereby |
| Pricing | 1 | 0 |
| Limitations | 1 | 0 |
| Screen Sharing | 1 | 1 |
| Privacy | 0 | 1 |
| Integration | 1 | 0 |
| Total Score | 4/5 | 2/5 |
And The Winner Is...
Even though both platforms are pretty similar, they work in completely different environments. Whereby is focused on small to medium businesses to make video conferencing easy and fast. Zoom is a beast, designed for small to big businesses and incorporating a lot more than just a simple video conference (though that is possible too), and therefore, they take home the trophy.
Whereby App Review Recap
Pros: small team meetings, for less than savvy tech people, minimalist design, quick and efficient video conferences and does not require a highly professional setting
Cons: maximum of 50 participants, only admin can screen share and lag in audio/video
Zoom App Review Recap
Pros: large number of guests, high quality video and audio meetings, and for those who want to host webinars or professional meetings
Cons: need to download and set-up account, access and save user data and Zoom bombing
FAQ
Since Zoom is so popular, we already know a lot about Zoom and probably have used it once as well. So here is more info on Whereby:
Whereby video conferencing is better for small businesses that are just starting out and in need of content marketing as it is more affordable, very easy to use, reliable, and quick. You just have to send a link to hop on the conference. You can add documents, chat, and screen share in the meeting. But ultimately, it's up to you and depends on your needs.
Whereby is extremely safe. Created in Norway, they have strict privacy laws and follow the General Data Protection Regulation. This means they rely less on taking user data and third-party cookies.
Yes! Whereby has a free version with one user, one meeting room, and up to 4 participants. The Pro plan at $6.99/month and the Business plan at $9.99/month are also very affordable options and give you more features.
Online meetings can take a toll on you and wear you out. Apps like Zoom are everywhere and everyone is going through a Zoom fatigue. There are more interactive tools to help with that. One very popular app is ScreenRec.
ScreenRec is a free screen recorder and screenshot tool that helps in creating online content in a secure platform. You can record unlimited HD videos, audios and screenshots, make your own tutorials and presentations as well as give feedback. All your documents, presentations and content can be in one place and help create a visual library.
References & Further Reading