The Best 8 Laptop Screen Recorders
It's a simple fact that things are better explained in videos than in text. Why else would YouTube tutorials and how-to videos be so popular? Well, if you want to record your Skype for Business meeting, create a training video, or simply record video on a laptop, we've got you covered.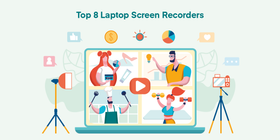 Here are the top 8 laptop screen recorders available for Windows, Mac, or Linux. Yes, Mac users, you don't have to do that Quicktime Player workaround anymore and, even with the new Mac screen capture tool, you may still want to check out these free screen recorders.
ScreenRec is a small dog with a very big bite. This video capture software program is so simple in its design and user-interface, yet fast and mindful of your battery life.
ScreenRec is both a screen recorder and a screenshot tool. It allows you to record your desktop or snap a picture of it and share instantly via private link. No need to upload to a sharing site or send huge files.
If that weren't enough, you get 2GB of private cloud storage, screen recorder with no watermark, and no limits of any kind all for zero dollars. You can download this laptop screen recorder here for free.
Pros:
2GB free cloud storage
Secure and instant shareable link
No watermark
Lightweight, fast, spares your battery
Records in HD
Cons:
CamStudio is an easy to navigate open-source screen recorder that allows you to record video and sound (either mic or system audio) to create AVI files. Simple editing features like automatic panning and captions give this basic recording tool a bit of pizzaz. You can even burn your captures to a disc using the app. There's also an in-app help file to get you on track should you feel stuck.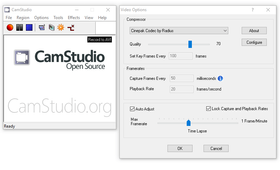 Pros:
Free
Easy, quick editing features
Built-in help file
Cons:
Video files can only be saved in AVI format
Can't record system AND microphone audio together
Most people know VLC as a reliable media player, but this popular player has a hidden talent—its recording feature. With a simple click of the mouse, you can turn VLC into a full-fledged screen recorder. Whether you want to screenshot on Asus, Toshiba, Samsung, or Dell laptop, it doesn't matter. As long as Windows is your operating system and you have VLC installed, you have a "built-in" laptop screen recorder.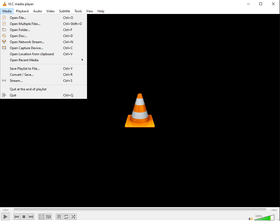 Pros:
Built-In recorder
Free of adware or spyware
Open-source
Cons:
Often glitchy
No way to share instantly
OBS is one of the best open-source screen recorders and editors available for free. While capturing video can be as simple as clicking the record button, there is also a seemingly unlimited amount of editing options and pro tools.
The built-in features and the ability to customize the app to fit your needs can certainly feel confusing. Because it is so extensive, however, learning how to record your laptop screen with OBS can be tricky. Luckily, there is a whole community available to help you work out any kinks.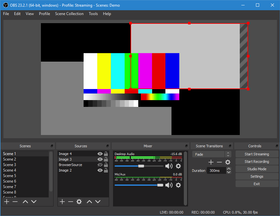 Pros:
Deeply customizable
Large variety of editing features
Smooth interface for such a hefty app
Cons:
AceThinker is all about ease of use. They don't force you to overcome a steep learning curve in order to record your screen. A small downside is that, even though it's an online app, you have to install the launcher first. That being said, you can record your entire screen or a small region with AceThinker and, either way, this laptop video capture tool makes it easy.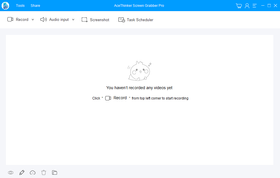 Pros:
Upload to popular sharing sites
Has built-in editor
Cons:
Often fails to launch properly
GreenRecorder is known as one of the first Linux screen recorders that is also unavailable on other platforms. Offering support for Xorg and Wayland, GreenRecorder has been a go-to laptop recording app for many Ubuntu users. Record your screen, create gifs, and download in multiple formats… GreenRecorder is simple, yet useful.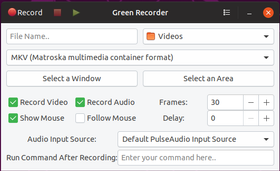 Pros:
Easy to navigate
Built-in support for Xorg and Wayland
Gif creator
Cons:
No way to share instantly
Free version has watermarks and 3-minute limit
Free Screen Video Recorder is exactly what its name suggests; a free screen video recorder. Simple recording with the click of a mouse allows you to capture multiple windows and specific regions. Recording audio is simple as well, as you can capture both microphone and system sounds by selecting the appropriate options in the menu bar. Unfortunately, in order to use this app, you must be willing to accept third-party products which will be installed on your computer.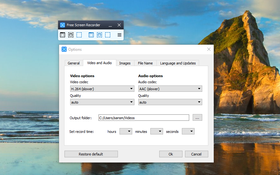 Pros:
Save in various formats
Capture multiple windows
Cons:
Forces you to accept third-party products
Movavi is another popular screen recording app. Known to be both reliable and versatile, Movavi allows you to record video on a laptop as well as record webcam video. The built-in editing tools allow you to do basic changes such as cutting segments. It supports various output formats and exports files in a reasonable size.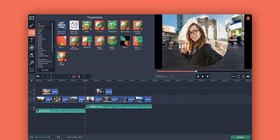 Pros:
Supports various formats
Webcam recording
Built-in editing
Cons:
Free version leaves watermark
Can't record system audio
Comparison Table
| | | | |
| --- | --- | --- | --- |
| | Best Feature | Price | Platform |
| ScreenRec | Instant private link sharing | Free | Mac, Windows, Linux |
| CamStudio | CD/DVD burning | Free | Mac, Windows |
| VLC | Built-in to Windows OS | Free | Windows |
| OBS | Extensive editing features | Free | Mac, Windows, Linux |
| AceThinker | Online-based | Free | Mac, Windows, Linux |
| GreenRecorder | Offers support for Xorg and Wayland | Free | Linux |
| Free Screen Video Recorder | An online screen recorder | Free | Mac, Windows, Linux |
| Movavi Screen Recorder | Webcam recording | $39.95 | Mac, Windows |
Wrap Up
So, there you have it! The full list of laptop screen recorders for Windows, Mac and Linux systems. Next time you're wondering how to screen record on laptop, simply download one of these tools. We hope this article has been helpful and, if you're not sure which tool is best for you, we'd like to invite you to download ScreenRec. It's so easy to use that you can get addicted to sending screen recordings…
References and Further Reading?