How To Record Your Computer Screen On Windows 10
Throughout history, we have developed many different techniques in capturing and recording moments. Starting from paintings on a cave wall to digitally capturing video and images in an instant. You can never satiate progress and screen recording is proof of that.
A businessman who set up an online conference with his managers.
An online student and her teacher in a virtual classroom who are prsereparing study points for the SATs.
A grandmother, 2,000 miles away, who sees her great-grandchild for the first time via Skype.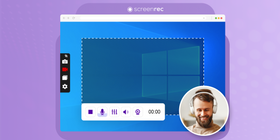 These moments are the type of moments that need to be recorded and, in this day and age, it has become insanely easy. A free screen recorder gives us the convenience of capturing anything on our PC or laptop screens.
In this article we'll cover how to record your computer screen on Windows 10. There are several options out there and we are going to walk you through three of them.
So sit back, relax, and let's jump in.
OPTION 1: Screenrec
Screenrec is free computer screen recording software that allows you to record both your screen and computer audio. It can also serve as a streaming video recorder, 4K screen recorder, software to create tutorial videos, and app to record Skype for Business meetings.
With a minimalistic style interface, using Screenrec is amazingly simple. Everything is front and center and all it takes 2 or 3 mouse clicks.
Screenrec uploads your recordings, in the background, to our secure cloud storage (also free). It evens copies the link to your clipboard, so all you really have to do is click, record and paste the sharing link.
Screenrec is suitable for video screen capture on Windows 7, 8 or 10 and Linux. The Mac version will also be available very soon.
How do you screen record?
Here's how to screen record on PC with ScreenRec. (Watch the video below or scroll for the text-based guide.)
OPTION 2: Windows 10 Game Recorder
If you've ever used the Windows Snipping Tool, you probably wondered at some point,
"How can I record my screen on Windows 10? Is there a video snipping tool?"
Actually, yes, there is! Strictly speaking, the Game Recorder (or Game Bar) was designed as a way to record gameplay on PC. However, you can capture anything that's on your screen.
The only potential problem is that there are a few hoops you have to jump through first including actually finding the program on your computer. We'll take it one step at a time.
How To Record Your Computer Screen On Windows 10 Using The Game Bar
OPTION 3: OBS (Open Broadcaster Software)
OBS is another widely popular way to record video on Windows 10. It's far more involved and complex than the other two. However, if you're into video production and would like more control over your screen recording options and capabilities, then OBS may be what you're looking for.
OBS is still a great piece of screen recording software for Windows 10, so we'll explore it as our third option. We'll walk you through each step and you can also watch this tutorial to help you better understand the software.
How to screen record with OBS
The Easiest Way To Record Your Computer Screen
It might be a bit bold but we'll say it: Screenrec is the easiest way to record your computer screen on Windows. Many other screen recorders (both free and premium ones) add complexity with mandatory third-party downloads and insanely steep learning curves.
Screenrec was designed to make recording your computer screen as simple as possible. From recordings automatically saved to your free private video account, all the way up to sharing instantly with as many people as you'd like anywhere in the world. Screenrec does all the heavy-lifting while you merely click a button or two. If you want to try it, head over to the screen recorder download page.
Frequently Asked Questions
We'd suggest you try Suggest ScreenRec because it's fast, it's very simple to use (only one shortcut to remember), it automatically saves your screen recordings to the cloud and it's free.
Windows 10 comes with its own screen recording tool called Game Bar. It was mainly designed to enable screen capture during gameplay. You can access it by pressing Windows key + G.
Make your screen resolution as high as possible and do some research to find the best noise cancelling microphone. On Windows 10 PC, go to Start > Settings > System > Display. Select the highest setting in the Resolution drop down and the change will automatically be made. Click "Keep Changes". Then use an HD screen recorder such as ScreenRec to capture your screen with the best possible quality. ScreenRec saves your screen recordings in the universal MP4 format which offers a great balance between video quality and file size.
References and Further Reading?