10+ Best Screen Recorders For Windows 10 PC
Let's keep it real. There are way too many different screen recording programs floating around the internet.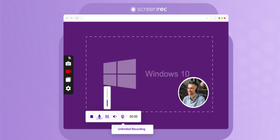 Please! Can we narrow things down to the best screen recorders for Windows 10?
For all of the developers and testers needing to report bugs, clients who need to send visual feedback to designers, those who need to create video tutorials and those who are simply looking for Bandicam alternatives. This list is for you!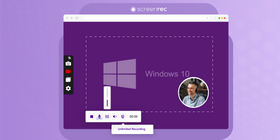 Here is a list of the top 10 video screen capture software.
1. ScreenRec
Screenrec is one of the easiest video screen capture tools, especially when you need to quickly and securely take a screenshots or do a screen recording with audio on Windows 10. You only need to remember one keyboard shortcut (Alt – S)
There's no need to waste time uploading to sites because, with ScreenRec, your screen videos and screenshots are automatically uploaded to the cloud. When you're done recording your screen on Windows 10, just press the Stop button and you'll instantly get a private sharing link. All of this is completely free. Plus, you get 2GB of free storage.
Biggest Pro: Instant secure sharing with free cloud storage
Biggest Con: No video editing
2. FonePaw Screen Recorder
FonePaw Screen Recorder is another good option for recording screen activity on Windows 10. It provides the option to capture part of your screen, record full screen, record your webcam, take screenshots, and handles almost every screen recording related task. Simply launch the program, set up a recording mode, and click on the REC button.
Besides the basic screen recording features, this handy screen recorder also comes with advanced settings such as task scheduler for capturing live streaming videos or other live activities more flexibly and conveniently.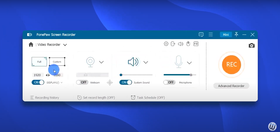 Biggest Pro: Save a video backup of screen recording so that you can have a chance to get back the recording session when you accidentally quit the process.
Biggest Con: Free trial version can only can save the first 3 minutes of the entire recording session.
3. FlexClip
When it comes to simplicity, FlexClip screen recorder delivers. It works right from your web browser and doesn't require you to log into FlexClip.

It's a free screen recorder that offers most of the features of other screen recording tools, including pause, resume, and mute. When you finish recording, the video can be directly reworked in the built-in video editor. You can cut the recording or shorten it, then add emojis, shapes, icons, text and even add a background. It is possible to add other external media (photo, video, audio, etc.), or to record a video capture again and associate it with the previous one.
Biggest Pro:No download required
Biggest Con:FlexClip watermark included in free version
4. Built-In Windows Game Recorder
If you're on Windows 10, you can open the Game Bar or "Windows Game Recorder " by pressing [Windows] + [Alt] + [R] and adjust its settings from the Xbox app. Unfortunately, there are a lot of complaints about this screen recorder. From lagging to reported bugs and low quality, to the inability to record in full screen, there's a lot to dislike.
But, before we knock it too much, let's keep in mind that there really is a recording tool on your computer, waiting to be used to record a Windows 10 screen. It may not be the greatest, but if you want to capture simple screen activities and don't need a high-quality video, the Game Recorder will do just fine.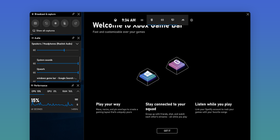 Biggest Pro: Built-in app so there's no need for third-party download
Biggest Con: Can't record in full screen
5. ShareX
ShareX is a social media lover's best friend. After you've taken your screenshots or recorded your screen, you can upload them directly to nearly every sharing site on the planet. Twitter, Facebook, YouTube, Flixr, Reddit, Google Drive, Tumblr, Pinterest, LinkedIn. The list goes on forever.
Speaking of this, long lists seem to be their major drawback for this screen recorder. The menu is quite extensive and, while that may seem like a good thing, some of the options might be overwhelming. We suppose that not too many people looking to use a screen video recorder for Windows 10 will use the hash check, DNS changer, monitor test, or the many many windows that lead to other things. To each his own, we guess.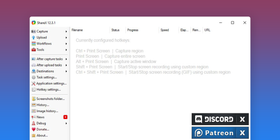 Biggest Pro: Compatible with numerous sharing sites
Biggest Con: Far too many menu options
6. ScreenPal (Screencast-o-Matic)
When talking about ScreenPal, formerly Screencast-O-Matic, we need to break it down into two categories; free and paid. Why? Because there is a HUGE difference between the two. Advertised as a free screen recorder, the Screencast-O-Matic free plan does a great job recording video of your computer screen and can even capture your webcam. That's pretty much where the features end with the free version. If you're willing to toss in a bit of cash, your options open wide to scripted recordings, annotations, more than 15 minutes of recording, direct publishing to sharing sites, and more. For more information take a look at our breakdown of ScreenCast-O-Matic vs. Screencastify.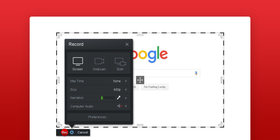 Biggest Pro: Can record via webcam
Biggest Con: Free version is barely usable
7. iSpring Free Cam
iSpring's Free Cam is about as straightforward as they come when it comes to capturing video. This app is very simple and, dare we say, basic. There isn't much going on here except for the fact that you can edit your videos (cut, trim, etc.) and record audio and video. Uploading is a pain, however. You're forced to either upload to YouTube or save the file as WMV. This is convenient if it's what you want. Otherwise, you'll need to spend the time to upload your videos manually to sites or attach them to emails and we all know how long it takes to upload video files (Forever!).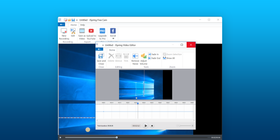 Biggest Pro: Video editor
Biggest Con: Unless uploading to YouTube, you'll need to upload manually in order to share
8. Icecream Screen Recorder
Icecream Screen Recorder is one of the top screen recorders available for free. They have a PRO version, but there's quite a bit you can do for free—from recording to snapshotting and annotating. The only issue is that you only have 10 minutes of free recording time. If you're looking to create a tutorial, forget using Icecream. You'll need more screen video recording time.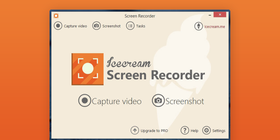 Biggest Pro: Choose video quality
Biggest Con: Only 10 minutes of recording
9. OBS Studio
The one thing about the free open-source OBS Studio is that it is most definitely for the pros. This powerful screen capture software provides users with extensive recording features and editing options for videos and screenshots. You can, for example, add picture-in-picture effects and capture your webcam. Requiring the climb of a very steep learning curve, OBS is without a doubt the most sophisticated program on this list. So, it's probably not the best choice if you want to start recording your screen now.
Biggest Pro: Powerful and produces high-quality videos
Biggest Con: Incredibly complex
10. GoPlay Editor
Oddly enough, GoPlay 's greatest feature is also its greatest weakness. What makes it stand out as one of the best free screen recorders for Windows 10 is what also makes it a tad bit frustrating. Being able to quickly edit your recordings is awesome, but for this screen capture software to consider itself an editor and not a recorder, it should have more editing options. Splicing and trimming are nice and all, but a full-blown editor should have music options, lighting features, and even basic transitioning capabilities.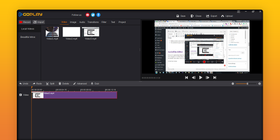 Biggest Pro: Quick editing
Biggest Con: Limited editing options
11. Atomi Active Presenter
The Atomi ActivePresenter is an e-learning tool that can be used to create tutorial videos, screencasts or online quizzes. With a layout very similar to PowerPoint, it doesn't take much to understand how it works. Once you've downloaded and installed the app, you can revel in the multiple editing features. The only downside is that you can't seem to get rid of the watermark (unless you're willing to pay a nice chunk of change for the upgrade).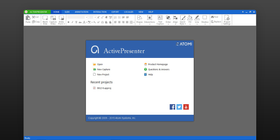 Biggest Pro: Familiar PowerPoint-like layout
Biggest Con: Leaves watermark
12. Showmore by Apowersoft
Showmore is a simple free screen recording software for Windows 10 that allows you to edit your video without a ton of bells and whistles. The only issue is that, if you have no internet access, you can't record. This app works online and that is less than ideal, especially if you are creating private videos for a company.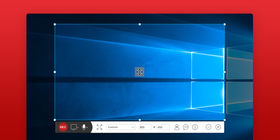 Biggest Pro: No watermark
Biggest Con: Needs Internet to work
13. Ezvid
Designed specifically for saving time, Ezvid does its best to allow for every action to be done right within the app. No need to download secondary programs to record, edit or upload. With instantaneous uploading to YouTube plus the ability to add music, Ezvid truly ups the convenience factor and becomes a contender for the best screen recording software for Windows 10. The issue? The program itself isn't sophisticated enough to run these awesome capabilities without hitting a few snags like lagging and crashing.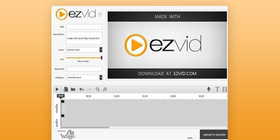 Biggest Pro: Upload directly to Youtube from the app
Biggest Con: User complaints and concerns about bugs and lags
Free Screen Recorders for Windows 10 At A Glance
| | |
| --- | --- |
| Program | Best Feature |
| ScreenRec | Instant secure sharing with free cloud storage |
| Windows Game Bar | No need for extra downloads |
| Share X | Upload to a large number of sharing sites |
| Screencast-O-Matic | Lets you record via webcam |
| iSpring Free Cam | A general and easy to use video editor |
| Icecream Screen Recorder | Lets you choose your video output quality |
| OBS Studio | Powerful editing options for high-quality videos |
| GoPlay Editor | Quick editing features |
| Atomi Active Presenter | Familiar layout, similar to PowerPoint |
| Showmore by Apowersoft | No watermark in finished video |
| Ezvid | Upload directly to YouTube |
So, What is the Best Screen Recorder for Windows?
We'll leave this up to you. However, we feel that ScreenRec takes the cake for the best screen video capture software for Windows 10. Here's why we make this bold statement: ScreenRec gives you everything you need in a screen recorder without being too complex or too simple. With it, you can grab a screenshot or a video, add annotations and send in a matter of seconds. The 2Gb of free cloud storage is also a rare bonus. If you're looking for a free and easy but powerful screen recorder, then download ScreenRec and put it to the test.
References and Further Reading?