5 Ways To Create Screencast Videos For Your Marketing
As marketing trends keep changing, finding an effective formula for customer engagement and lead generation is becoming increasingly difficult. When traditional methods stop working, marketers have to use all available technologies to increase the reach of their campaigns.
It turns out that videos are far more effective at engaging customers than anything else.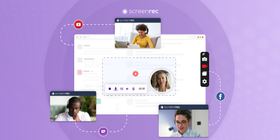 That said, you don't need professional equipment to create screencast videos. Screencast software and a phone can be used as powerful tools for engaging video creation. Don't know how to do a screencast? Not to worry, we've got you covered.
Screen Recording and Content Marketing
Humans are visual beings, and marketing experts all over the world focus their efforts on visuals.
While photos and images still play a huge role in marketing campaigns, explainer videos and product demos are far more effective. They allow viewers to get closer to the advertised product or service than any other available method.
Screencasting is an effective way to reach out to your audience. It allows you to record the screen while explaining how everything works. It's a powerful concept because, once you have insights from other sources, such as go-to-market tools, you can show your audience how your product helps them in practice while answering potential questions they might have.
Screencasting can help you create software demos, training videos, tutorials, and presentations you can share with users on social media as soon as you stop recording (or after simple editing). That way, you'll reach a wider audience without too much effort. Throw in the right Instagram feed planner, proper Facebook ads, and engaging social media posts, and it will be super easy to promote your videos.
Most business app development companies use videos in their campaigns to attract new users, so it's effective beyond any doubt.
But that's just one example. Let's dive deeper!
5 Ways To Use Screencasting In Your Marketing
You don't need professional gear to create marketing videos. As long as you have a good idea and screencasting software, you can create your own video marketing campaigns with minimal setup.
Here are some of the ways screencasting can help boost your reach and increase your sales.
1. How-to Video Guides
Regardless of the type of product in your offer, a short how-to video can help you get the product closer to your audience. This works exceptionally well with digital products.
Your customers will be more than happy to get a short video for user onboarding, explaining how everything works and providing more details on the product. The important thing is to create informative content your audience finds helpful.
Think about the problems your audience has and try to answer them with short videos. Explain how a product works while showing everything on the screen. That way, your audience will get the information they need to decide if they want to buy the product or not.
Screencasting software is the ideal choice in this case since you can do everything yourself. You don't need expensive cameras or production studios to get high-quality video content. A simple screen recording can have the same effect but for a fraction of the price of a professional video.
A number of custom web design and development companies make all kinds of tutorial videos using screencasting software. If they can do it, so can you.
2. Informational Content
How-to guides, tutorials, and video demos are all great ways to generate leads, but making screencast videos can help you do so much more. For example, you can use it to create all kinds of informational content such as study reports, tips and tricks, infographics, etc.
Screencasting is a powerful tool you can use to show your expertise and gather a large following. Use a screencast to go over the latest business practices, tell your audience what helped you grow your brand, or simply talk about the latest industry trends.
Instead of trying to sell your product or service directly, you can share useful information and motivate your audience to try your offer. If you manage to do that, your engagement rates will spike.
3. Marketing Campaign Aid
The inbound marketing video content you create can help inform your audience about your latest offers or even delve into what your business is about and the value you provide. You can use screen-captured videos to keep your audience informed and close to your brand. This type of videos can also be used as a lead magnet for anyone interested in your products, services, or maybe even a potential partnership.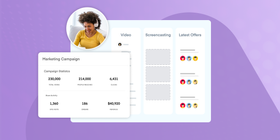 Video ads are much better at conveying messages to viewers, and you can use them to answer questions even before they are asked. It might take a little practice and a few good scripts, but once you see what works, you can use screencasting to create engaging videos on a daily basis.
As long as your content is informative, educational, and entertaining, your audience engagement rates will keep rising. You can also use videos to clear any potential confusion your viewers might have about the product or your brand.
4. Add Screen Recorded Videos to Blogs
With a marketing video maker, you can turn a boring blog into an exciting vlog! Let's say that it takes 3 minutes to read your latest blog posts.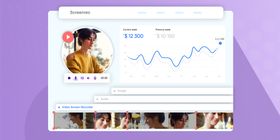 Some people will get to the end of the post, but most won't even bother reading it if it's over a few hundred words long. However, a 3-minute video can tell more than any blog post, and it will reach more people at the same time. For example, here is a video that we made for our blog:
The idea here is to increase traffic to your website, and videos are the perfect medium to do that. The only thing you should keep in mind is to record a screencast video that complements the existing content.
Try adding a few video templates to blog posts that cover simple topics and see if they start performing better and give you higher conversion rates. This is probably the easiest inbound marketing strategy you can try.
Bonus points if you optimize your videos for search. Video SEO statistics say that you can reap even bigger benefits when you consider keywords.
5. Live Video Spin-offs
Ever since live videos became a thing, companies have been using them to increase reach and engage more customers.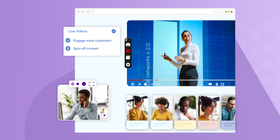 The downside to live videos is that some people won't be able to tune in because they live in a different time zone or simply don't have the time. But if you use screen recording to save streaming video, you can use the video file to create spin-off content and engage even more users.
Once you have the entire video recorded, you can decide how you want to use that content.
Since live videos are usually too long, you can take a few snippets of the most important parts. Of course, you will need some video editing software to do that, but most screen recorders already provide the tools you need.
Conclusion
It's obvious that screen recording software can help you get all kinds of benefits in the long run, it's just a matter of learning how to create a screencast and the best way to use it.
Once you figure out the type of online video content your audience wants, you can include it in your digital strategy to increase engagement, build trust, aid in the buyer's journey, and boost sales.
Screen recording allows you to create video content with little effort, so you won't have to invest a ton of money into new equipment. As long as the content fits your goals and answers your target audience's questions, you can't go wrong.
More content means more leads, which results in more sales, and a better ROI. If it works out, you can use screen recorded videos to keep your audience close to your brand.
References and Further Reading?