What a time to be alive! No more handwritten lists and ledgers. No bulky event planners to lug around or typewriters to fuss with. It's the digital age and we can get more done in less time without even getting off the chair.
Everyone knows that productivity software helps increase performance but, with so many options out there, you could easily find yourself in choice paralysis. To help you avoid this, we've rounded up the 8 best productivity apps for work that have a zero learning curve.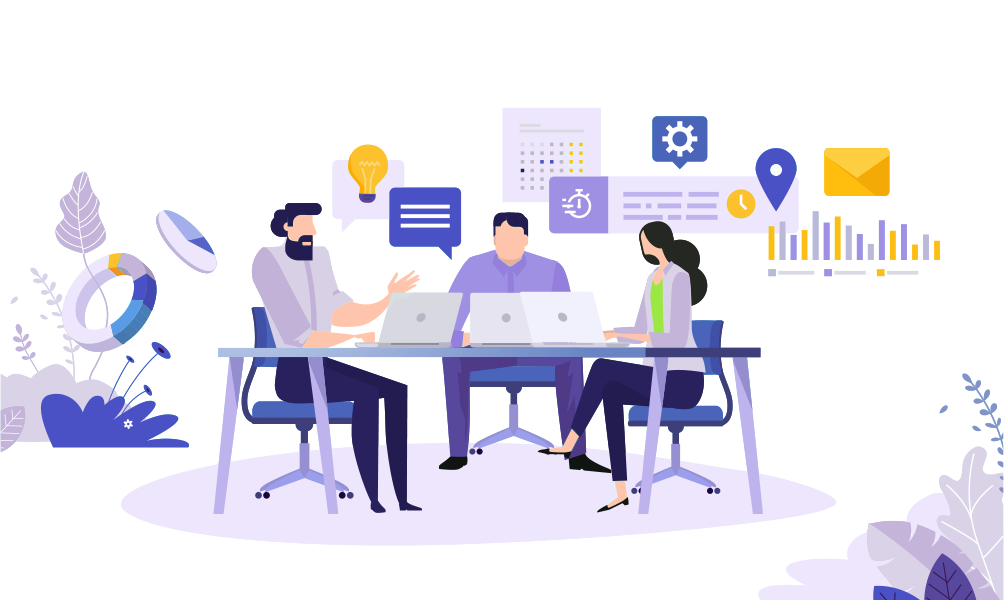 ScreenRec – Team communication and personal productivity app
Tell Me About It
ScreenRec is an easy to use free screen recorder with audio and screenshot capture tool that doubles as a team communication app.
A downloadable office productivity app for all operating systems such as Windows, Linux and Mac, ScreenRec takes the pain out of using the Print Screen button. It has a simple and straightforward interface with all the necessary tools for quick screen capture.
You can grab a screenshot or record a screen video (together with audio) and share a private link instantly.
ScreenRec comes with 2 gigs of free cloud storage which makes it one of the best productivity tools available for free
ScreenRec helps you reduce your email load because it allows you to communicate faster visually making it one of the best apps for work.
ScreenRec wins the Top 5 Best Free Screen Recorder Software In 2020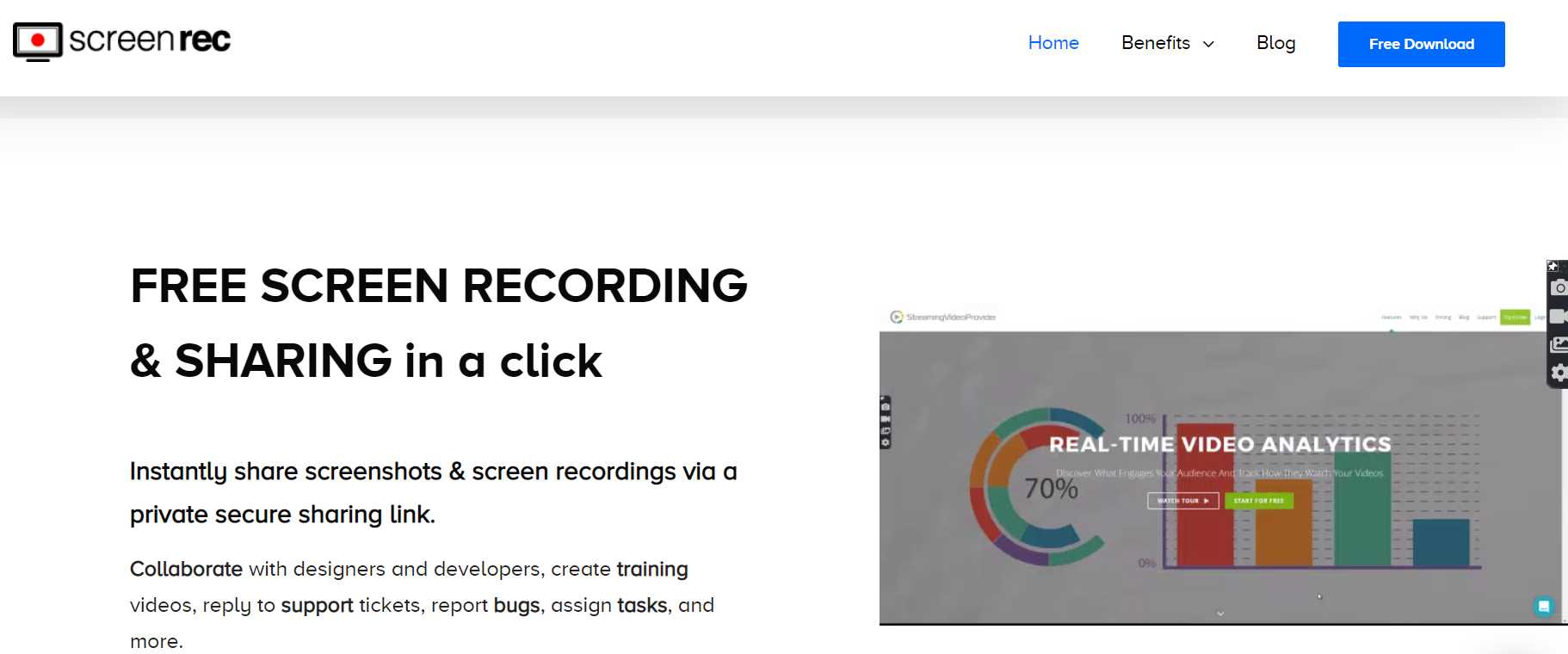 Who Uses It?
Anyone who wants to explain what they are seeing on their computer screen would benefit from using ScreenRec. Using this productivity tool, business owners and managers can delegate tasks, teachers, coaches and online instructors can record tutorials, clients can give better feedback to developers and designers.
Give Me An Example
Meet Laura! She runs a successful CPR Training Course that has expanded to multiple classes across the country. Using ScreenRec, Laura recorded several introductory training videos with her own simultaneous narration to use at the beginning of each class. Every Friday, she calls an online meeting with franchisees to receive updates. She uses ScreenRec to record these meetings for future viewing and note-taking.
How Much Does It Cost?
ScreenRec is a free screen recorder that can also function as free screen sharing software. There is no malware, adware, in-app purchases or anything of the sort and, at this point, there are no upgrade options. You can download it here.
Brosix IM – Secure Team Communication and Collaboration App
Tell Me About It
Brosix is an app that streamlines communication into one secure and fully administrable IM platform, keeping teams connected. Brosix comes with a full range of collaboration features, which, when used properly, can improve team communication and boost collaboration.
Brosix provides teams with private networks that they can fully control and administer as they see fit.
Teams can make use of a range of features, including unlimited file transfer, text, video and audio chat, and custom chat rooms.
All communication is fully encrypted end-to-end, making it one of the more security conscious IM apps out there.
Brosix has apps for a range of operating systems and platforms, including Mac, iOs, Android, Windows and Linux.

Who Uses It?
The paid version of Brosix is geared towards teams of all sizes, from small businesses to large organizations.
Give Me an Example
Pathways Financial Credit Union is a member-owned financial institution operating 7 full service baking locations across Ohio. Given that team members work across multiple sites, Pathways needed a secure platform that would allow employees to safely communicate amongst each other regardless of their location. Brosix provided Pathways with a secure private team network, after which response times to customers were significantly reduced and team connectedness increased.
How Much Does It Cost?
Brosix IM has a free startup plan for teams with up to 3 users, as well as paid Business and Premium plans for larger team networks. Paid plans start at $4 per user per month when billed annually.
Hubstaff – Time management and productivity monitoring
Tell Me About It
Hubstaff is a time tracking app that helps you understand how you spend your time. It shows you exactly how much time you spend on each project, helping you optimize your workflow and get things done with higher efficiency.
Hubstaff lets you create projects, tasks, and to-dos that you can track time to on desktop or mobile.
The app can track the apps you use and URLs that you visit while you're working. It also calculates activity rates based on input from your keyboard and mouse.
Hubstaff automatically generates online timesheets from the time you track. You'll be able to see your team's daily and weekly totals.
You can set hourly rates for your team members and streamline payments based on their total hours worked via multiple payment platforms.
You can integrate Hubstaff with your favorite project management, accounting, and CRM tools to boost your productivity even further.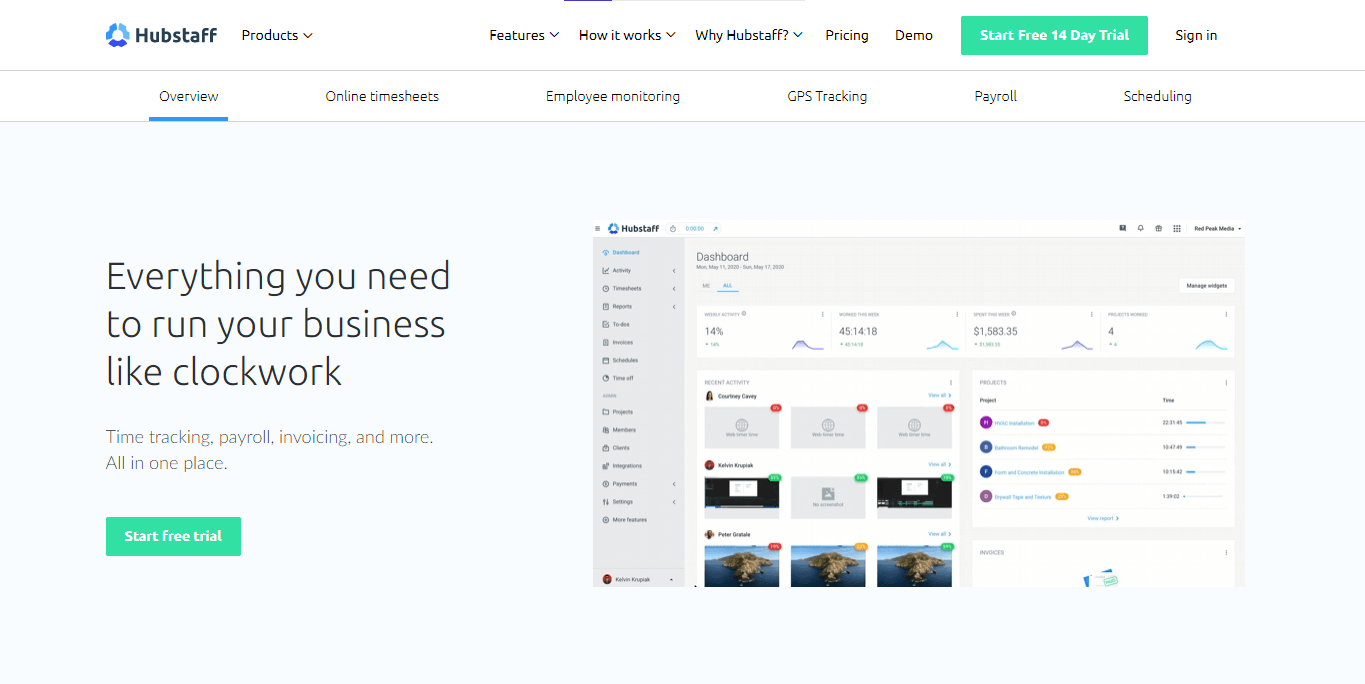 Who Uses it?
Hubstaff is suitable for all teams who want to save time on administrative tasks. Thanks to its productivity and automation features, it's a great remote working tool. But it's just as useful for office-based teams who wish to be more productive.
Give Me An Example
Clint leads a remote business of 10 people. While his team is able to finish tasks, he's spending more time on checking what they worked on and processing their payroll than growing the business. After they began using Hubstaff, Clint was able to focus on increasing the business's profitability without worrying about tracking his team's progress. He's now able to view what his team accomplished with Hubstaff's time-tracked data, and he saves extra time because Hubstaff automates the entire payroll process as well.
How Much Does It Cost?
Hubstaff is free for one user with basic time tracking capabilities. It has 3 paid plans starting at $5.83 per user monthly when paid annually.
Todoist – Task management
Tell Me About It
Todoist is an extremely versatile tracking app that helps you manage your time, minor tasks, and major goals.
Besides storing your basic lists, Todoist can automatically set timers, reminders, and alarms based on the information you input.
You can also integrate Todoist with apps like Alexa and Dropbox to get an even wider range of ways to use this work app.
One of the features that make Todoist a top productivity app is the ability to collaborate. You can create "projects" and add multiple users to them, e.g. so that your team may collectively stay on task.
Todoist also comes with one of the best Android productivity apps as well as a great iPhone app.
You can use Todoist to implement a GTD routine.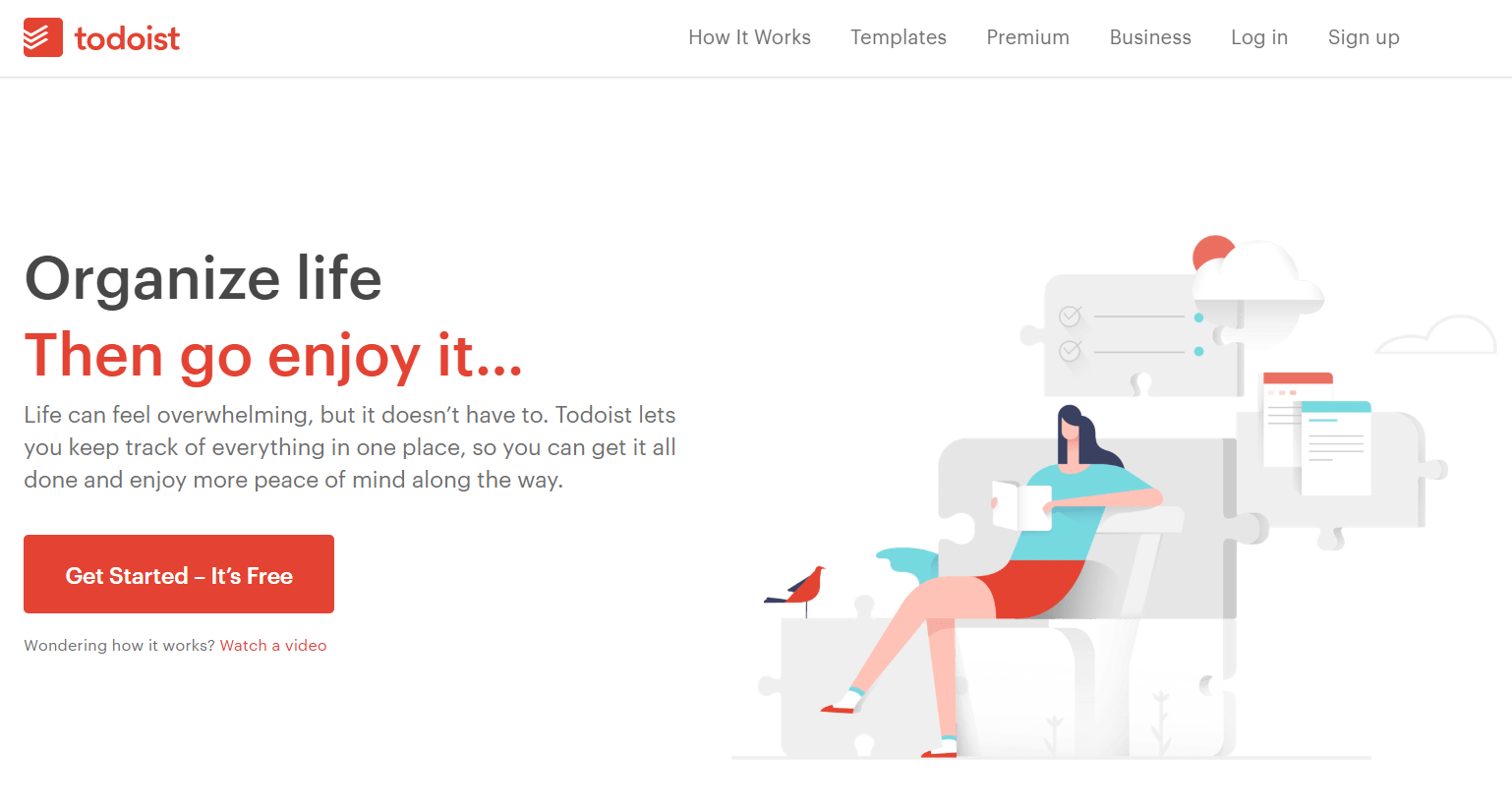 Who Uses It?
Any busy person who needs better project management and time tracking tool can use Todoist. It's great for both teams and everyday personal productivity.
Give Me An Example
The Morehouse Group is a group of four pro-bono lawyers who rely on their collective abilities to get the job done. In order to keep things organized, the team uses Todoist to divvy out tasks on each new case they take on. They insert their usual research task list to ensure they cover all bases and look into each piece of evidence. They also use Todoist to share important reminders that will ring as an alarm on all connected devices.
How Much Does It Cost?
Todoist is free for personal use. There is an upgrade option for businesses or those who need a bit more features for $3 per month. There are also in-app purchases available, ranging from $0.99 to $36.
Trello – The easiest way to organize anything
Tell Me About It
Trello uses the Kanban method to help you organize… well, just about anything (from project management to grocery shopping). The nearly unlimited applications of Trello put this productivity program high up on the "best apps to stay organized" list.
This app allows you to create to-do's, set goals, and plan events on a bulletin board-esque interface made up of lists.
You can add cards to these lists as well as use drag and drop to move them.
Each project is called a board and you can share it with team members to allow them to edit and create cards and leave comments.
Trello also has the ability to integrate with other apps like Slack, Adobe and Google Drive.
It's an online productivity application which means you can use it on any device. The mobile app is one of the best productivity apps for iPhone and Android.

Who Uses It?
Trello is great for anyone who has a large list of things to do and projects to complete. From event planners to business owners and even teachers & students, anyone who needs to stay organized can use Trello.
Give Me An Example
Alexis is a college student who is currently studying microbiology. Her professor assigned a group project that requires groups to grow and monitor a specific type of bacteria. Safe to say, it's not as easy as it sounds. As a team leader, Alexis signed up for Trello and created lists for each day of the week. With several tasks assigned to each day, Alexis handed out tasks to each member of her group. Throughout the duration of the project, certain cards were moved to different days due to the growth of the bacteria (or lack thereof). A few tasks were re-assigned and some cards were edited or simply deleted. By the end of the project, all tasks were completed, and, with the comments left by group members, Alexis was able to compile a thorough report to turn in to her professor.
How Much Does It Cost?
Trello is a free personal productivity app. However, there is the option to upgrade for business starting at $9.99 per user, per month, annually. The free version has all the basic tools you need to get organized, while the paid version offers perks like power-ups, stickers, custom backgrounds and customer service.
Slack – Chat app for team communication
Tell Me About It
What makes Slack one of the best business productivity apps is that it's an insanely effective communication tool. Actually, it was built to replace emailing between co-workers and, considering that it has over 10 million users all over the world, we could say that it has succeeded.
This chat app allows colleagues to collaborate via messaging which, if used with care, makes Slack a great tool to increase productivity at work.
You can create channels to include the right people and chat as a group or opt for direct messaging when necessary. No more annoying CCs! Everyone gets updated only on the topics they care about.
With Slack, you can also video call, chat, audio call, and even share documents.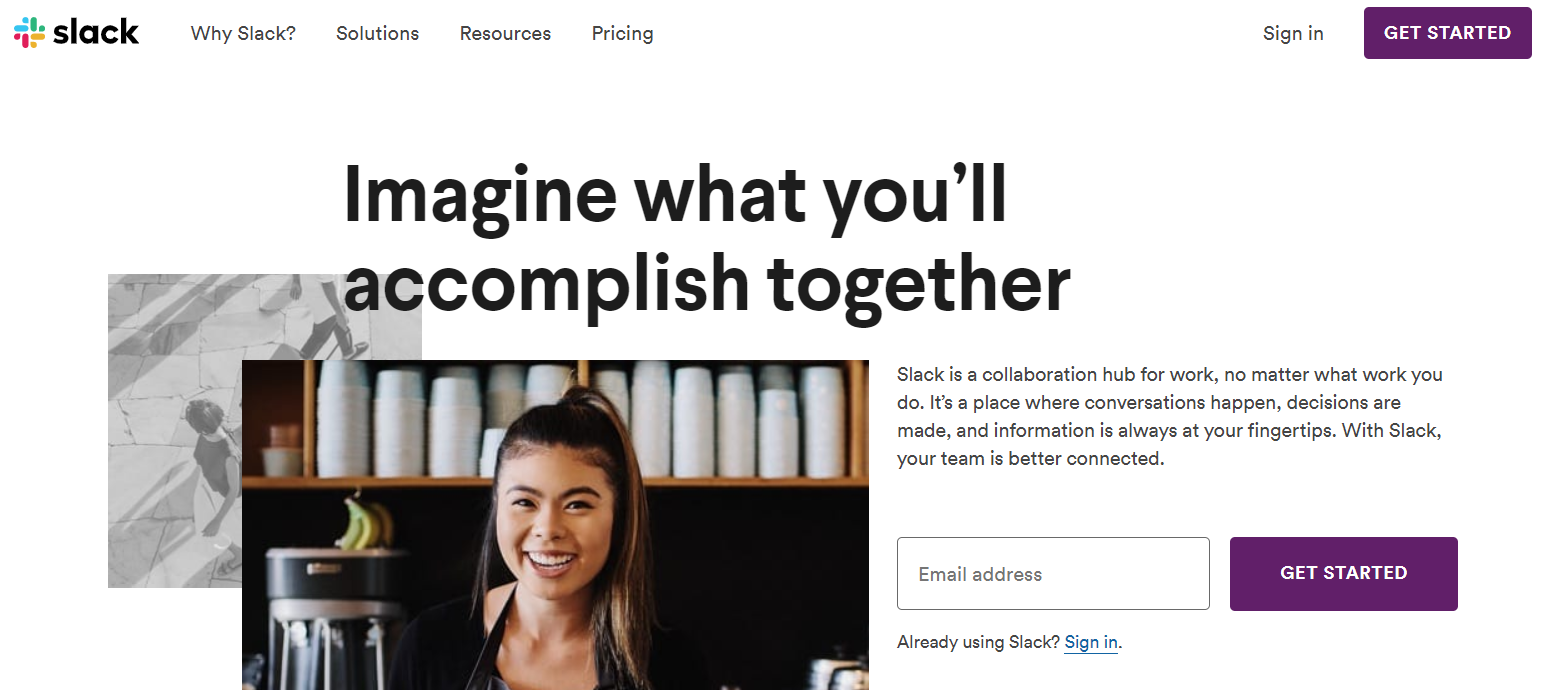 Who Uses It?
From small businesses to major corporations, Slack can be used by anyone who wants to achieve effective communications within their work family.
Give Me An Example
John Billings is the CEO of a major retail chain. He's decided to implement Slack as a part of his company's daily communication tool. With major projects and important deadlines always underway, it's imperative that John's employees remain on top of things. Since the company began using Slack, assignments have been completed sooner with fewer errors and confusion. Employees are also less stressed and more comfortable with the collaboration which has increased the overall business productivity.
How Much Does It Cost?
Like most of the other great productivity apps on this list, Slack has a free version and an upgrade option. The paid plans start at $6.67 per active user per month.
Hootsuite – Social media manager
Tell Me About It
Social media posting is a full-time job nowadays which is why you need a tool like Hootsuite. What makes it one of the best productivity tools for work is that it takes away the pain of having to log in to a dozen different social sites.
Manage all of your social media pages and profiles from a single app—Facebook, Twitter, etc.
Like, share, and comment on multiple platforms, all from your Hootsuite homepage.
Create schedules to automatically post your content at the date and time you specify.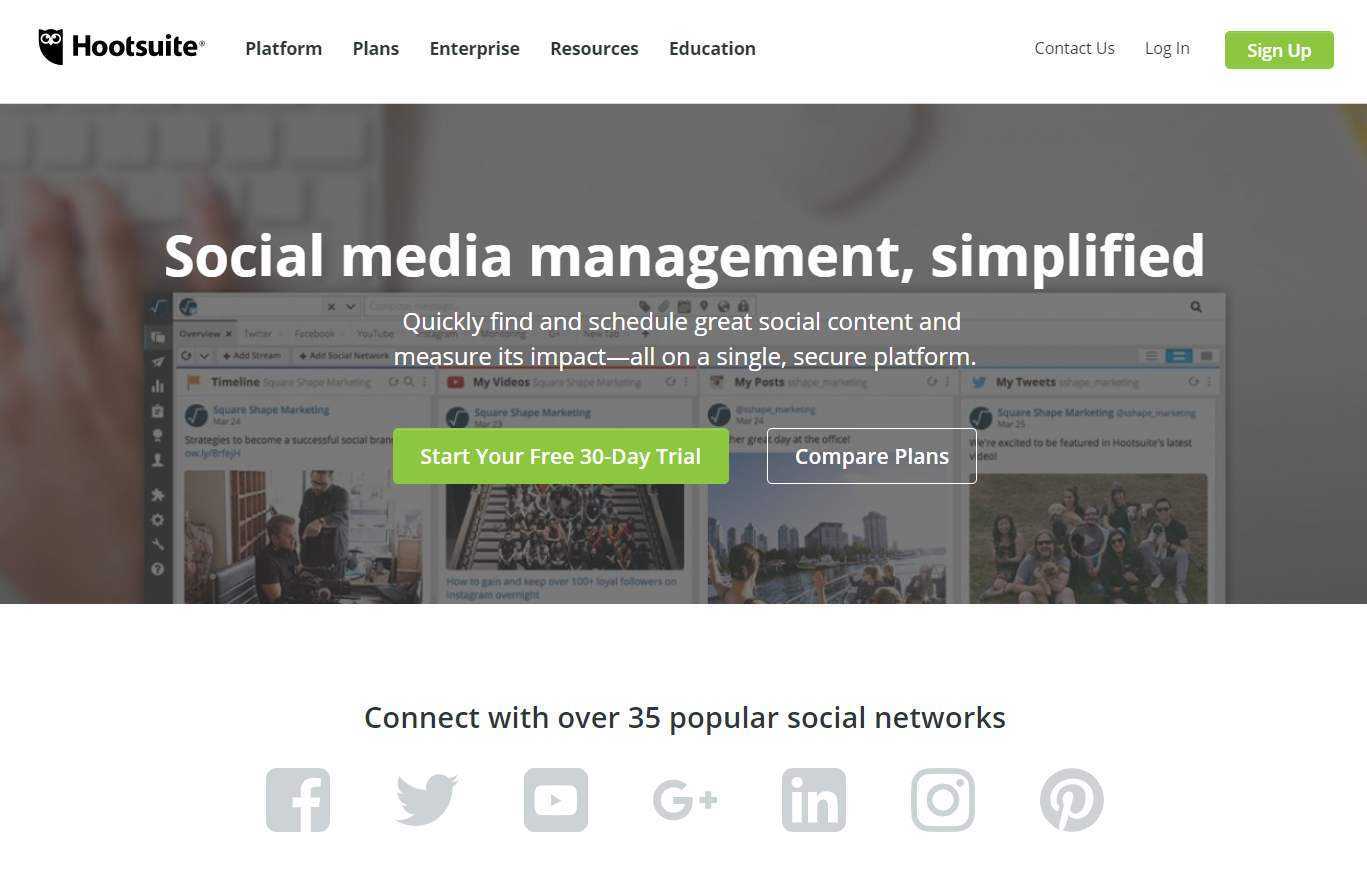 Who Uses It?
Hootsuite is suitable for anyone who wants to keep up with their social media pages with ease. So if you have a strong social media presence or you run a business, Hootsuite is a good workplace productivity app for you.
Give Me An Example
Since Ken's Handcrafted Ice Cream commercial went viral, the company has seen an enormous spike in followers and likes on social media. While they are pleased with their ever-growing popularity, the company is struggling with keeping their fans updated. The solution: register for Hootsuite. Ken's PR team can now handle the posting, replying, and retweeting from the app, making things much easier to manage.
How Much Does It Cost?
Hootsuite has a free plan which is suitable for personal use and for startups. The paid plans start at $29 per month.
Tell Me About It
Google Drive is an easy to use option for creating and sharing documents over the web. Google Suite (or G Suite) is an upgrade to that—it's all of Google's business products wrapped into one and powered up with various business-related features.
With Google Drive, you can create document, spreadsheets, presentations and other assets directly in the cloud and collaborate in real time.
One of the time-saving features of G Suite is the shared calendar app. You can see when others are available and automatically send them email invites to schedule meetings.
Another useful feature of G Suite is data protection. In the case of a lost mobile device, Android phone or an iPhone, you can erase all data or wipe a selected account.
While the G Suite may not replace Microsoft Office, which has more advanced features, it is still a great efficiency app that gives Microsoft a run for its money when it comes to easy access and sharing.
Who Uses It?
Google Drive and Google Suite are great for these businesses that often need to collaborate at a distance and require extra security when sharing documents and files.
Give Me An Example
Linda has put together a team of writers and editors to work on her company's blog. She's asked her team to write up their posts in Google Docs, so that each member may make edits to the single document. Once the original draft is complete, it is securely shared with Linda via Google Drive for final approval. She and her team have peace of mind knowing that posts are being written, shared, edited and finalized in a timely manner.
How Much Does It Cost?
Google Drive is free, while Google Suite is $12 per user per month.
Top Productivity Applications at a Glance
| | | | |
| --- | --- | --- | --- |
| | What It Is | What It Does | What It Costs |
| ScreenRec | Screen recorder | Records screenshots and audio/video of a computer screen | Free |
| Brosix IM | Collaboration platform | Communicate and collaborate securely in a team | Free or $4 per user/mo |
| Hubstaff | Team time tracker | Helps teams better manage their time and track productivity | Free or $5.83 per user/mo |
| Todoist | To-do list app | Keeps track of tasks and sends reminders | Free or $3/mo |
| Trello | To-do, event, task organizer | Organizes tasks and events as set lists | Free or $9.99/mo |
| Slack | Team chat app | Offers colleagues a way to collaborate and chat | Free or $6.67 per user/mo |
| Hootsuite | Social media manager | Manages all social media platforms from A single app | Free or $29/mo |
| Google Drive (Google Suite) | File creation and sharing | Allows for the creation of various documents with secure sharing and through organizing | Free or $12 per user/mo |
Frequently Asked Questions
What are the best apps for the Pomodoro Technique?
That depends on your context but here are a few options. PomoDone is a pretty robust option that works on both desktop and mobile platforms. Among other things, it allows you to set custom session lengths and auto breaks. If you need a Pomodoro timer + timesheets, you can try Toggl. This web app enables you to log time for multiple clients and projects and comes with a customizable Pomodoro timer.
What is the best app for personal productivity?
The best app for personal productivity is the one that lets you get more done and fits with your unique style and workflow. That being said, Todoist and Wunderlist are great options if you need a simple, shareable to-do list. Trello is great if you find the Kanban method more convenient. Finally, great productivity is sometimes about documenting your thoughts and ideas and organizing them into a searchable catalog. For that purpose, Google Keep can be really helpful.
References & Further Reading