Breakdown: Top 8 Best Free Snipping Tool Alternatives
The Microsoft Snipping Tool has been around since Windows Vista. Sadly, it hasn't improved much and that's why many people end up googling " the best free snipping tool alternatives".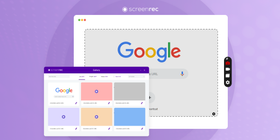 In recent versions of Windows 10, the Snipping Tool was replaced by Snip & Sketch. You'd think that would be an enhanced snipping tool… But no.
Just like the old Windows screenshot utility, Snip & Sketch still cannot save your images as a .jpg or .gif. And if you want editing tools like arrows or callouts, you can just forget about that. No need to worry, though. We've created a round-up of the 8 best free snipping tool alternatives (that you won't find in the Microsoft Store).
How To Choose A Screenshot (Snipping) Tool
In order to settle on the best Snipping Tool alternative, you need to ask yourself a few questions…
| | |
| --- | --- |
| ❑ | Do I want to add annotations? |
| ❑ | Do I want it to work across operating systems? |
| ❑ | Do I want a light interface with user-friendly options? |
| ❑ | Do I want to be able to share quickly and securely? |
Keeping that in mind, let's review the contenders!
Top 8 Free Snipping Tool Alternatives
Possibly the best Snipping Tool alternative, ScreenRec offers pretty much the easiest way to snip on Windows. All you have to do is remember a simple keyboard shortcut (Alt-S).

Best For…
ScreenRec is a high-resolution snipping tool which makes it perfect for anyone who wants to take hd screenshots with a single button, annotate them, and share them in a matter of minutes. This screenshot software automatically saves your screenshots to the cloud.
Platform
Windows, Mac, and Linux
If you search for "Microsoft snipping tool download", you'll probably come across Snipping Tool++ which resembles the built-in Windows utility a lot. It can capture any boxed or free form region and gives you basic editing options.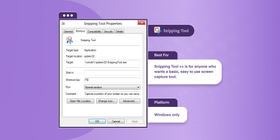 Snipping Tool ++ may not be fancy, but it does have an easy-to-use interface as well as the ability to configure the Print Screen key to open the app. This Windows screenshot app doesn't have many editing and annotation options to crowd it.
In order to use Snipping Tool ++, you'll need to have Java Runtime Environment installed on your system beforehand. Nonetheless, if you're looking for a simple snipping tool you can download on Windows 7, 8 or 10, Snipping Tool ++ is worth giving a shot.
Best For…
Snipping Tool ++ is for anyone who wants a basic, easy to use screen capture tool.
Platform
Windows only
Greenshot happens to be a very light screenshot snipping tool that's both free and open source. There aren't too many features, but it still has Windows Snipping Tool beat as it allows you to edit your image by cropping or annotating it.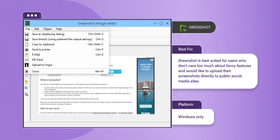 Greenshot lets you upload your screenshots directly within the app to multiple image sharing sites. It's not a secure way to share your screenshots, but at least it's easy.
Although there are no advanced features, Greenshot is still one of the best free snipping tools for Windows 7, 8, 10 because it's extremely easy to use.
Best For…
Greenshot is best suited for users who don't care too much about fancy features and would like to upload their screenshots directly to public social media sites.
Platforms
Windows only
Often named a "Greenshot alternative", Lightshot is a Windows screen snipping tool that lets you quickly take a picture of your desktop or a selected region and share it. A bit like ScreenRec, you instantly get a shareable link and can upload your image to Lightshot's servers. Lightshot also has an image search feature that allows you to search for images similar to your own.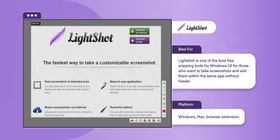 One of the biggest problems with the Windows built-in tool is its inability to create a variety of outputs for your image. Meaning, there is no way for you to save your image as any other format than .png. With Lightshot, you can save your image as a .jpg or .gif or even .pdf.
Best For…
Lightshot is one of the best free snipping tools for Windows 10 for those who want to take screenshots and edit them within the same app without hassle.
Platforms
Windows, Mac, browser extension.
The Microsoft Snipping Tool is free to download and so is Screenpresso. That's where the similarities end.

Screenpresso is a snipping tool alternative for Windows 10 and earlier that can record audio/video like ScreenRec and export screenshots in different formats like Lightshot. The iOS app can also come in handy when you need mobile screen capturing and editing. Unfortunately, it is not available for Android, but we'll take what we can get.
Best For…
Screenpresso best suited for professionals who are always on the move and want a quick screenshot app for both desktop and mobile.
Platforms
Microsoft Windows, iPhone, iPad
PicPick is practically an image editor disguised as a freeware snipping tool. Seriously, it has editing options that you may find somewhere in something as professional as Photoshop. From color picker to a pixel ruler and even a color palette, there's no shortage of editing capabilities.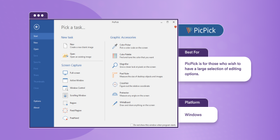 With editing capabilities like watermarking, motion blur and brightness control, PicPick makes Snipping Tool look like Microsoft Paint in comparison.
Best For…
PicPick is for those who wish to have a large selection of editing options.
Platforms
Windows

Don't let the silly name fool you. DuckCapture is anything but silly when it comes down to application and user-friendliness. Its screenshot abilities, editing options, and sharing capabilities make it a great snipping tool alternative available for free.
In terms of capturing screenshots, you can take images of specific regions, the full screen, or a scrolling window. Once you've captured your image, you can use the annotation tools to mark up your image as you see fit. Share your screenshots via email or FTP.Best For…
DuckCapture is one of the best screenshot programs for those who want to easily screen grab and need to a lot of editing options.
Platforms
Windows, Mac OS X
Jing is that elusive creature that captured everyone's attention when it stepped onto the scene. But over the years it began to fade further and further into the abyss of the Internet that's continually trying to keep up with our ever-shrinking attention spans.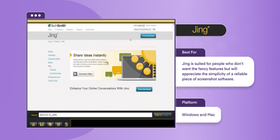 In the beginning, you were able to record audio/video along with full screen snips. Not anymore. Now, it's just an image snipping tool available for free download.
We're not complaining, though. The interface is far simpler than that of the Snipping Tool and it doesn't require genius-level brain functioning to open the app.
Best For…
Jing is suited for people who don't want the fancy features but will appreciate the simplicity of a reliable piece of screenshot software.
Platforms
Windows and Mac
The Verdict: Which Is The Best Free Snipping Tool?
We fully believe that ScreenRec is the best free snipping tool alternative for Windows 7, 8 or 10. Besides, it works on Mac and Linux, too.
But why do we say that? Because no other app can quickly and efficiently allow you to snip a screenshot, annotate it, and share it privately as well as ScreenRec can. Let's not forget about the 2 gigs of free cloud storage and multi-platform availability as the icing on the cake. You can download ScreenRec and try it yourself.
Of course, feel free to test out the other screen recording solutions on this list and decide which one is best for you.
Frequently Asked Questions
Mac does also have its alternative to the Windows Snipping Tool and it's called Grab. It's a built-in tool which has several screen-capture modes and allows you to save what you captured in various formats. If Grab doesn't fully satisfy your needs, there are some other free alternative tools for Mac, such as LightShot and Greenshot.
The easiest way to open Snipping Tool is to go to the Start menu by either selecting it or pressing its keyboard button, type Snipping tool and select it or simply press Enter. The program itself has some hotkeys such as choosing snipping mode by pressing Alt+M (works on Windows 10 only), making a new screenshot in the last mode you chose - Alt+N and Ctrl+S for saving your snip.
If you need to record a video of desktop, Snipping Tool isn't the right tool as it only makes screenshots. An easy-to-use, effective and free alternative for screen recording is ScreenRec. It allows you to capture videos and share them instantly.
Snipping Tool is a built-in Windows tool and is, therefore, free of charge, as it comes along with the installation of your Windows OS.
References and Further Reading?