Top 13 Free Snagit Alternatives For 2023
So, you're on your desktop and you find yourself needing to do a quick screengrab. What do you do? Do you just buy Snagit because the internet has been force-feeding it to you for years? Or do you roll up your sleeves and decide to look for a free alternative to Snagit?
Snagit is a program that works as a screen recorder with an image screen capturing tool, a snipping tool, and video/audio recording capabilities. Here's the thing, though, there are so many other programs like Snagit that are free, and, dare we say, even better.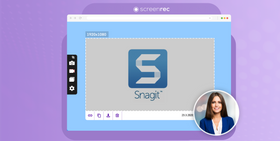 Is there a free version of Snagit?
Let's get this out of the way now; no, THERE IS NO FREE VERSION OF SNAGIT.
Snagit is available to purchase for $49.95.
Why you have to pay for a tool so simple as screen capture is beyond our understanding, but Snagit only comes in a premium package.
Snagit Alternatives at a Glance
Platforms

Capture Video?

Built-in Editor?

Private Sharing?

Free Version Unlimited?

Best Feature

ScreenRec

Windows
Mac
Linux

Yes

Yes

Yes

Yes

Private Sharing Link

TuneFab Screen Recorder

Windows
Mac

Yes

Yes

No

No

Real-time editing

Windows Snipping Tool

Windows

Yes

No

No

Yes

Built-in to Windows OS

Greenshot

Windows
Mac
Linux

No

Yes

No

Yes

Incredibly easy-to-follow interface

Lightshot

Windows
Mac
Chrome

No

Yes

Yes

Yes

No need to download or install

Jing

Windows
Mac

No

Yes

Yes

No

Easy to use editor

PicPick

Windows

No

Yes

Yes

No

Extensive editing features

TinyTake

Windows

Yes

Yes

Yes

No

Can add text to recorded videos

Screen spresso

Windows

Yes

Yes

Yes

No

Built-in document generator

Shutter

Linux

No

Yes

No

Yes

Additional plugins for effects

ShareX

Windows

Yes

Yes

Yes

Yes

Dozens of upload destinations

Steam

Windows
Mac
Linux

Yes

Yes

No

Yes

Easily take screenshots during gameplay

SnapDraw

Windows

Yes

Yes

No

Yes

Professional image effects
The best free alternatives to Snagit
Screenrec is a powerful alternative to Snagit for Windows (Lastest Windows 10, 8, 7 are supported), Linux and Mac. It is both screenshot capture tool and screen recording software. Powered by StreamingVideoProvider, Screenrec uses a sophisticated algorithm to upload your recording to the cloud in real time. So, as soon as you finish recording, you instantly get a shareable link.
The interface is mind-blowingly simple. Capturing screencasts or screenshots is as easy as opening the app, selecting your capture area, and pressing a button. It comes with a very simple but yet powerful screenshot annotation tool and lets you add comments, draw rectangles and arrows or add text.
You have the option of recording audio from a mic or your system, or both. Yes, both! That, plus the ability to record unlimited videos for free, makes Screenrec the best free alternative to Snagit.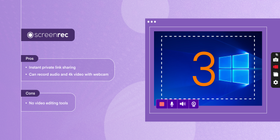 Screenrec does much more than Snagit (and for $0) which makes it the best snagit alternative
Pros:
Instant private link sharing
Can record HD video with webcam
Cons:
No Mac version (Coming Soon)
2. TuneFab Screen Recorder
TuneFab Screen Recorder is also a great Snagit alternative that is perfectly compatible with Windows and Mac systems. It provides 4 different modes to capture any screen activity easily, including the video recorder, audio recorder, webcam recorder, and screen capture function. You can flexibly record any type of content revealed on the desktop screens. It supports common video/audio formats such as MP4, MOV, AVI, GIF, MP3, M4A, AAC, and more.
Besides the basic screen recording functions, some advanced functions are offered. For example, its real-time editing panel makes it convenient to draw and add notes while recording. Before saving a recording, you can also trim or cut some unnecessary parts or adjust the sound volume to create a satisfying screen recording.
When the recording task is completed, you will also have a shortcut to upload and share the recorded content to popular social media platforms. And the greatest part is that the video recording doesn't even come with a watermark!
For first-time users, the free version can only support recording video within 3 minutes, but its screen capture feature doesn't have any limits.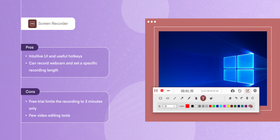 Pros:
Intuitive UI and useful hotkeys
Can record webcam and set a specific recording length
Cons:
Free trial limits the recording to 3 minutes only
Few video editing tools
3. Windows Snipping Tool
The Windows snipping tool is a PC screenshot tool that is included in Windows Vista and later by default. It simply takes a "photo" of the screen. Whether it's an open window, rectangular area, free-form area or the entire full screen itself, the snipping tool makes it easy.
When you have a snip, you can add annotation or edit the image.
Now, you might be thinking, "How is it free if it comes with Windows?" Yes, technically you have to buy Windows, but since you don't have to purchase the screenshot tool separately, we'll say it's free.
So, if you want to capture the contents of the screen and don't want to pay 50 bucks for something so basic, the Windows Snipping Tool works as a viable alternative to Snagit. But, if you need to record a video of your screen, you're out of luck.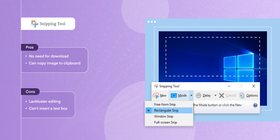 The Snipping Tool is a simple screenshot utility built into Windows
Pros:
No need for download
Can copy image to clipboard
Cons:
Lack-luster editing
Can't insert a text box
4. Greenshot
Greenshot is a free and open source screen-capture tool that can serve as a Snagit free alternative for Windows 7. It is quite unfortunate that Greenshot is only compatible with Windows, but hey, it's free, so we can't judge.
Greenshot is a fairly simple program that gives you all you need when capturing screenshots. It is very lightweight and refrains from making you climb a steep learning curve.
We are lazy. Give us something that we can understand in five minutes. That's what Greenshot does and it makes us happy.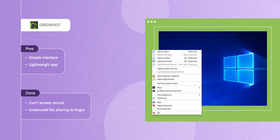 Greenshot is simple, lightweight screenshot software
Pros:
Simple interface
Lightweight app
Cons:
Can't screen record
Insecure file sharing to Imgur
5. Lightshot
Lightshot is yet another free software like Snagit (well, besides the 'free' part obviously). Lightshot, available in Google Chrome Web Store, is a browser extension app that not only allows you to easily take a screenshot, but allows you to upload it to the server and creates a short link, similar to Screenrec.
With Lightshot, you can also search for images similar to the one you captured. We're not exactly sure what the point of that is, but it's cool nonetheless. Either way, Lightshot is still a free Snagit alternative worth downloading for Chrome users.
It is worth mentioning, however, that these plugins often cause lagging.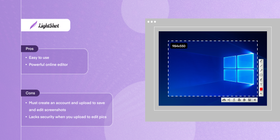 Lightshot is a free Chrome extension that allows you to capture screenshots
Pros:
Easy to use
Powerful online editor
Cons:
Must create an account and upload to save and edit screenshots
Lacks security when you upload to edit pics
6. Jing
Jing is an interesting alternative to Snagit in that they were both created and released by TechSmith. With both a free and premium version, Jing allowed you to record audio and video then upload directly to the internet automatically creating a shareable link.
You've probably noticed that we used the term "allowed", in the past tense. That is because Jing is no longer available for video capture and has been replaced with Snagit.
But before you begin shouting at us, you should know that Jing can still be used for simple image capturing and, yes, it is still free. It may have lost a capability or two, but it's still a Snagit alternative.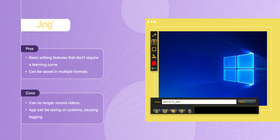 Jing is another screenshot utility by Techsmith (the creators of Snagit)
Pros:
Basic editing features that don't require a learning curve
Can be saved in multiple formats
Cons:
Can no longer record videos
App can be taxing on systems causing lagging
7. PicPick
We're going to keep this one as simple as the app itself. PicPick is an easy screen capture tool that allows you to extensively edit the image you've captured. With cool graphics accessories like a color picker, pixel ruler, and color palette, there are hundreds of ways to edit and design anything on your screen.
Their free version excludes you from automatic updates and tech support (which we found quite rude) but it's not a bad alternative to Snagit for Windows. You certainly won't be displeased… unless you end up needing support, then yes, you are on your own.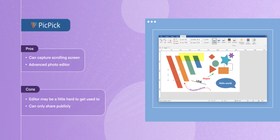 PickPick captures screenshots and lets you edit them
Pros:
Can capture rolling screen
Advanced photo editor
Cons:
Editor may be a little hard to get used to
Can only share publicly
8. TinyTake
TinyTake is in the same realm as Screenrec in that it allows for video and image capture for free. Yet, unlike Screenrec, you can only record up to 5 minutes of video.
You have the ability to add text to your recording and share it online. It's fairly easy to use with a simple interface and easy to understand options.
Sadly, it is only available for Windows. So, all you Mac and Linux users, we apologize on their behalf. Yet, we can't be too hard on TinyTake. There aren't too many free Snagit alternatives for windows that can record video along with images.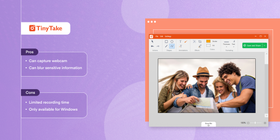 TinyTake is one of the free Snagit alternatives that can also record video
Pros:
Can capture webcam
Can blur sensitive information
Cons:
Limited recording time
Only available for Windows.
9. Screenpresso
Screenpresso sounds like an app that's exclusive to coffee shop owners, but don't worry, it's available to anyone. Adding to our list of image and video captures for free, Screenpresso fits snuggly among the elites.
Simple, easy to use, minimal interface, immediate sharing. You know the drill. The recurring issue, however: it is only available for Windows. It is still a sweeter option than the $50 Snagit.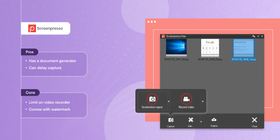 Screenpresso is a simple image screen capturing tool
Pros:
Has a document generator
Can delay capture
Cons:
Limit on video recorder
Comes with watermark
10. Shutter
Hey, Ubuntu /Linux users! Have we got an app for you! Shutter swings in to attempt to help you capture your computer screen. If you're looking for a simple Linux screenshot tool, this could be it.
Video capture is not available, but they make up for this flaw with fairly decent editing features and available plugins for cool effects. It is without a doubt worth a shot for Ubuntu loyalists that don't need to record screen video.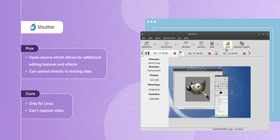 Shutter is an image screen capturing tool for Linux/Ubuntu
Pros:
Open-source which allows for additional editing features and effects
Can upload directly to sharing sites
Cons:
Only for Linux
Can't capture video
11. ShareX
This Windows-only screen tool doesn't just give Snagit a run for its money, it's also a direct competitor of the Windows Snipping Tool, and it seems to be doing a fine job of it. Share X is a busy little app that seems to jam-pack tons of features into a single desktop app.
There are dozens of editing features including a color picker, image splitter, image combiner, and of course your basics like annotation and blur effects. You can even upload your screen grabs to over one dozen sites. There are just so many features and so many options, does anyone else have decision fatigue?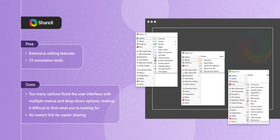 Pros:
Extensive editing features
19 annotation tools
Cons:
Too many options flood the user interface with multiple menus and drop-down options making it difficult to find what you're looking for
No instant link for easier sharing
12. Steam
For you gamers out there, you don't have to rely on an app that is best suited for enterprises. For you, there's a not-so-little app called Steam. Steam is an easy to use screen recorder, live stream app, and screenshot tool.
While in gameplay, you can simply press F12 on Windows or Option+fn+F12 on Mac to capture an in-game screenshot. After the screenshot is automatically saved to the Steam cloud, you can edit it with basic annotation features and upload it to Steam or share it on Facebook.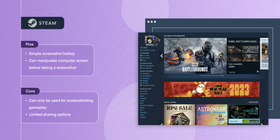 Pros:
Simple screenshot hotkey
Can manipulate computer screen before taking a screenshot
Cons:
Can only be used for screenshotting gameplay
Limited sharing options
13. SnapDraw
Talk about professional features in a free app! ScreenRec isn't the only one. While SnapDraw can't record video, it makes up for it with the awesome screenshot editing capabilities. Yes, you can capture regions of your screen and fullscreen. Yes, you can capture a webcam.
But it's what you can do with your captures that makes SnapDraw a better free alternative to SnagIt. You can turn any of your images into 3D. It can also capture transparency/translucency. If that weren't enough, you can also arrange and manipulate screenshots and set background colors or images.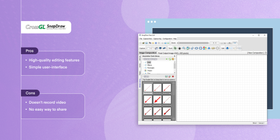 Pros:
High-quality editing features
Simple user-interface
Cons:
Doesn't record video
No easy way to share
What is the best Snagit alternative?
We'll leave that decision up to you. Each program offers unique features and tools, but in our opinion, Screenrec takes the cake. It is the only tool that runs on most operating systems such as Windows, Linux and Mac, captures images as well as it works as a video recorder and offers instant sharing. Screenrec is a triple threat that no other free screen capture tool has been able to match.
Conclusion
In all, Snagit hurts our brains and our wallets. It doesn't offer nearly enough features or capabilities to not be free. With 9 proven top snagit alternatives, you have plenty of options though. We hope this breakdown has been helpful and you will find here the right tool for your needs.
Frequently Asked Questions
Snagit is a screen capture tool that can record your desktop and grab screenshots. Camtasia can record your screen but can't capture screenshots. Camtasia is designed for more professional video editing and it has many more options compared to SnagIt. In short, SnagIt is like an easier, more basic version of Camtasia that can capture screenshots.
Yes. Go to the Video tab and select the option that best fits your use case. You can capture your desktop with the cursor and include your webcam (face cam) if you want.
Yes, you can record the computer audio. Go to the Video tab and switch on 'Record System Audio'.
References and Further Reading?